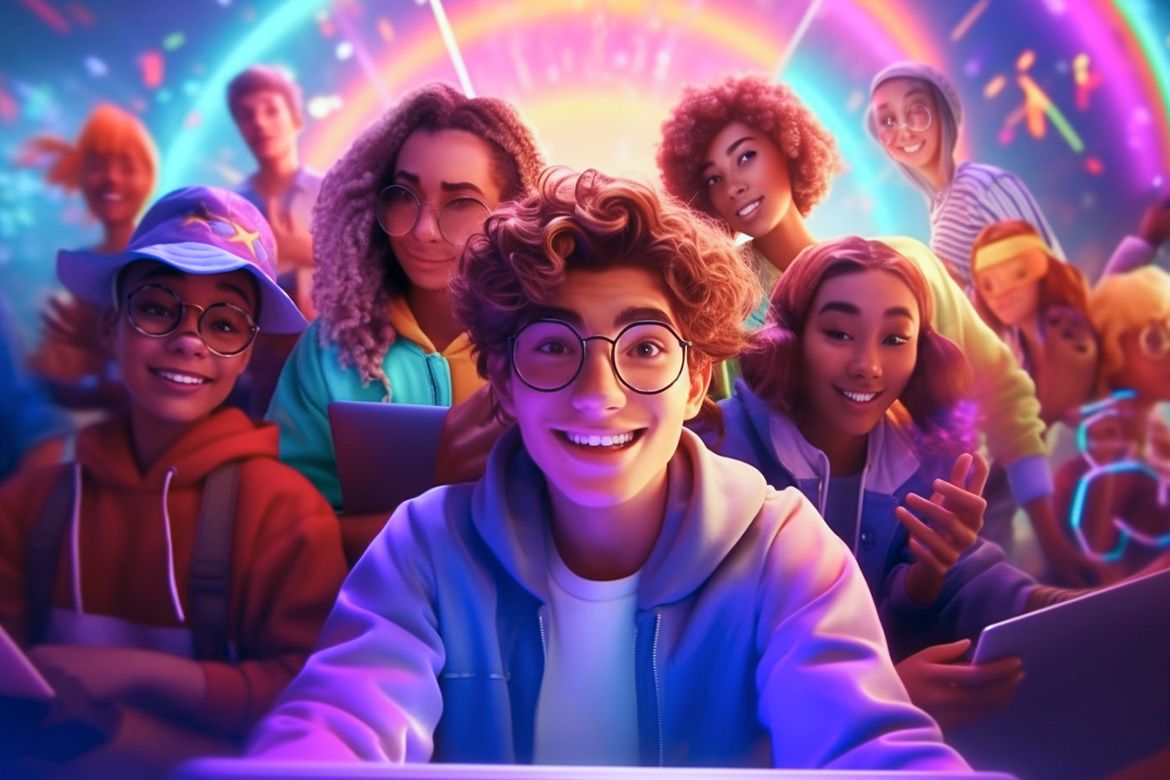 Learn from a course creator some of the most effective tips and tricks for making your online course more engaging, leading to higher student satisfaction and repeated sales.
A lot of new online course creators reach out to me asking, "How do I make an online course more engaging?", or "how do I increase the engagement in my courses?".
I know it can be heartbreaking to spend weeks, and even months creating an online course and in the end, most of your students abandon the course midway.
Most of the time, you'll eventually accept that your course isn't as interesting yet as it needs to be, and you are looking for ways to improve it.
One of your main goals as an online course creator is not only to teach your topic, but also to provide your students with the best possible learning experience.
A better course-taking experience will motivate your students to follow through with your course till the end, and really learn what you are teaching.
This will lead to much higher student satisfaction, and to higher chances that people will buy another course from you again in the future.
So learning how to create an engaging online learning experience is a win-win for both you and your students, and you should really take the time to learn how to do it properly.
So, how do you create an engaging online course?
Follow these steps to create a wildly engaging and interactive online course:
Create Project-based Courses
Show up on Camera
Incorporate Quizzes, Assignments & Student Discussions
Build an Online Community
Use Different Types Of Content
Introduce Storytelling
Keep Your Lessons Short
So without further ado, let's dive right in! 😉
You can also check out all the free guides that you have available here at the Course Creator Academy by clicking on the Academy link on the top menu bar.
Create Project-Based Courses
This tip is number one for a reason - this is by far what has worked best for me over the years.
Project-based learning is designed to teach complex skills or concepts using problems or challenges.
Let me tell you why I think this technique is so powerful for boosting engagement.
I teach software development, so I initially created courses that teach for example a programming language or a software development tool, covering each feature in a separate lesson and giving a small demo of that single feature only.
I noticed however that this type of course did not generate a lot of comments or engagement.
So I tried something else, and started creating project-based courses, that also cover the same content but this time around I'm also inviting my students to build a small application with me, from A to Z.
And I noticed that students' engagement levels in my courses skyrocketed after that!  
I started getting super-specific and well-thought-out questions, deep into the last lessons of the courses, which I didn't get at all before.
My students learned more, engaged a lot more with others, and at the end of the course, not only did they learn how to code but they also created an app to show for it.
When a student is working towards a clear goal, they become much more motivated to take the course until the end, and complete the project.
So this is my number one tip for you - try as much as possible to make your courses project-based.
But even though project-based courses are great, I think it's important to bear in mind that many students are still going to just watch the course, without building the project.
Some students just won't have time to work on the project with you, and they just want to see how you do it.  
Some students might only be able to watch the courses for a few minutes each evening, maybe lying in bed with a tablet or phone, and not on a desktop computer.
So you should always make sure that your course is still helpful and still makes perfect sense for students that don't want to build the project with you as you go.
Show Up on Camera
Sometimes you just have to show up on camera to teach something. Some examples include dance, karate, and yoga online course creators.
But more often than not, you can teach something by filming your computer screen, and by just showing slides, images or even an application that you are using, in screencast style.
In those cases, you might be tempted to never show up on camera at all.
My advice to you is: don't. 😉
I recommend that you show up on camera at least some of the time.
One of the reasons why showing up on camera makes your course much more engaging is because your students get to see your facial expressions, body language, and gestures which allows them to feel connected to you and your content.
It really helps if your students can see you, it will help them a lot in engaging with the course and keep taking it until the end.
How Often to Show Up On Camera?
While showing up on camera helps to build for you more online course engagement, I don't think it's 100% essential to do it all the time.
If you're like me who doesn't feel very comfortable or natural when on camera, or your course niche isn't one that requires any physical demonstration on your part, then you don't need to show up on camera in most of your online courses.
I know this, because I have been creating online courses since 2016, regularly making a six-figure income doing it, and I have barely shown up on camera at all 😉!
So how do I do it?
I've actually written a full post about it here - Should You Show Up on Camera as an Online Course Creator?.
But let me quickly give you here the gist of it.
I just show up on the beginning of the course, and at key points throughout the course, such as at the beginning and the end of each section (if needed).
Or more often than not, I only show up again on camera in the conclusion lesson, where I sum up everything that we have learned throughout the course.
This level of camera presence is ideal for me, but if you feel comfortable doing it all the way, then the more you show up the better for engagement, and for building your brand.
In the case of my courses, however, I get very good engagement with this minimal camera presence, so I recommend that you try it as well.
I am also aware of several high-earning course creators who don't show up at all on their videos, although many of the top instructors do show up systematically, either at key points or even all the time.
Incorporate Quizzes, Assignments & Student Discussions
Quizzes and assignments are one of the most powerful ways to increase your online course engagement.
After all, depending on the size of your course, your students are going to spend days, weeks or sometimes even months watching your online course.
If your courses are not properly structured to accommodate quizzes and assignments, there are high chances that people won't take the course till the end.
Aside from that, quizzes are fun tasks and serve as a good confidence booster for your students as well. A correct answer encourages the student to keep learning.
To drive more engagement to your online course, include well-thought-out and relevant quizzes at the end of each lesson or module.
For example, with the platform Onlinecoursehost.com, you can add as many quizzes as you like to your online course.
All you need to do is to click the "Quiz" option from the "Create lesson" tab and add your questions and options.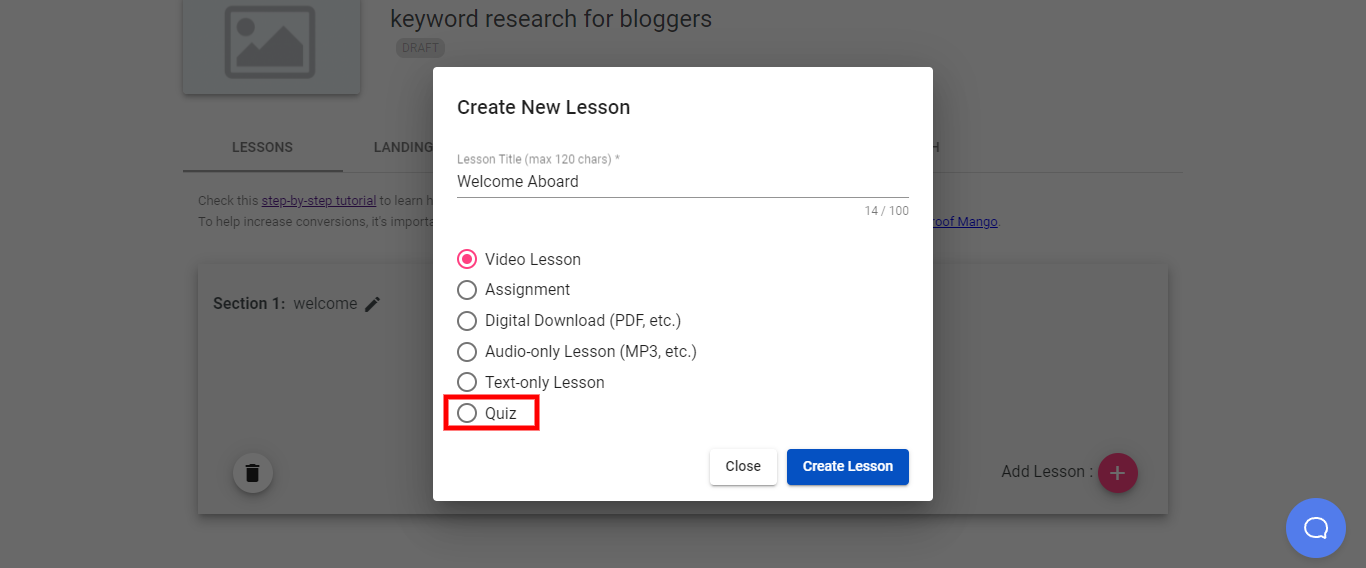 Your students will take the quiz as a normal lesson from their dashboard. They will receive hints on whether or not they gave the correct answer.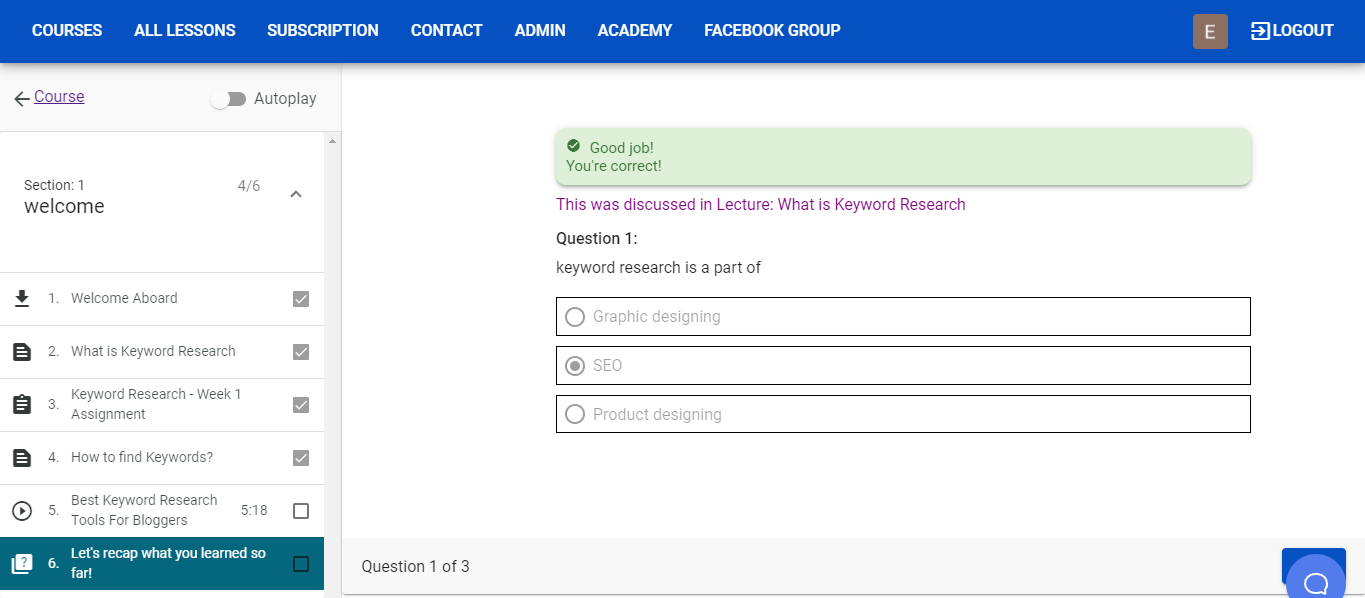 Besides quizzes, student assignments also give your students an opportunity to test what they learned and retain more information from your online course.
And because they are getting direct feedback from you, they are that more more motivated to keep learning.
When creating assignments with Onlinecoursehost.com, simply prepare your assignment sheet, then choose the "Assignment" lesson type on your lesson dashboard and upload it.
Also include the assignment instructions and templates.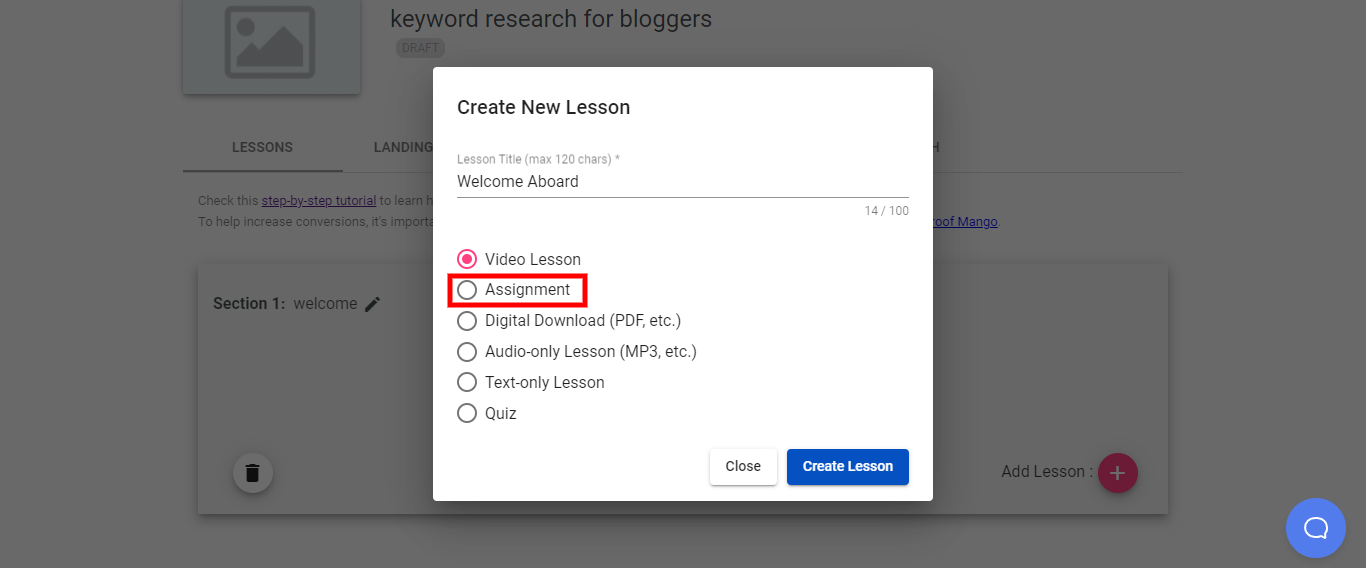 When your students are done with their assignments, they will simply upload them on their student dashboard. You can view them, mark them as completed, and add your remarks.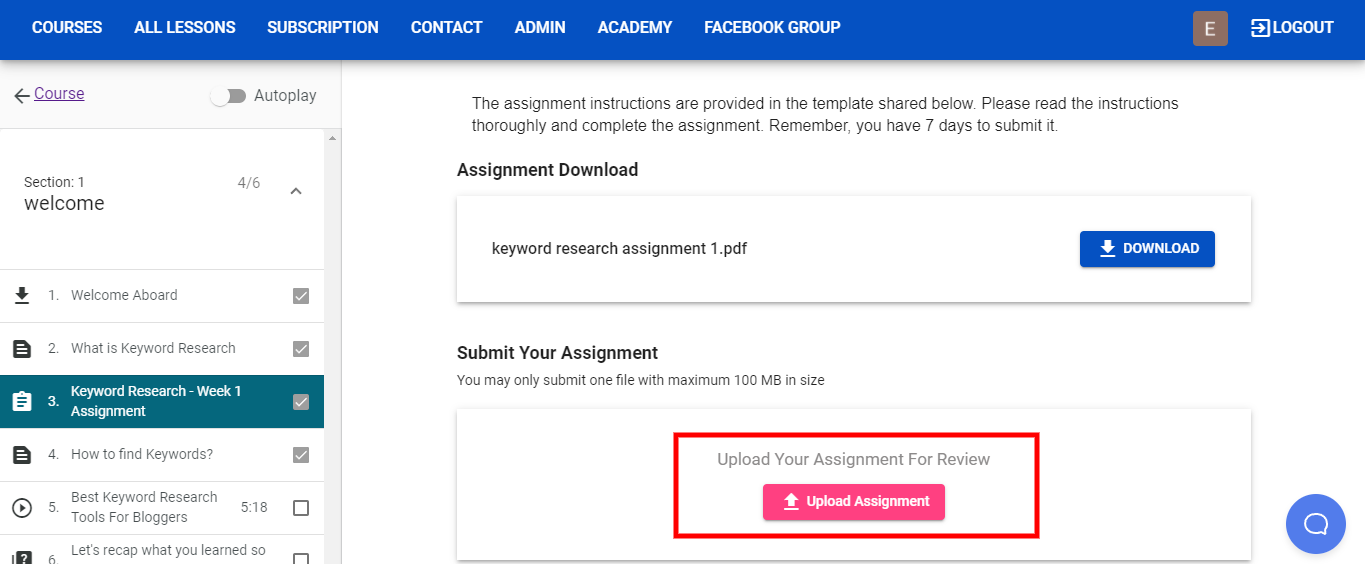 When creating quizzes and assignments, don't make the questions either too easy or too difficult.
Your questions should be challenging enough but not too difficult.
If the tasks are too easy, the more advanced student will get easily bored. But if it's too hard, most students especially beginners will feel frustrated, and both of those things lead to student disengagement.
Build an Online Community
Online course creation doesn't just stop at outlining your course, shooting lesson videos, uploading them on a course hosting platform, and marketing your course.  
As much as these steps are important to creating your course, you should still go further and build a community where your students can learn and grow together.
I think the best way is to create the community right there on the course pages themselves, in the Q&A section of each lesson.
OnlineCourseHost.com does include a Student Discussions feature that provides this, with search capabilities that allow your students to easily search for an answer in the lesson, or even in the whole course.
I think that having these engagement tools directly on the course is essential.
But you can then complement this by creating a group on Facebook or a chat room on Slack or Discord.
These social channels will allow you to moderate the community as an admin, and you can make the community private if you prefer, and make it another huge benefit of purchasing the course.
Encourage your students to introduce themselves to the group, and ask them questions, and answer students questions regularly. When students interact frequently with each other, it boosts their motivation to keep taking the course.
You can even assign group tasks to the whole community from time to time.
The engagement possibilities of having your own community are endless, and for many students being able to join a private community is one of the main reasons why they would purchase your course in the first place.
Include Diverse Lesson Content
If your online course is just a sequence of videos, many students will think that something is missing.
Things like downloadable documents, PDFs, quizzes, assignments, rich text lessons, audio lessons and more all add a lot of variety to your course.
These extra resources like cheat sheets, extra articles or some sort of template that the student can use all add extra value to the course, making the student feel more satisfied with the course.
Having different types of lessons with different content formats makes your online course much more exciting, engaging and most of all, valuable to your students.
But you may wonder, how can I add different content formats to my online course?
Hosting platforms like Onlinecoursehost.com allow you to add videos, rich-text lessons, PDF templates, downloadable worksheets, and audio lessons to your online course: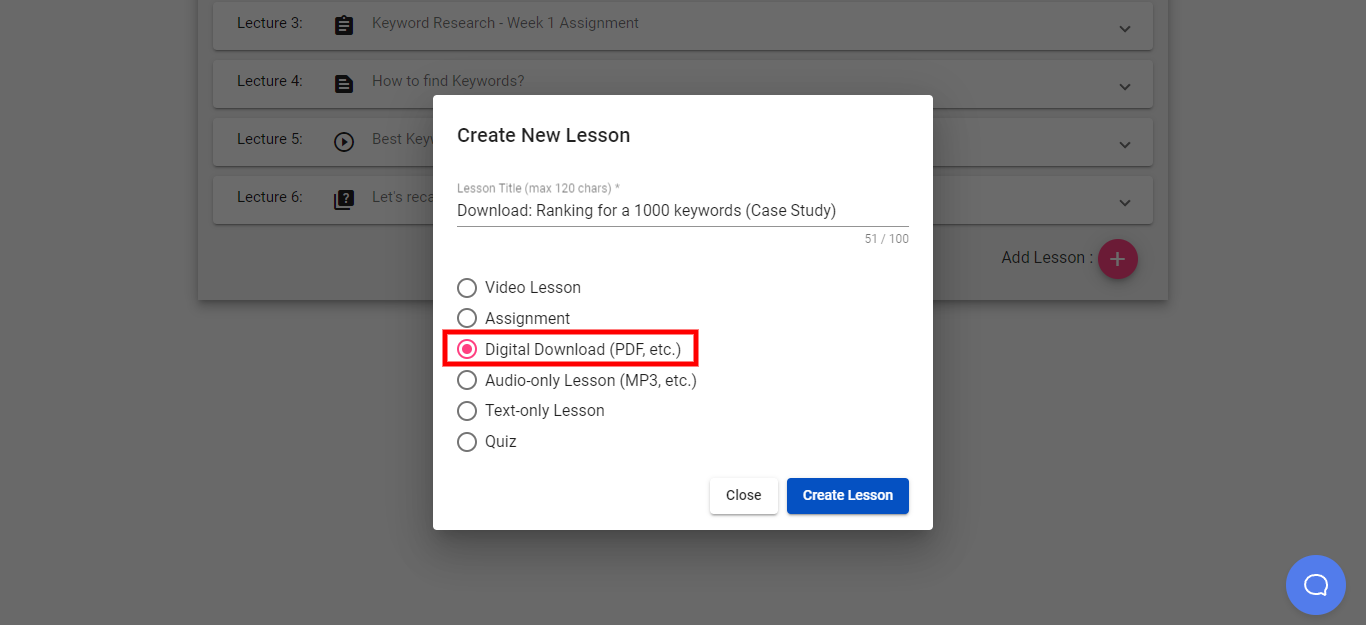 Introduce Storytelling
If you're wondering how to create an engaging online learning experience for your students, tell them a story!
You'll do better as a course creator if, in addition to your skills, you're a good storyteller.
If you learn how to weave small stories into your lessons to drive home your point, that will take your course to another level.
People just naturally love stories, it's in our nature.
Aaron Barth in his TEDx talk pointed out that:
"Our earliest instinct around education is based on storytelling. People teaching other humans using human stories. It's how we learn and communicated."
Stories stimulate the way we learn through experience. And one of the ways to introduce storytelling to your online course is by sharing your personal experiences.
If you tell a quick story about how you achieved a certain result or completed a certain task, that will not only help your students to learn better, but it also make you more relatable and credible from the point of view of the student.
They will see you as someone more experienced than them, so they will trust you more. They will feel that this is the right course for them and will continue watching it.
However, don't just use any story, make sure that the story is super relevant to the topic at hand, and use it to drive home an important point.
Keep Your Lessons Short
Here is another super Important tip for your online course engagement.
It's tempting when you are recording a lesson to just keep going and going, trying to cover as much ground as possible in one single recording.
It's true that longer videos make the recording process more efficient for you.
But do longer videos help your students to learn better?
Unfortunately no. One of the biggest sources of disengagement in a course are excessively long lessons, because it's hard for students to keep concentrated for that long.
I personally try to keep my lessons somewhere between 5 and 10 minutes. Sometimes I record 3-minute lessons, and sometimes I can go as long as 12 or 13 minutes, but not more.
I just try to avoid long lessons based on my own experience as a student.
For example, I remember stopping taking a course after struggling to complete a 20-minute long lesson, after several attempts.
I even remember falling asleep with my tablet in bed trying to take an over 20 minutes lesson, multiple times! I ended up not taking the rest of the course.
Conclusion and Next Steps
As you can see from the tips, making a course more engaging is all about choosing a course platform that has the right engagement tools, and using them properly.
Creating different types of content, quizzes, assignments, encouraging student discussions, making project-based courses, filming short lessons, these are all simple things that you can do to make your course that much more interesting and satisfying.
So you really want to make sure that you choose a course hosting platform that has all the tools that you need.
If you are asking yourself  how to create an engaging online course, the answer is simple: choose the right course platform with all the engagement tools you need, and use them in your course.
The Onlinecoursehost.com platform gives you all the tools you need, including:
student discussions
quizzes
assignments
different types of content - PDFs, digital downloads, audio lessons, video lessons, rich-text lessons, etc.
The best part is that the platform is super affordable and very easy to use, so go check it out at onlinecoursehost.com.
But more than a platform, we want to give you all the information that you need to grow your online course business successfully.
That's why we have created the Course Creator Academy where you can find everything you need to become a successful online course creator all in one place for free.
To get notified when new content is available here at the Academy, you can subscribe here to our weekly newsletter:
If you are looking to ask any questions on online course creation, you can reach me here on my Facebook group:
Join the Course Creator Academy Facebook Group
Ready to learn how to launch your first course on OnlineCourseHost.com? Here are the helpful guides for you to check out:
I hope you found this post helpful, let me know in the comments below what other topics you would like me to cover, or any questions that you have?
Thanks for reading… and enjoy the course creation process! 😉
---
Vasco Cavalheiro
OnlineCourseHost.com Founder & Online Course Creator