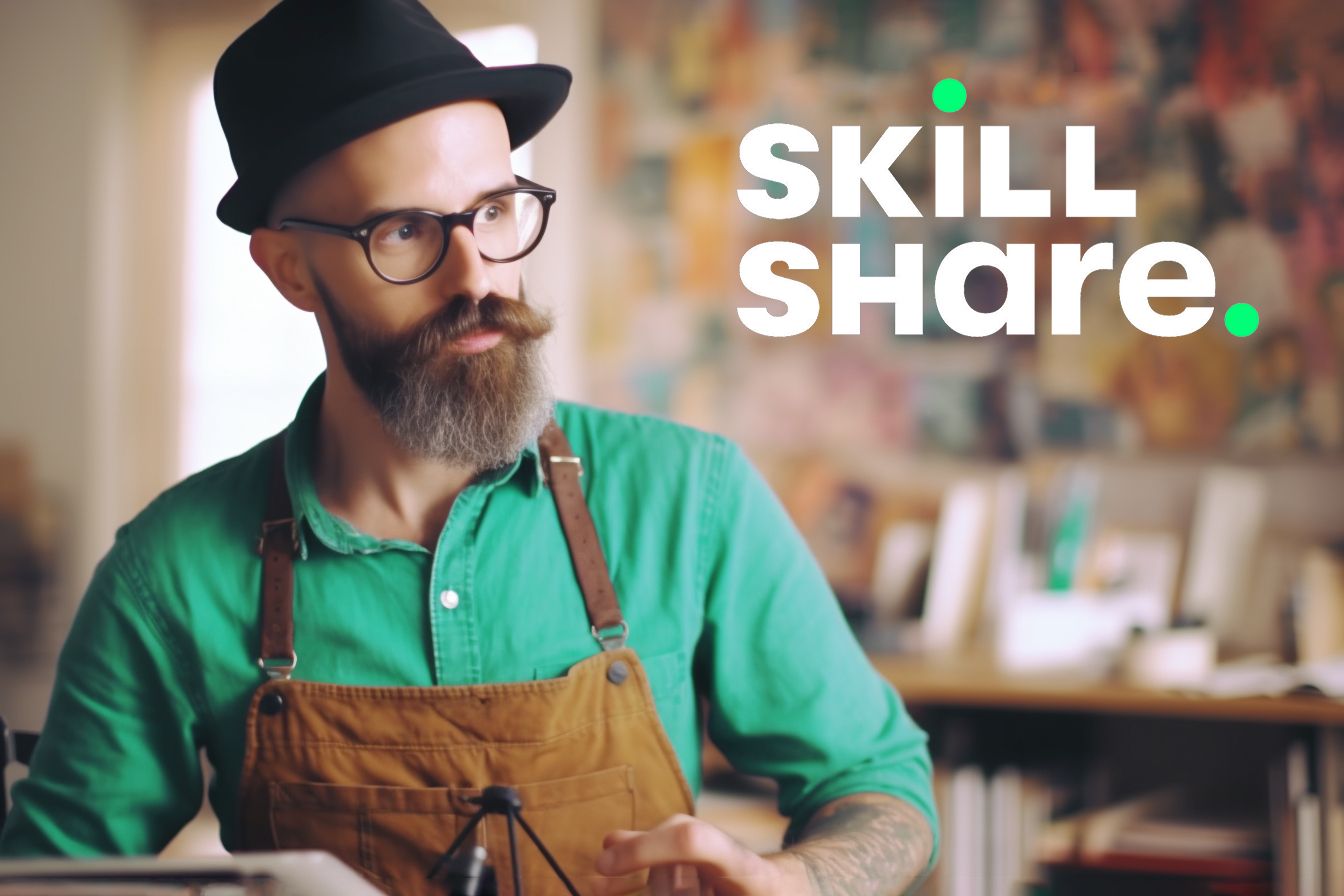 Everything that you need to know to help you determine if Skillshare is the right online course platform for your online courses. Learn about the revenue model, the teacher terms and conditions, and what topics are popular in this online course platform.
If you are an online course creator like me, you must have heard before about Skillshare. Skillshare is one biggest online course platforms on the Internet, just like Udemy or Lynda.com.  
But there are a ton of online course marketplaces and other types of platforms out there, so if you haven't used it before, you must have many questions about it, such as:
Is it worth becoming a Skillshare instructor?
Is it going to work for your type of course?
What are the instructor's terms and conditions?
How do payments and commissions work?
Can you make money teaching on Skillshare?
In summary, you are wondering if Skillshare is worth it for instructors in general and, more specifically, if it's a good fit for you in particular.
So, is teaching on Skillshare worth it for instructors?
Skillshare is very much worth it for course creators creating courses, especially on creative topics like arts, design, animation, illustration, writing, crafts, etc. But it's also starting to become more popular in other topics.  Skillshare is the largest online community for creative people, with over 12 million registered students. Skillshare presents a wonderful opportunity for course creators to build a brand in the creative community, and the marketplace is always expanding to new topics. But if you're from other industries like technology, health, fitness, etc, then Skillshare may not be the best option for you, at least not right now.
But don't be discouraged if your course topic is not one of the ones mentioned because chances are that it's still worth it for you to teach on Skillshare.
You already have the courses ready anyway, right? So why would you leave that extra revenue on the table?
I've collected in this post everything that you should know about Skillshare, to help you determine if it's the right platform for you.
You can also check out all the free guides here at the Course Creator Academy by clicking on the Academy link on the top menu bar.
You might also be interested in these other posts related to Skillshare:
So without further ado, let's get started with our deep dive into Skillshare, and let's find out together if it's the right platform for your courses.
What is Skillshare?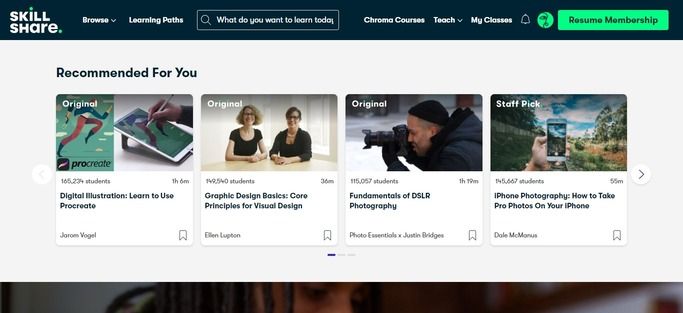 Skillshare is the world's largest online learning platform for creatives with thousands of courses and classes created by professionals in different fields to help aspiring creators learn new skills.
It's also right now the second-largest online course platform in the world, behind Udemy.
Here are some Skillshare stats that you must know:
12 million+ registered students.
35000+ classes in three sections: create, thrive, and build.
8000+ teachers
Top 500 teachers earn over $2k per month.
The most interesting stat is that teachers can earn a regular income from Skillshare.
And the marketplace isn't that competitive just yet, so it presents a wonderful opportunity for new course creators to start building a profile on Skillshare.
Categories on Skillshare
As you can see, there are many categories, but they are divided into three major sections. "Create" is for creators who want to develop creative skills such as writing, etc. "Build" has courses for business owners. And "Thrive" includes courses in lifestyle and productivity niches.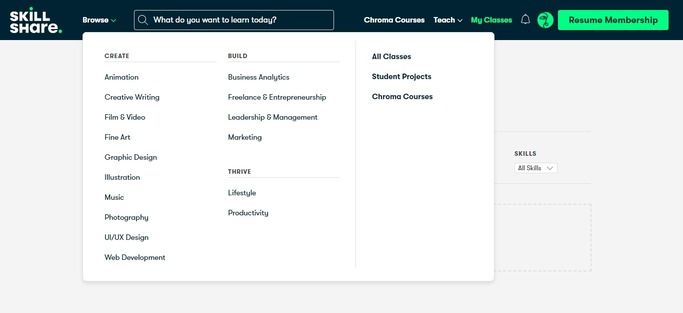 There are more categories in the Create section than in the Build and Thrive sections, which means that those are clearly more popular on Skillshare.
But this can also mean that the other two sections, Build and Thrive are less competitive for now, and that the marketplace is willing to promote the courses in those categories to further develop them.
How does Skillshare Sell Courses?
Skillshare sells membership plans to individuals, teams, and companies. This means that classes are not available for individual purchase, unlike for example on Udemy.
Students can only access them if they take the subscription. Here are all of the ways Skillshare sells its courses:
Membership Plan
The yearly plan of Skillshare currently costs $167.88 per year which works out to be $13.99 per month. This plan gives individual students access to all the 30,000+ courses, student community, discounts, etc. And they offer the first month free for students to try out the platform.
Chroma Courses
The next method is immersive classes for small groups called Chroma Courses. These are multi-week live classes with guidance, certificate, and premium support from instructors.
Skillshare charges $499 for Chroma courses.
Skillshare for Teams
Skillshare for Teams is a plan for companies that want to invest in the training of their employees. All of the classes on the platform are available for teams. Here is how Skillshare has priced the team plan: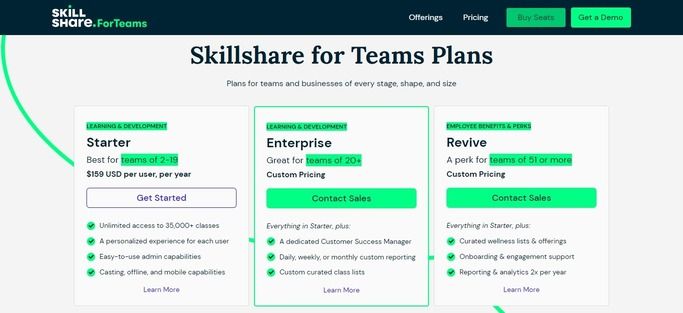 How do Teachers Get Paid on Skillshare?
Skillshare pays its teachers in two main ways: via Royalties and Referral.
SkillShare Instructor Royalties
As a teacher on Skillshare, you will earn royalties based on the number of paid minutes watched by the students of your classes.
Skillshare keeps 30% of the total revenue earned in the platform in a royalty pool reserved for teachers only.
This also means that the platform keeps 70% of every sale that they make as a commission.
The instructor revenue is calculated based on each teacher's share of paid minutes. So, if your share comes out to be 1% of the total paid minutes on the platform, then you get paid 5% of the royalty pool.
But, you don't get paid for minutes watched on free classes or course trailers.  You must have at least 75 paid minutes to be eligible for that month's payment. You can measure your earnings on your teacher stats dashboard.
Skillshare Teacher Referral Income
Another source of teacher income in Skillshare is affiliate income. Simply put, you get paid for getting new subscribers to the Skillshare platform. You get a unique referral link when you sign up as a teacher, and also when you publish a new class  that you can promote to your existing audience.
For each subscription, you get paid 60% of the student's first subscription payment. After creating a teacher account, you will be able to access your referral stats via your dashboard.
This second type of income is an add-on and is not limited in any sense. Your referral earnings depend only on how many subscribers you bring every month to Skillshare, and are not capped in any way.
If you think about it further, referrals will also help you increase your royalty income. The more subscribers you bring to the platform by promoting your class links, the more paid minutes you add to your pool's share.
So these are the two methods of earning revenue on Skillshare.
As you can see, your income depends on both your paid watch minutes and your marketing efforts, and it doesn't matter whether or not your classes are included in Chroma courses or the team plans.
Top-earning teachers make $100,000+ per year and average teachers earn $2000 per month, so you can expect to earn a full-time living from Skillshare if you manage to grow an audience there and find the right niche for you.
Pros of Becoming a Skillshare Teacher
Becoming a teacher on Skillshare is a great way to speed up the growth of your online course business, especially if you are just starting out from scratch.
As a Skillshare teacher, not only you can earn a good income but you also get a lot more benefits:
Free Course Hosting Platform
Skillshare provides you with a free platform, including all the tools and resources you need to launch classes. You don't need to invest in expensive course hosting software. You can create as many classes as you want.
Notice that publishing on Skillshare does not mean that you can't publish on your own website as well, as it does not require exclusivity.
Large Audience Base
Skillshare gives you access to 12 million+ registered students who are engaged on the platform. This is a huge audience that you can reach with the right courses, and it will help you a lot if you are trying to build your student base from scratch.
If you pick a popular category and create high-quality classes then you'll easily be able to get things moving.
Build a Personal Brand
The best part about Skillshare is that you, as a teacher, are allowed to build a personal brand. In fact, you will often find celebrity teachers on Skillshare such as Roxane Gay and Leon Clingman.
So, unlike other marketplaces, Skillshare allows teachers to promote themselves and build personal brands. This is great for you as a beginner because you can use its large audience to start growing your personal branded website.
Short Video Length
A great thing about Skillshare is that you don't have to create hours-long courses.
A 20-minute video will also work fine, and many students even prefer it. Your classes will be approved before being published on the platform.
They also share with teachers their best video filming and editing tips so that you can launch perfect classes that will attract more students.
It's also great if you want to test the platform first. You can publish a few short-length videos and see if they're performing well.  If they do, then you can sell the same classes on your website and add another income source.
Skillshare Teacher Help Center
More than anything, Skillshare has a dedicated teacher help center that has everything you need to grow on Skillshare. From launching your first class to promoting them to engaging your students you will find all the help to succeed as a teacher.
If you need personalized help, then you can contact the support team.
Cons of Becoming a Skillshare Teacher
Here are some things that you must keep in mind when deciding if Skillshare will help you in your career or not:
Difficult to Grow as a Beginner
Skillshare is an online marketplace optimized to maximize sales, and so they list the most popular classes on the top, that have the biggest chance to convert into sales.
Ranking factors such as reviews, watch time, etc are used to list classes. Generally, the classes from top teachers are displayed first to the students.
This makes it difficult for beginners to get students on Skillshare, if just starting out from scratch in a crowded category.
In the beginning, getting students depends mostly on the teacher's self-marketing efforts. So, for the first few months, you'll have to heavily promote your classes to get the momentum building.
Not all Categories Work Well
Skillshare is relatively limited in terms of the topic you can teach. Some topics like illustration, graphic design, etc are highly popular, and if you start with these then you're more likely to become successful on Skillshare.
At the same time, topics like fitness or health (not related to creativity) don't work there at all, at least not right now. In fact, Skillshare has a list of restricted topics on which you can't create classes.
There are still other topics like Programming or Web Development that are not as popular on Skillshare, but they are still listed in the multiple course categories.
This is simply because these topics do not resonate with their target audience - artists or creatives, and the marketplace is doing a deliberate effort to market itself specifically in that niche.
But they also provide a list of topics that work really well with tips on picking the best topics. So, if you're an artist and not sure if students on Skillshare will engage with your content or not then you can use this list to figure it out.
If it is a popular topic, then you can launch classes on Skillshare as well as create a personal website and earn revenue from both places. And if it isn't, then focus on growing your website and find another platform like Udemy.
Income isn't Consistent
The biggest disadvantage of Skillshare is that not all creators are paid every month. It's because if you didn't qualify for at least 75 paid minutes you don't earn from the royalty pool. These paid minutes don't include trailer minutes and free courses.
And the second type of income, referral income depends on your marketing efforts - which is both good and bad for you. If you want to make a regular income then you'll have to constantly promote Skillshare to bring new subscriptions.
This can be tiring considering that not all people pay for a subscription after finishing the 30-day trial period.
Now, if you already have an active social media following and you know some marketing tactics then getting subscribers will be simple for you. But if you're a beginner then depending solely on Skillshare to earn a living isn't the best decision.
Instead, take this as an add-on income and focus on building consistent earnings from your website. After all, you'll always have more control over your website than a third-party marketplace.
No Marketplace Analytics Available To Teachers
Skillshare doesn't provide any opportunity to get insights or data to optimize your performance on the platform.
All you have is your earnings dashboard where you can find the number of students who subscribed or total watch minutes. This information isn't enough to come up with new class ideas or improve your courses.
This is unlike other platforms such as for example Udemy, which gives instructors a powerful Marketplace Insights dashboard, that they can use to find new course topics, and estimate their potential revenue.
How much do Skillshare Teachers Make?
On their site, Skillshare claims that their top teachers earn $100,000+ per year. These teachers have built an established profile on the platform. But, average teachers have also been doing well on Skillshare.
Here are two such examples.
Marouane Bembli made $43,086 so far
Marouane Bembli has been a Skillshare teacher for five years. He made $43,086 in this time.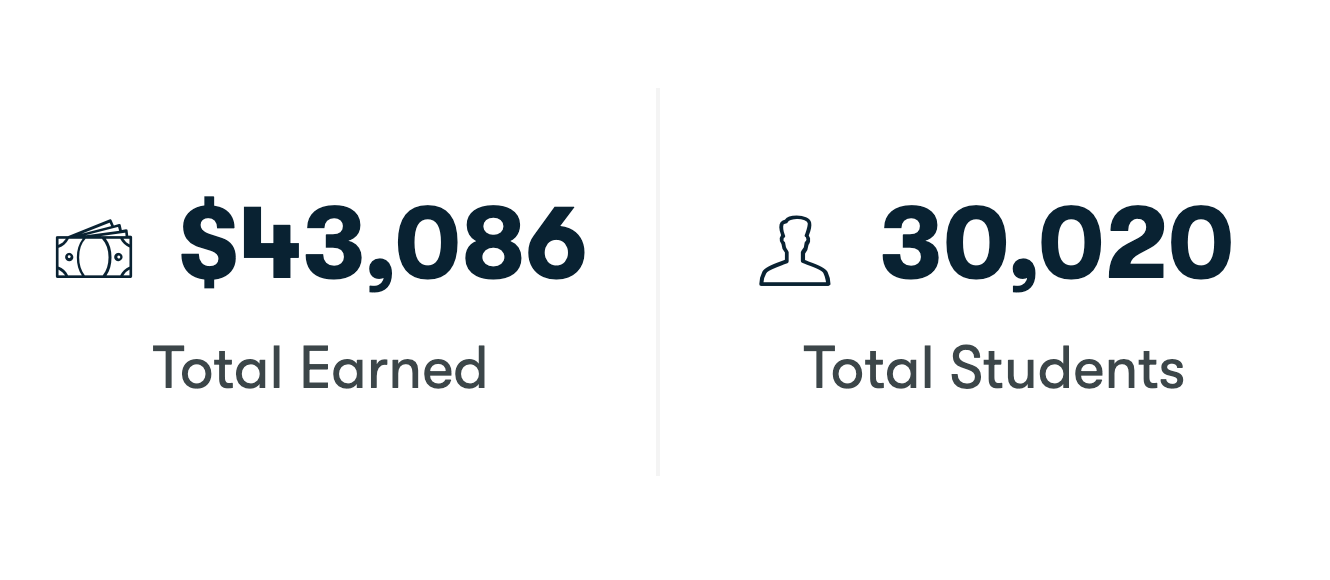 What's more interesting is that he only published 30 classes on pencil sketching. This is an example of how a popular category works well on Skillshare.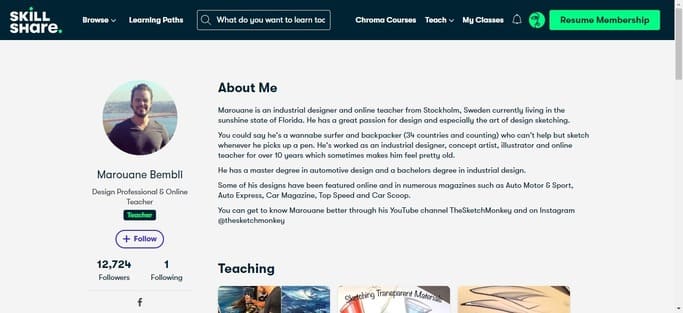 In this YouTube video, Bembli explains how his income scaled over the years. He also shares his best tips to create successful classes on Skillshare.
Benji Wilson made $20,000+ in One Year
Benji Wilson made $20,000+ in his first year as a Skillshare teacher. He publishes classes on social media marketing and entrepreneurship. Now, these topics on Skillshare are not highly popular but Benji was able to make it work for him.
This means that these topics are slowly growing on the platform.
He shares his strategy for scaling his income on his Youtube channel.
So, you noticed? It might be a bit difficult for a beginner to start but after some time you'll be able to grow in the platform.
And once you establish a profile you'll make passive income almost every month.
Conclusion: Is Skillshare Worth it For Teachers?
Yes, Skillshare is very much worth it for course creators if you're from the creative or business industry. You can become a Skillshare teacher and build an entire online business.
It's a great opportunity to learn, test, and grow as an online course creator:
Skillshare is perfect for beginners trying to grow an audience from scratch.
Skillshare is one the best way for part-time teachers to earn some extra revenue by creating courses.
Skillshare is a great add-on for full-time online course business owners to create an extra source of income, by publishing your existing courses there.
But if you're from technical industries (and not from the creative side) then your time is probably not well spent on Skillshare, because Skillshare is a platform openly aimed at creatives and you're just not going to find your target audience there.
I know that, because I have some popular programming courses that work great on my website and on Udemy, and I tried to publish several of them for years on Skillshare, and only saw very limited success in the platform for that topic.
So now you know that Skillshare is very much worth it for you as a course creator, depending on your topic. It's a great platform to begin your journey, but at the end of the day, it's still a third-party marketplace.
You as a teacher will have limited control over it. For example, you can't know your student's emails. Also, Skillshare can remove your classes whenever they want.
Growing on Skillshare requires a lot of promotional effort on your part, and you could decide to use that same effort to promote your own course website.
On your own website you can do value-based pricing and charge your students based on the value that the course is bringing them. You can also sell higher-ticket items like course bundles, subscriptions, Lifetime plans, Enterprise plans or coaching packages.
With your own website, you can also ask for the student's email and grow your mailing list over time. This will allow you to retain your student audience and constantly bring them back to your website.
I think that for most course creators this mixed publication model is ideal (marketplaces plus self-hosting), and I talk about it here in detail - Where Should You Publish Your Online Course? (Self-Hosting vs Marketplaces).
But the problem is that often having your own online course website is expensive, especially for new course creators just starting out.
I get that because I'm a course creator too, and I know what it's like.
But that is why I have created OnlineCourseHost.com in the first place. To help out course creators by creating the easiest to use and most affordable online course platform on the market, that comes with built-in email marketing capabilities like bulk emails.
More than a platform, we want to give you all the information that you need to grow your online course business successfully.
That's why we have created the Course Creator Academy where you can find everything you need to become a successful online course creator all in one place, for free.
To get notified when new content is available here at the Academy, you can subscribe here to our weekly newsletter:
I hope this guide helped you decide if Skillshare is worth it for you as a course creator!
If you've any questions about Skillshare or online course creation, you can reach me here on my Facebook group:
Join the Course Creator Academy Facebook Group
You can find many other guides like this in our Free Course Creators Academy.
Here are some other helpful articles and blog posts for you:
I hope you found this post helpful, let me know in the comments below what other topics you would like me to cover, or any questions that you have?
Thanks for reading… and enjoy the course creation process!
---
Vasco Cavalheiro
OnlineCourseHost.com Founder & Online Course Creator
LinkedIn   Facebook Page   Facebook Group   Twitter
Frequently Asked Questions about Skillshare
1. How to join Skillshare as a Teacher?
Joining Skillshare as a teacher is easy. Head over to https://www.skillshare.com/teach and click on the "Apply" button. You can start creating classes without any approval.
2. How long are Skillshare Classes?
Skillshare classes can be anywhere between 20 to 60 minutes. The best part is that you don't have to create hours-long courses. A quick video will just work fine as long as they're helpful.
3. Who can become a Skillshare Teacher?
Skillshare promotes its teaching platform with the tagline "everyone can teach" so you're eligible to become a Skillshare teacher as long as you have a valuable skill to share. But you must follow their teaching guidelines to get your classes approved.