How to Grow a Facebook Group For Selling Online Courses (From 0 to 1000 members)

Platform Review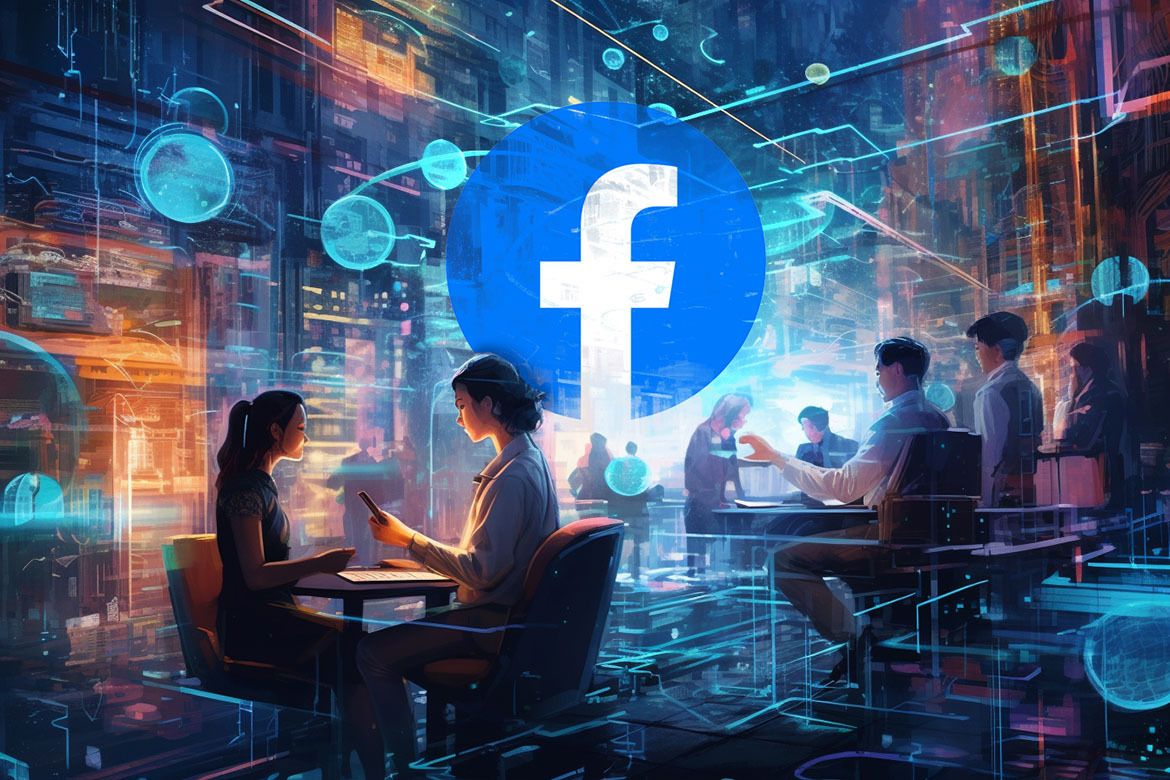 A practical step-by-step guide for growing a Facebook Group from scratch to your first 1000 members. Growing your group further from this initial social proof will then become much easier.
So, you ask yourself: can I sell courses on Facebook?
How do you successfully grow a group on Facebook for selling online courses?
I get these questions a lot and I thought it is time to share! Selling courses on Facebook is a great opportunity.
When you start selling online courses on Facebook, you realize how much there is to learn about the platform. Not only does this come with how to set up groups, but also how to successfully manage the group.
As an experienced course creator, I'll walk you through my workflow and show you exactly how I use Facebook Groups to attract new members, keep them active and build a community of loyal followers.
If you are an online course creator, you likely already know that a Facebook Group is a great way of selling many types of online courses.
Creating a community of people that follow you and trust you is a great way to create awareness for your brand and your courses.
People that learn from you continuously over time are much more likely to be interested in one of your courses or services, either now or in the future, and a Facebook Group is one of the best ways of building such a community.
The thing is, if you are just starting out and no one knows you yet, how are you going to grow your group in the first place, from scratch, from zero members?
Well, that's exactly what you will learn in this post. 😉
In this post, you will learn a combination of simple tricks to get your Facebook Group off  the ground fast, to your first 1000 group members or so. 🚀
You can always find an up-to-date index with all the free content available in the Course Creator Academy by clicking on the Academy link on the top menu bar.
Why Use a Facebook Group to Sell Online Courses, instead of a Facebook Page?
As you know, almost 3 billion people are on Facebook every day, so most likely many people in your audience are there too.
Facebook has grown in the last few years from a place where people only chat with friends and family to a network where you can learn about all sorts of topics, consume news, etc.
Although there is a lot of people on Facebook,  you will notice that if you create a plain Facebook Page and start posting, you will get very limited engagement.
This is because (as Facebook established a few years ago)  people want mostly to hear from their direct connections and other people,  not from companies.
So the bottom line is that on Facebook, if you want organic reach and get your posts viewed by a lot of people, you need to pay Facebook. 😉
If you don't believe this, you can try to create a brand new business page for your courses, and start posting. After a month, you might get 5 people to interact with your page.
Organic Reach on Facebook Groups vs Facebook Pages
In general, if your business page has 1000 followers, and you create a new post, you are lucky if 20 people even watch your post, that's how limited the organic reach of Facebook Pages is for companies and products nowadays.
But there is a much better alternative to Facebook Pages, with a lot more organic reach, that the algorithm favors a lot: Facebook Groups.
If instead of posting on your Facebook Page, you post in your Facebook Group, your posts are much more likely to reach your audience.
A Facebook Group can have an organic range about 10 to 20 times higher, when compared to an equivalent Facebook Page.
This means that if you have 1000 members in a group that are well engaged and you create a new post, that post might very well reach from 200 to 400 or more members over the space of a week, that's how powerful the organic reach of a Facebook Group currently is compared to Facebook Pages.
You might think, that still doesn't sound like a lot, but it's huge, considering that you can reach people organically multiple times a week, and that the algorithm will present the posts to your audience at the time they are more likely to engage with them.
What does a Facebook Group look like?
A Facebook Group has its own separate page, which can be public or private.
But in most cases, your group members will not interact with your group through the group page.
Instead, your group posts will show up organically in your main members' Facebook feed, alongside any other posts.
Here is an example of what a Facebook Group post looks like, from a group of one of our course creators: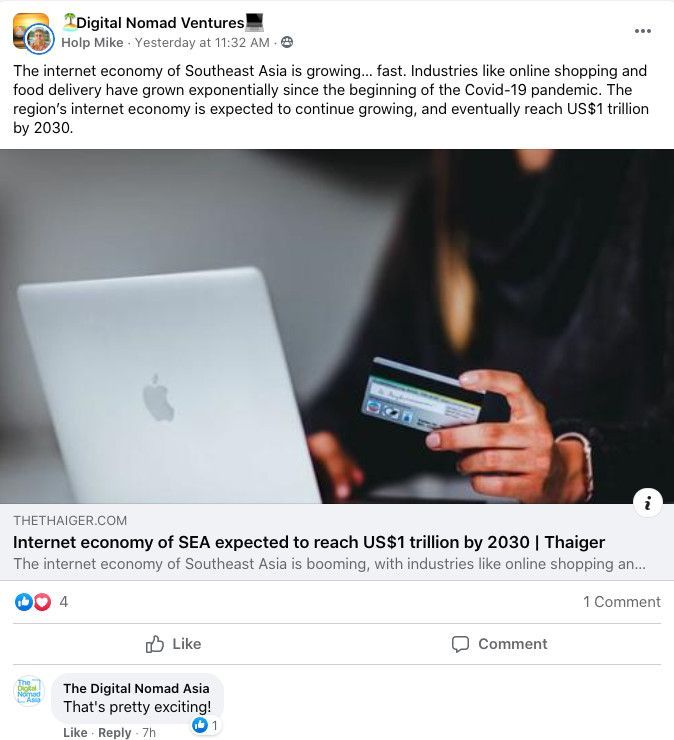 As you can see, there is not much distinguishing a post from a Facebook Group from any other post in your Facebook news feed.
It' just a normal Facebook post, it just has a much higher organic reach and it has a link on top to the group page, that people might click or not.
Most of the time though, people will be interacting with your group directly in their main news feed and not on the group page.
So this is why it's important to brand each post individually, so that if people get value from your post, they will associate it directly with you and your brand.
But again, the same thing applies: if your group is new and no one heard of it, how are you going to grow it?
Here is a very simple process to grow a Facebook group from scratch.
Step 1: Create Your Facebook Group
Your first step is to create your Facebook Group.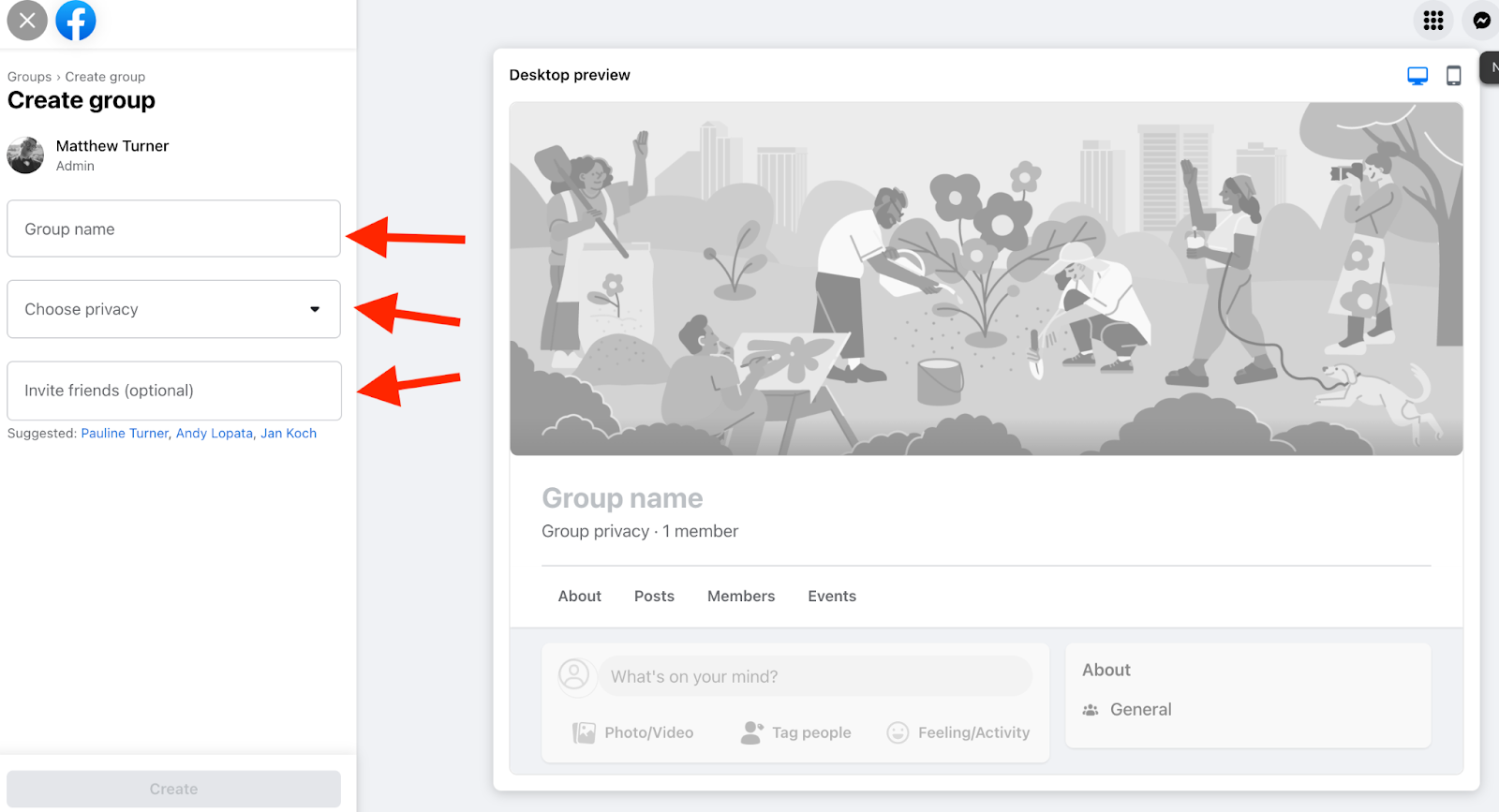 You can be up and running in just a few seconds. All you have to do is choose your group's name, privacy, and invite a few close friends/colleagues, to get your first few members.
Ideally you should get 10 people or so to join your group initially, but if it's not possible that is not a problem.
How to name your Facebook Group
One of the most important parts of creating your group is giving it a great name.
The name should include your keyword, for people to be able to find your group through both Facebook Search and Google Search.
For example, my group is called "Online Course Creators Academy (FREE Creator Support)".
Notice that the value proposition is right there on the name (free support to creators), and it has the words "Online Course Creators", which is my audience.
These two things help people know who this group is for, and what value they can get out of it.
How to Create a Facebook Group Banner
The second part of creating a group is to add a professional-looking banner. The banner should show:
you brand, including any logos, or a picture of you if it's a more personal brand
The value proposition of the group - in my case "Learn everything that you need to know to become a successful online course creator."
Here is the example of the banner that I use for my Facebook Group: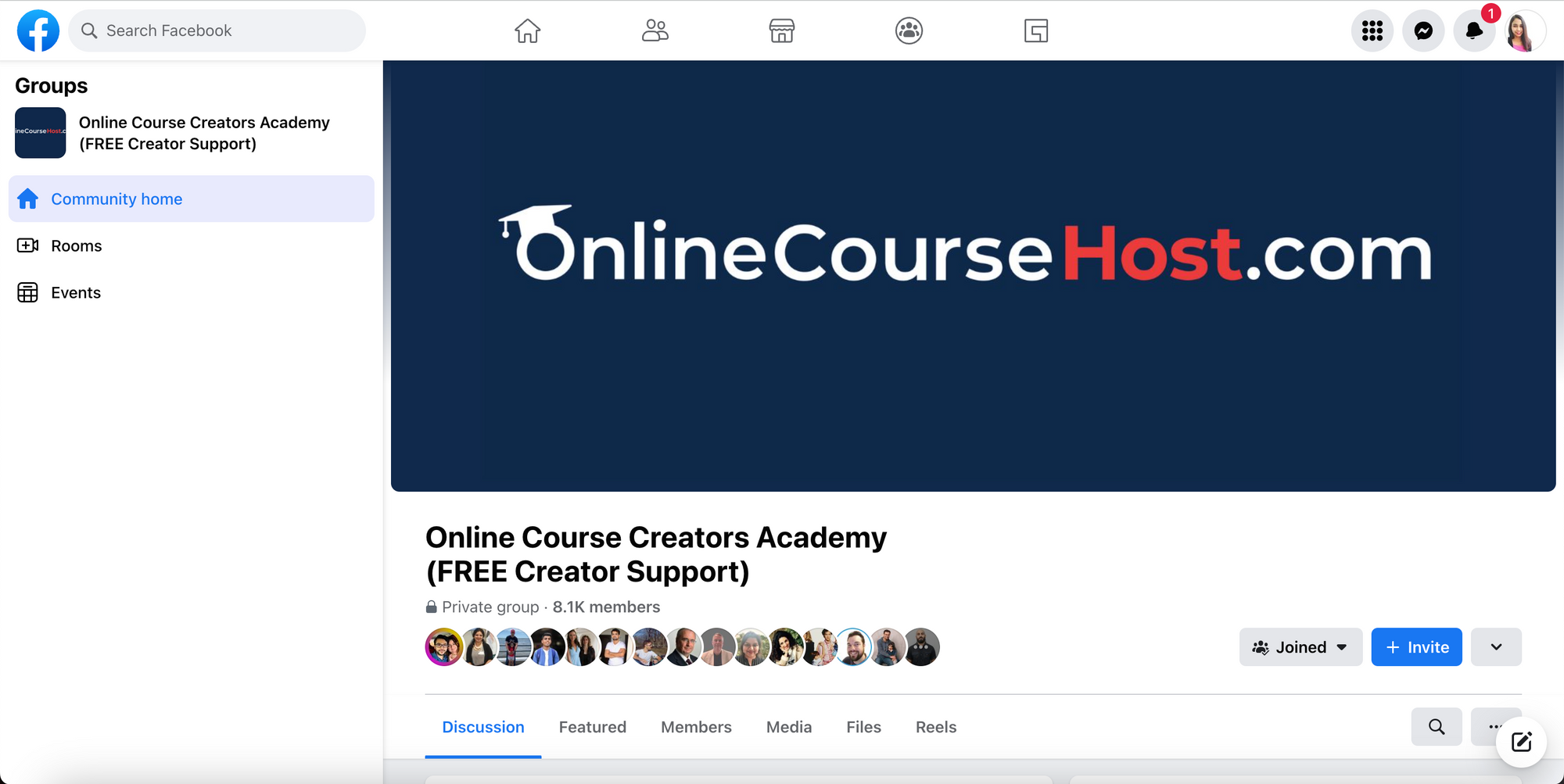 Notice that the banner shows exactly:
Which people should join the group
Why they should join: in this case to get free support on course creation questions.
You don't need to be a superstar designer, either. Follow this simple tutorial that shows you how to create an eye-catching banner in Canva or if your budget allows, outsource it on Fiverr for $20 or so.
An important gotcha about the banner image
When the image gets published, it creates an automatic post informing the group users of the new image.
You might feel tempted to delete that post, as it does not add a lot of value. But if do so, the banner will also be automatically removed for some weird reason!
So don't delete the automatic post, in order to make sure you don't loose your new banner.
Add Some Initial Content To Your Group
Before promoting or group, you should pre-populate it with at least five initial posts with useful content, tips or tricks, or questions for your audience.
This step is important, so that when people click on the group page they find already some content ready to read and interact with.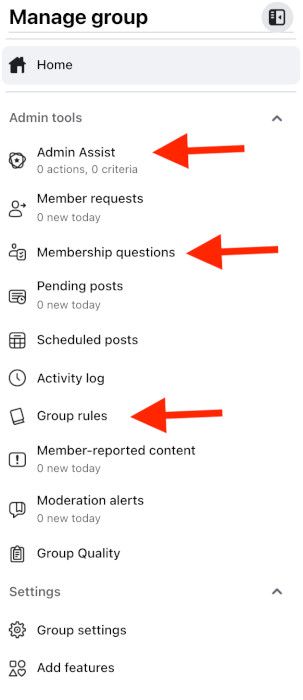 Once you have your banner, there are a few other settings to tweak:
Admin Assist: this allows you to automatically approve certain members. I recommend turning it off, you want to approve your members one by one for a very good reason.

Membership Questions: The reason why you don't want to have the members approved automatically, is because your first question for joining the group will be to ask for the member's email, so you can grow your mailing list. You can make this optional or mandatory, it's up to you. You can ask other questions, but this should be the first one.

Group Rules: although some people won't follow these rules, having them goes a long way to prevent spam. Again, keep these rules simple.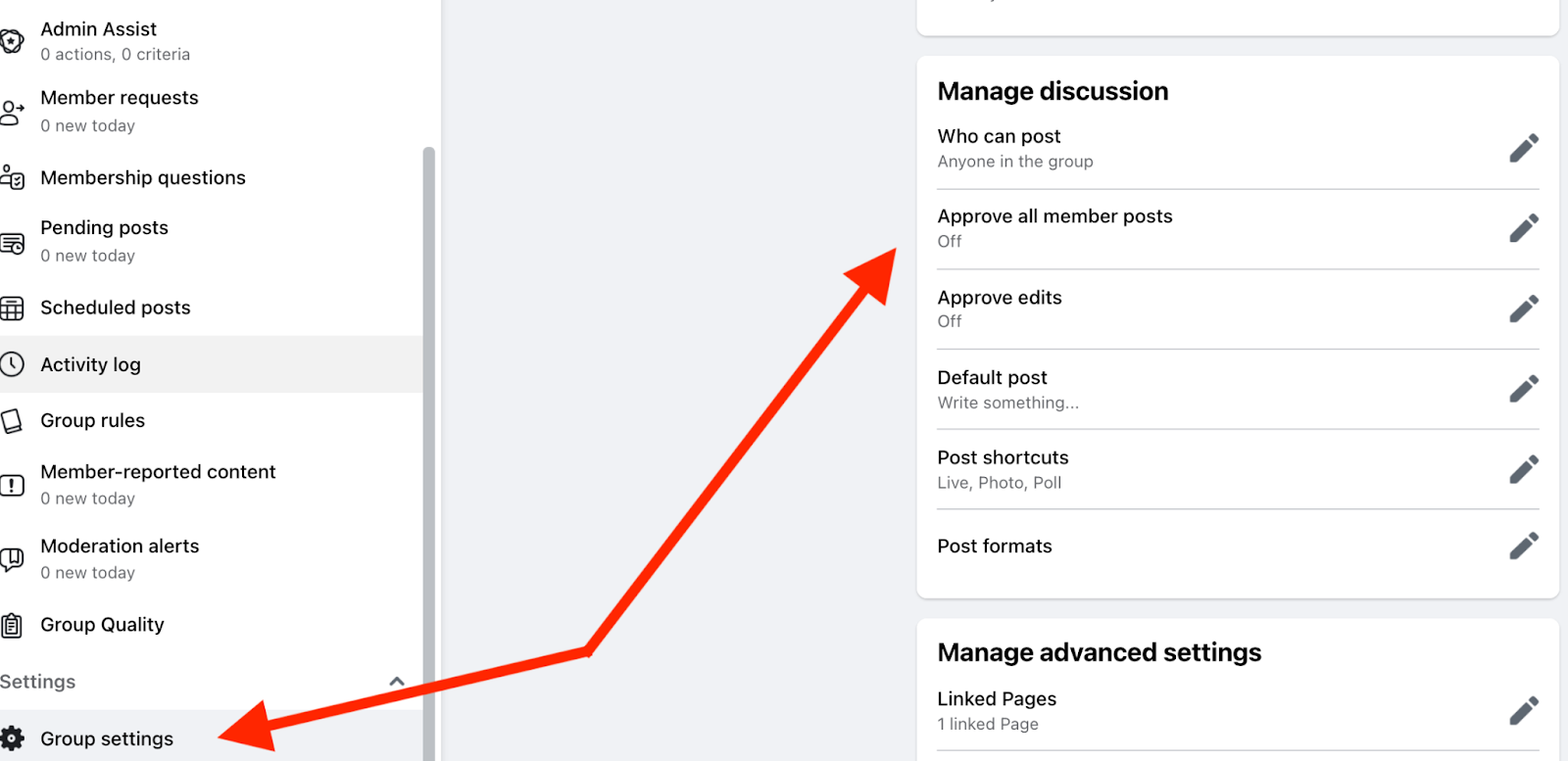 With these foundations set, you're now ready to adjust a few final time-saving settings. The first is to turn on 'member post approval', meaning people can't post until you first approve their message.
This may seem like it will waste your time…
But it actually saves it because it makes moderating your group A LOT easier!!

Finally, link your new group with your Facebook Page.
Step 2: Create/Prepare Your Facebook Page
With your group ready, you need to ensure your Facebook Page is also prepared for all this new traffic.
The page should be designed in a way that clearly identifies:
who this page is for
what is the value proposition of the page, what do people get in return by following your page?
Keep this in mind as you complete your:
About section
Pinned posts
Banner graphics (and other images)
Pre-populated posts, content, and questions…
Your page needs to look good. It needs to come across as professional. Your audience needs to feel like it will bring them value.
You don't need to post every day here, once a week is enough, so that people coming to the page see that it's being actively maintained.
Nothing turns off a potential student more than to see that your Facebook page was updated six months ago. 😉
How to Design a Facebook Page Banner
To give you an example of what I mean, here is the banner of my Facebook Page: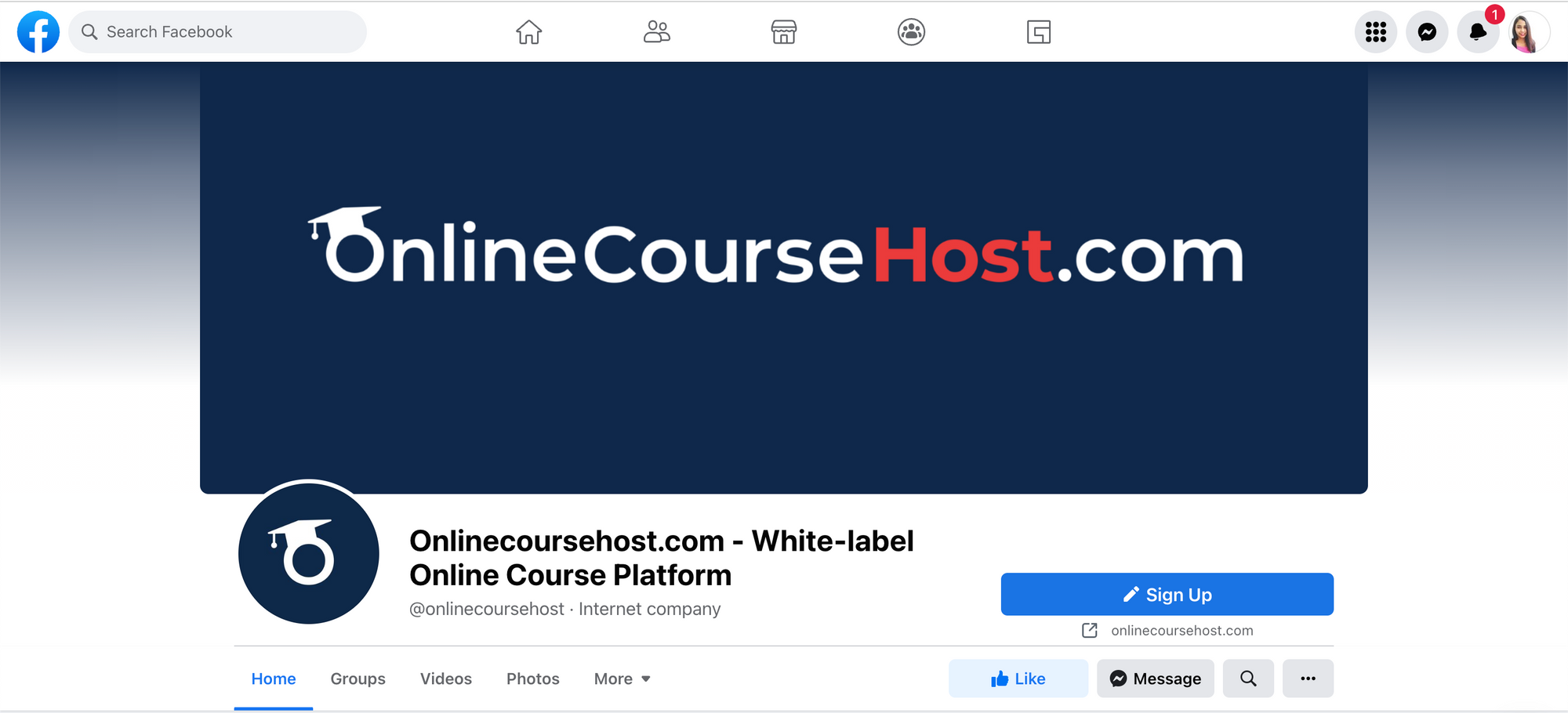 Besides adding the value proposition directly on the page, you must be wondering what is the "click here" and the button all about.
This is a simple trick to get more of your page visitors to convert into Group members.
When your visitors click on your banner, they should see a comment that you added there, with a link to your group: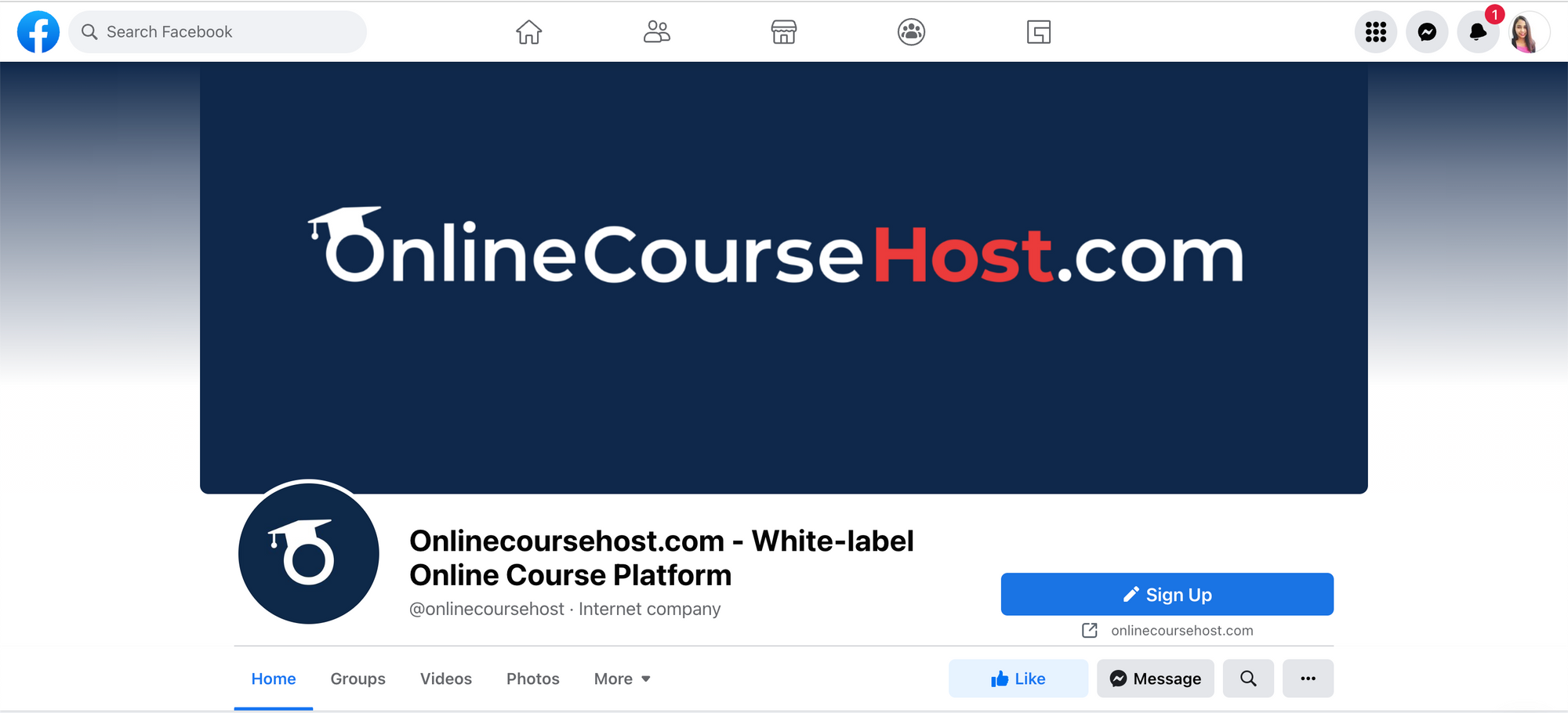 This way when a new follower clicks on your banner, they can easily reach your group.
Step 3: Run Your Facebook Page Campaign
With your group and page ready for an influx of traffic, it's time to prepare your ad campaign.
This begins by logging into Facebook Business Manager.
(if you don't have an account, you'll need to set one up—read this guide to learn how).
Once inside, you need to navigate to the "Ads" area and then click the "Create Campaign" button.
Choose specifically this option, and not any other simplified options that might be presented to you:
From there, you are going to choose a Engagement / Page Likes Ad: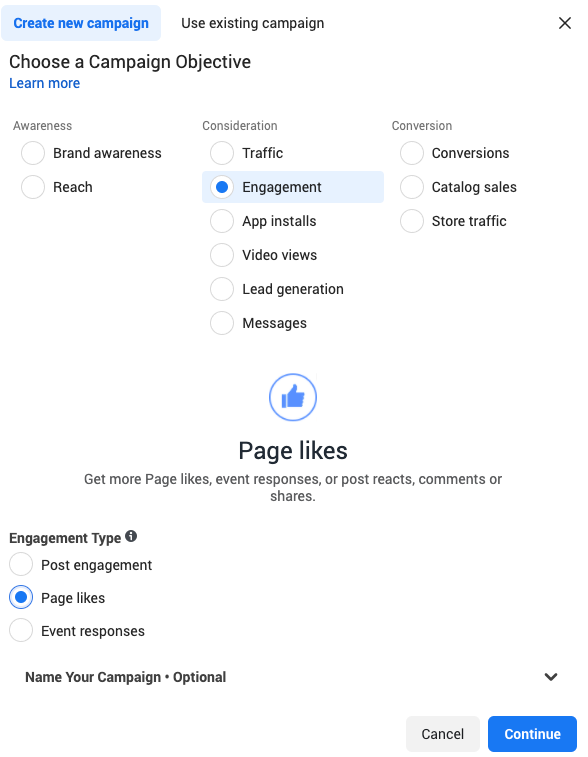 Choosing the right type of ad is essential, don't try to boost your post instead, or use other simplified options that Facebook might present you that also give you the option to the user of liking your page (almost all types of ads include this).
Choosing a Page Likes Ad will ensure that Facebook specifically optimizes their ad algorithm for finding the people that will most likely like your ad, at the cheapest possible cost.
No other Ad type will give you a lower cost per Page Like, because they have other goals: they optimize for clicks, conversions, etc.
Here we are specifically after Page Likes, which will later be converted to Group members.
Creating an Ad involves 3 steps:
create a campaign
create an ad group
create an ad
For the campaign level, you can leave all options as default, and click on Next, which will take you to the ad group level.
Step 4: Choose Your Audience
It's at the ad group level that you will set your audience that will see your ads.
Initially, you will spread a very wide net.
The goal here is to get a maximum of page likes at the cheapest possible cost, to boost up your social proof, until you reach say 10k page likes and 1000 group members or so.
Some of the page likes will be converted into members, as we will soon see.
So at this stage don't worry about age, gender, or other demographics right now.
In the future, you'll refine your target audience. But right now, you just want to get some initial social proof, to help your targeted audience convert better later.
So at this stage, you should remove any age or geographical constraints, and go for a Worldwide campaign of 18 to 65+, meaning everyone on Facebook. 😉
If you have any regions pre-selected in your audience, you should remove them and go for the Worldwide option: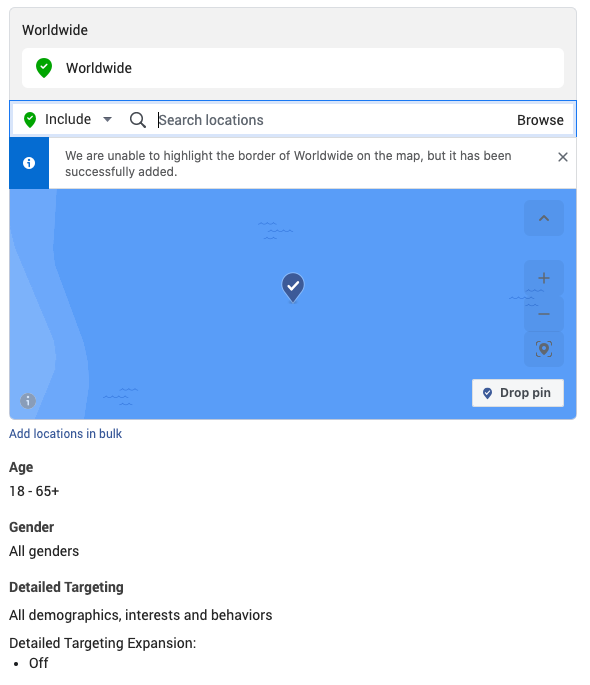 Why remove all targeting in this initial Page Likes Campaign?
This method of getting page Likes is a bit counterintuitive: by removing all targeting, you are essentially telling Facebook that you want to show the ads to almost anyone on Facebook.
This will give Facebook the best possible way to optimize for people that like your page, and get you the maximum possible number of Page likes for your budget.
This also means that Facebook will place your ads in front people that tend to click and like a lot of posts, in countries with a lower income where the ad is cheaper, and at later hours of the night, when less people are available to show ads to.
This will give you a maximum of likes for your money, that are still somewhat qualified.
It's true that the quality of these Page Likes will not be great.
But this is OK for the moment, as right now we are going for quantity, not quality, as we are just building some initial social proof in your Facebook Group.
Later, we will switch the ads to target people that are much more relevant to your group, but right now we just want to get some quick and cheap social proof to get things rolling, and get you some initial group members and some social proof that will help convert other group members later.
Step 5: Design Your Ad
If you are not sure how to design your Ad, a good way to get inspiration is to check the Ads of your direct competitors. 😉
You can do this by searching for them in the Facebook Ads Library, which is a transparency tool where Facebook tells you who is running which ads at any given moment.
This will not show older Ads, only the ones running right now, but it will give you an idea of what ads work and don't work.
A type of Ad that I think works very well and is easy to put together in Canva is text-image ads - Just an image containing some text on it.  
If you don't feel comfortable designing the Ad yourself, you can get a complete package of images of different sizes on Fiverr for $30 or so.
To write your Ad, you need to:
Write your Description
Upload your image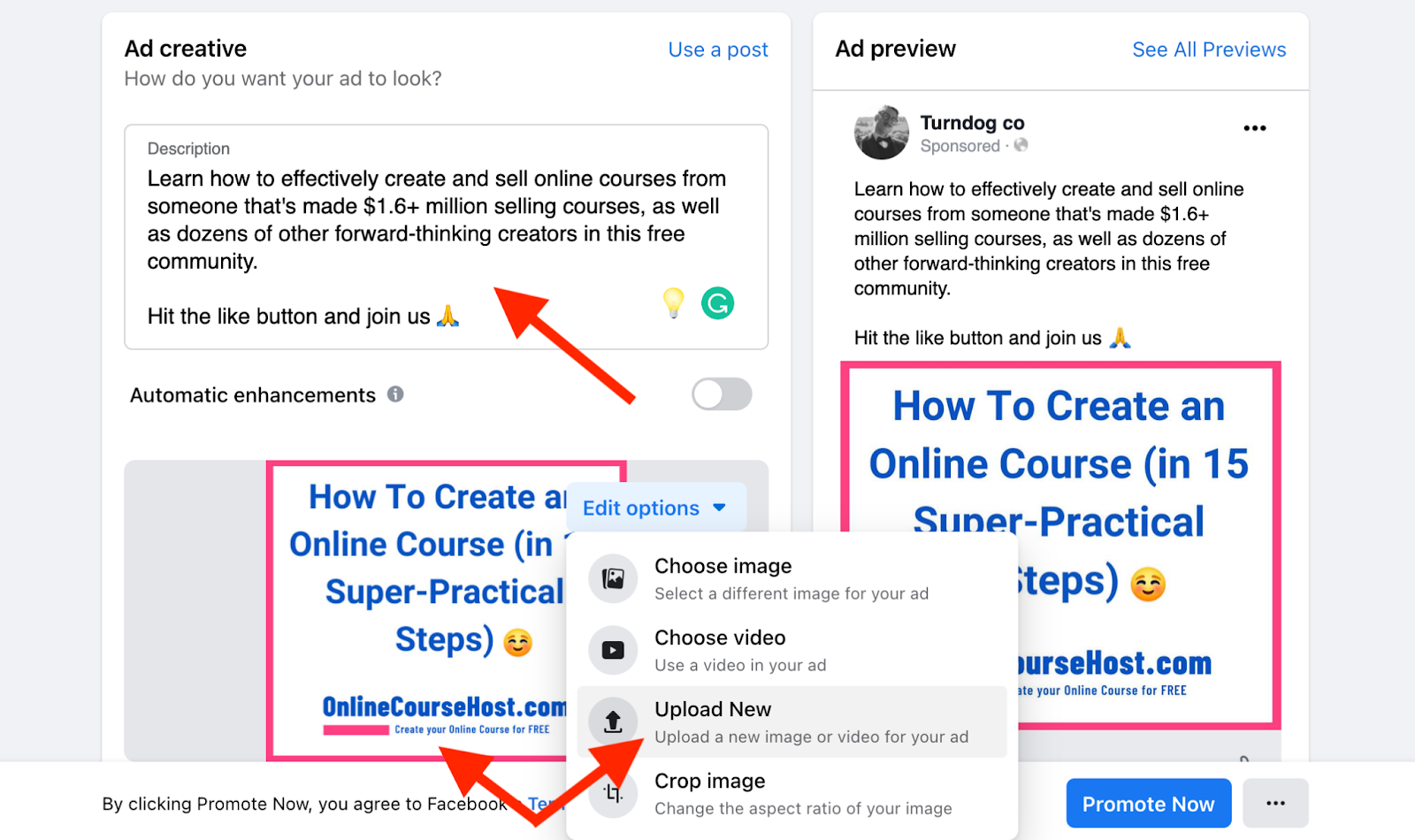 The key to write your ad copy and to choose your image is to add the value proposition of your group, right there on the image and on the copy.
The Ad copy and the image should help anyone watching the ad to know that the ad is meant for them.
For example, if you are running an Ad for people thinking of traveling to Italy on their next holidays, you could add the text in the image: "Thinking About Your  Holidays in Italy?", or "When Are You Leaving For Italy?".
And then you could add in smaller letters: "Join our travelers group and get traveler tips".  Anything in the text that helps identify the target audience will help you get more relevant page likes, and therefore more relevant group members.
The value proposition of your group, product or service should also be on the image.
This will also help the Ad algorithm better identify the persons that are a good match for your ad.
Step 6: Choose Duration & Ad-Spend
Next up, you need to choose:
When your ad campaign will start
When it will end
What your daily budget is
My recommendation is to run a continuous ad campaign for a couple of days, and monitor it every day and stop it when you are happy with your initial social proof in your group and page.
With your ad ready, all you have to do is press the "Publish" button.
So now Facebook is running your ad, and due to lack of targeting and the goal of the campaign (Page Likes), Facebook is putting your ad in front of anyone that will be willing to like your page, generating you a ton of very cheap social proof in a matter of a few days only, and with just $10 a day or so.
This is a commonly used strategy, and I've even seen well-known brands on Facebook using pictures of cats to boost their social proof even further at the absolute cheapest possible price. 😉
But I think that is a bit too much, it will bring a lot of spammers to your group, and you will miss on the opportunity of getting some relevant members in your group that will engage with you if you use instead a relevant image and text.
By using a relevant image and copy, you will get a better overall quality of followers, and the price will still be very cheap.
There will still be a certain amount of spammers in this audience because there is no targeting involved, but that's OK.
Your group has post approval turned off so you will be able to filter the content in the group, and the initial social proof is well worth it.
How Do Page Likes Turn Into Group Members?
This part is where all the magic happens.
You might remember that I said at the beginning of the post that Facebook pages have very limited organic reach, compared to groups.
So why are we running ads to get some page likes then?
It's very simple, Facebook gives you a way to turn Page Likes into group members!
So how do you do it? In your group, you can now switch between two profiles:
your profile
your Facebook page profile
Here is what this looks like: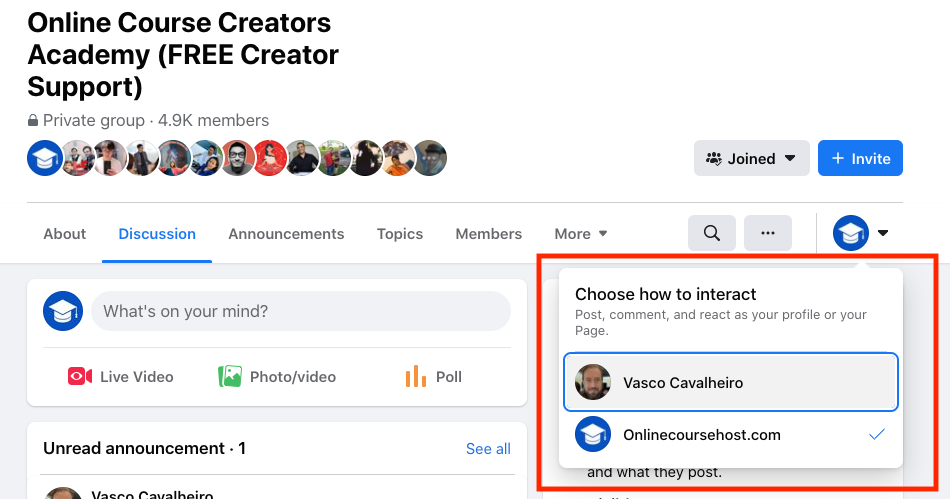 In the dropdown, select your page profile.
From there, you need to click on the big Invite blue button.
With your personal profile, you could use this button to invite your friends and family to join your group.
But with your Page profile, you can invite everyone that liked the page to join the group as well: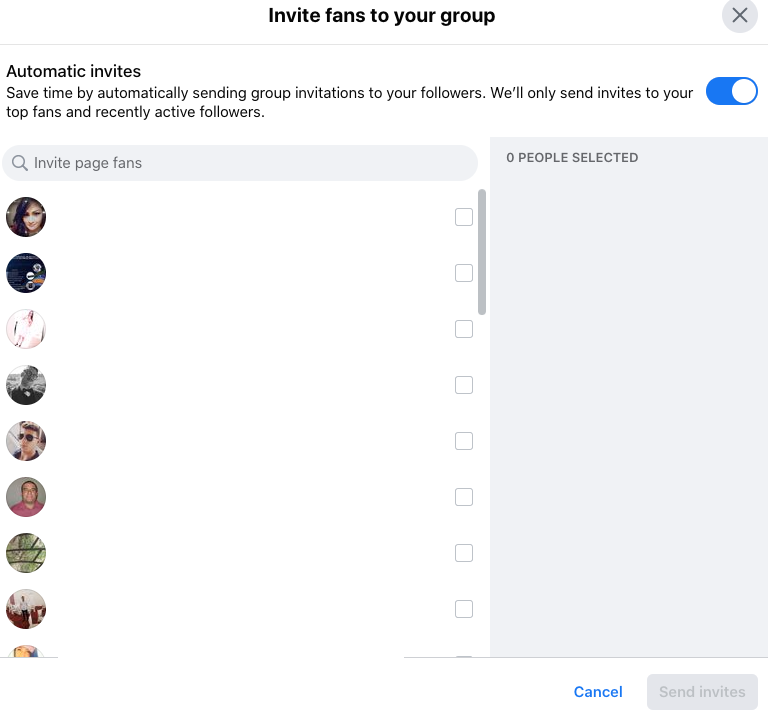 As you can see, Facebook even provides a toggle option to invite some of the members to the group automatically.
You can set this to on, but I recommend checking in daily and sending invites to everyone that like the page manually, so that you can get a maximum number of members.
Not everyone will accept the invite, but those who do will become members of your group.
You will be able to reach them organically without paying for free potentially every time you post, in a way that it's impossible with a plain Facebook Page.
The quality of these initial members will not be high, but except for a few spammers it can't be that bad either.
These are people that liked your Ad, and that accepted an invite to join your group, so they should have at least some marginal interest in the main topic of your group, if the Ad was relevant enough.
After a couple of weeks of running this ad for $10 or $15 a day, you should get your initial social proof without any problem.
Summary and Next Steps
So this is how you can quickly get your first 1000 members on your online course Facebook group:
prepare a Facebook Page and a Group, link them together
run a Page Likes campaign for the page at the cheapest possible price
invite every single Page Like to join your group
You will soon have your first 1000 group members, which is great for social proof, and some of them will be engaged members, with good quality, because they liked a Page and accepted an invitation to a relevant group.
But many of the members you get this way are not high-quality members, and this is why you should turn post approval on and moderate the group daily.
So what is the value of this initial social proof? Besides giving you some engaged members already, this method will ensure that any other visitors that visit your group or page will convert much better, because they see the initial social proof and that helps a lot in their decision to join the group or like the page.
It's going to be much easier to grow your group further from this starting point, compared to starting from absolute zero social proof.
I don't recommend using this to get much more than say 1000 members though.
Instead, what you want to do is to switch off these Page Like ads, and create new Facebook ads that have a much more specific targeting.
These ads will cost a lot more per group member, but the members will be of much higher quality.
But that is the topic for a whole other series of posts, this one was just to get you that initial proof and get your brand new Facebook Group rolling. 😉
Next Steps
If you enjoyed this post, and are looking to learn more about course creation, (including Facebook marketing tips for course creators), I recommend checking all the free resources that you have available at the Online Course Creator Academy, no sign-up is needed:
Welcome To The Course Creator Academy
Remember, the goal of the Creator Academy is to give you (for free) all the resources that you need to become a successful online course creator.
But more than reading the guides you need, my number one recommendation that will spare you so much wasted time and money, is to get feedback from other course creators all through your course creation journey.
For that, I invite you to join our free community of like-minded course creators, and ask any questions that you need.
You can post your courses here and we will provide feedback on them, post your blog or YouTube channel to get suggestions for improvements, and even ask help for creating relevant ads, etc.
So come and join us at our free private Facebook Group:
Join the Course Creator Academy Facebook Group
If you would like to get notified when other guides and useful content on online course creation is available at the Academy, then you can join us here:
I hope this post helped you better understand how to grow a Facebook group for selling online courses. Let me know in the comments below what other topics you would like me to cover, or any questions that you have.
Thanks for reading… and enjoy the course creation process! 😉
---
Vasco Cavalheiro
OnlineCourseHost.com Founder & Online Course Creator
LinkedIn   Facebook Page   Facebook Group   Twitter
You are welcome to ask me any questions in the comments below: 👇👇👇👇