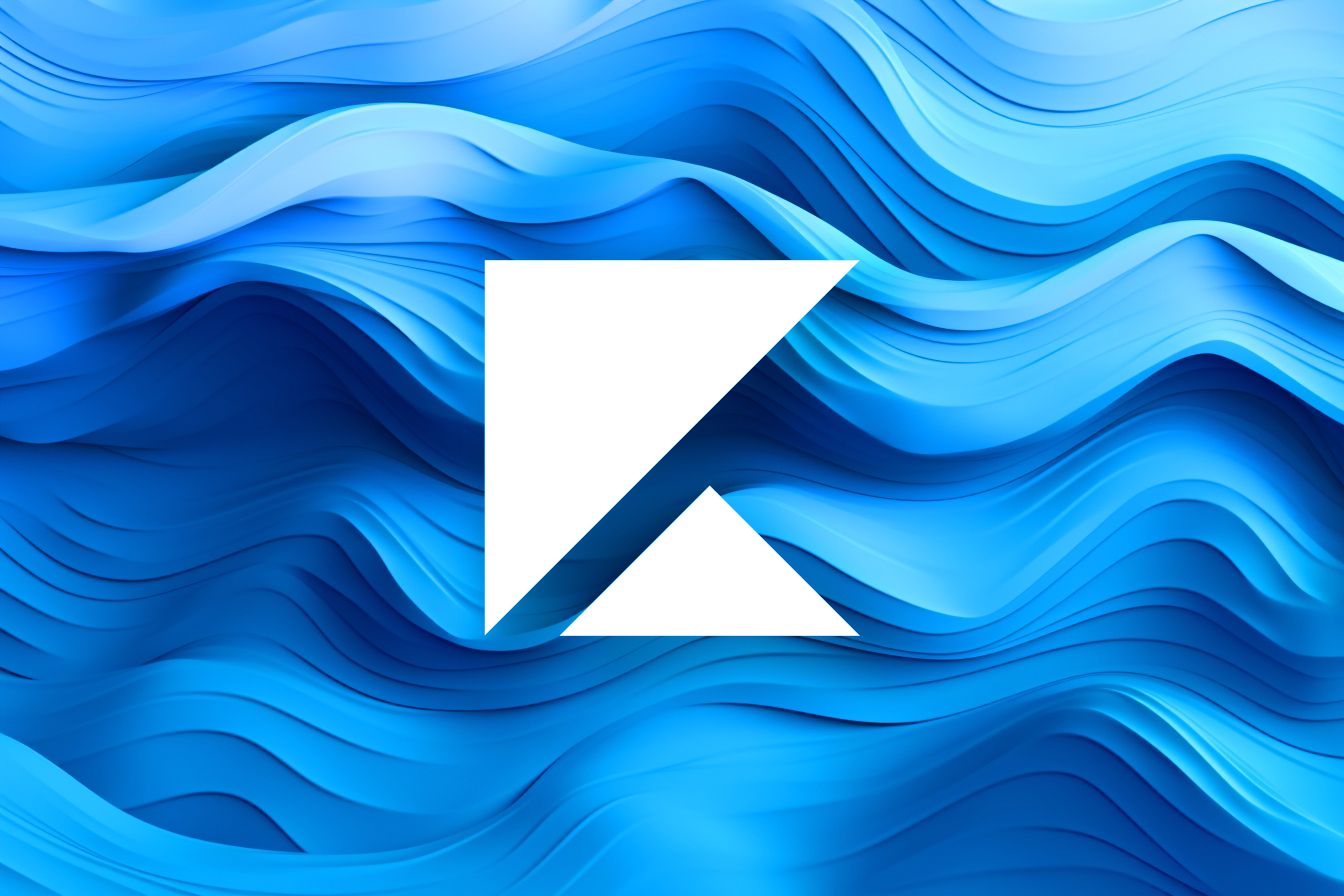 A full in-depth review of the Kajabi online course platform, from the point of view of an experienced course creator. I will cover in detail all its course creation tools, email marketing features, course creation and student experience, to help you decide if it's the right platform for you.
If you are wondering if Kajabi is the right course platform for you, then you have come to the right place. Because this is the most in-depth Kajabi review that you will find on the internet. 😉
I'm a course creator too just like you, so I know it can be a bit confusing to choose the right course platform. There are a ton of options available out there on the web, in all price ranges and with all sorts of features.
Unlike other reviews on Kajabi, this post seeks to help you decide if Kajabi is the right platform for you, from the point of view of a typical course creator, and not just an internet marketer.
I will walk you through all the features in the platform, giving you a detailed review of each of them including some screenshots.
This way, you can see what the platform looks like without having to try it directly.
I will also point out in this review the benefits and drawbacks of each of the Kajabi features and how this platform compares with other course hosting platforms.
To make things simple I will give you a verdict per feature, as well as a final verdict for the whole platform at the end, that you don't want to miss. 😉
So without further ado, let's get started with our deep dive into the Kajabi platform, feature by feature.
Kajabi Review Summary‌‌‌
| Features | Rating | Potential Replacement |
| --- | --- | --- |
| Course Creation | Good | Wordpress LMS |
| Support | Good | WordPress LMS |
| Sales and Marketing | Good | ActiveCampaign, HubSpot, EngageBay |
| Landing Page | Good | leadPages, Instapage, ClickFunnels |
| Ease of Use | Good | WordPress LMS |
| Shopping Cart | Good | 3D Cart,Magento, Shopify |
| Email Marketing Service | Good | Mailchimp, ActiveCampaign, Sendinblue |
| Overall Rating | Good | |
Kajabi Pros and Cons
Pros
Cons
All-in-one platform
Prices of plans very high compared to other similar platforms
In-built email marketing tools
No in-built good certificate feature for students who complete your course
Offers and Android/iOS mobile app
Assessment option looks very basic, there is no provision for advance quiz setup
Easy to use website builder
Community feature lack advanced settings like that of Facebook community
Sales pipeline builder
The Affiliate program is only limited to the Growth and Pro plans
You can also check out all the free guides that you have available here at the Course Creator Academy by clicking on the Academy link on the top menu bar.
Here are some of my other posts related to Kajabi that you might want to check out as well:
What Is Kajabi?
Kajabi is a robust cloud-based software platform designed for course creators.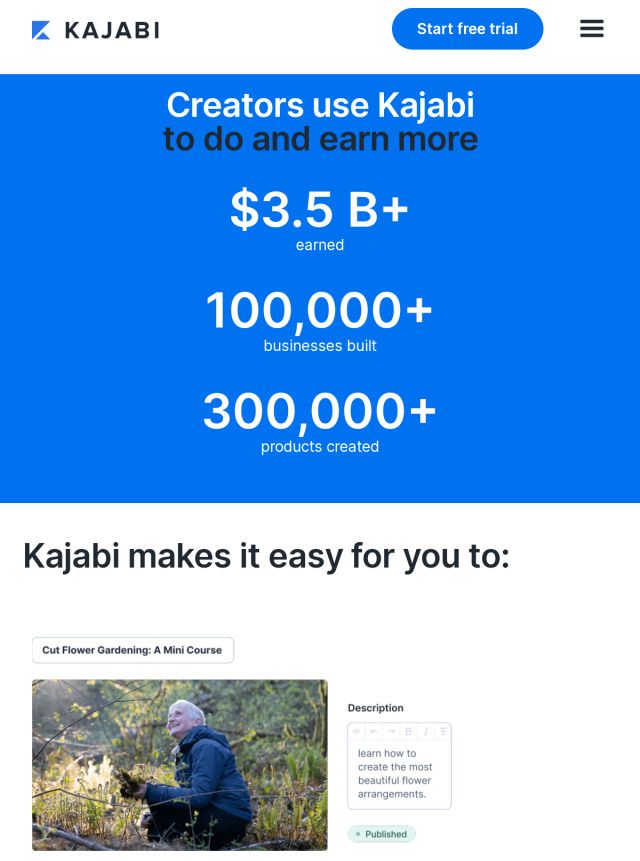 It includes everything you need to design, sell courses and information products, distribute them to your students, and manage, track, and analyze the results (including sales).
It includes capabilities such as:
A landing page builder for capturing leads
An email marketing tool for nurturing leads and selling products
A membership site manager for creating e-courses, workshops and communities
Payment integration
Design of a professional-looking website
Designing sales pages and funnels
Tools for setting up webinars
Create a fun online course with videos, pdfs, quizzes, and other interactive elements.
Use course player to deliver your content professionally.
Add upsells to checkout pages.
Make your affiliate program and manage it.
While some Kajabi alternatives allow you to perform some (or even all) of these things separately, Kajabi's ability to combine them all sets it apart.
Kajabi Company Overview
Kajabi is a software as a service (SaaS) provider that offers a platform for developing and selling online courses.
Kajabi, Inc. was started in 2010 by Kenny Rueter and Travis Rosser, who aimed to make it easier for anybody to design and sell online courses.
Back then, the company introduced a low-cost monthly subscription option for their software.
By 2014, the firm has expanded to over 10 million users globally, with the majority of them situated outside the United States, and over 1 million active users in over 120 countries on its network.
Kajabi Platform Overview
Kajabi allows you to create great-looking websites with complete e-commerce capabilities, which helps you convert visitors into customers.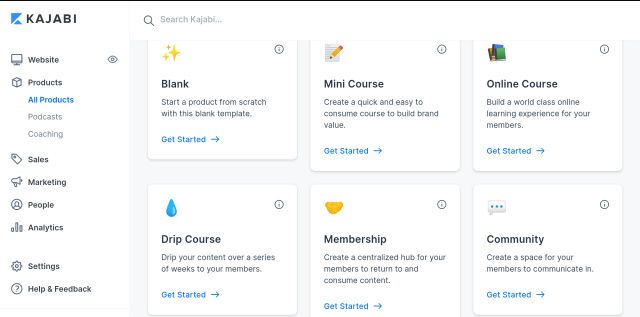 Everything from blog hosting to shopping cart integration, payment processing, and live chat assistance is included in the package.
When you log in to Kajabi, the first thing you see is an overview of your business, which I think is quite nice.
You can see links to your:
website
sales
marketing
people
analytics
products
settings
When you sign up for a Kajabi plan, you get a website as part of the package.
This means you don't need a WordPress website or any of the extra plugins while using Kajabi!
Who uses Kajabi?
Kajabi is meant for established course creators with large followings, that need a complete course hosting solution with all the email marketing and e-commerce features built right in to the platform.
The platform provides an easy-to-use, user-friendly solution for building a membership site that allows you to earn money online by teaching others what you know.
From building the site to collecting recurring payments from members, Kajabi helps you to create and manage a membership site from start to finish.
If you have any knowledge, skill or expertise and you want to turn it into revenue, Kajabi gives you the tool to do just that.
It is also perfect for anyone who wishes to easily sell their products online or through their membership sites.
It provides various tools for selling online, including product pages, shopping carts, and payment gateways (such as PayPal).
Of course, Kajabi isn't simply for selling products; it may also be used by people who wish to share information with others.
For instance, musicians can use Kajabi's media library tool to upload their music files directly to their website without worrying about hosting or bandwidth issues.
Bloggers can write articles about topics that are relevant to their niche market, and publish them straight on Kajabi.
And if you're keen on creating webinars and podcasts, Kajabi has got your back too.
How does Kajabi work?
For your website, you'll need a domain name and hosting. Both of these features are included in your Kajabi account.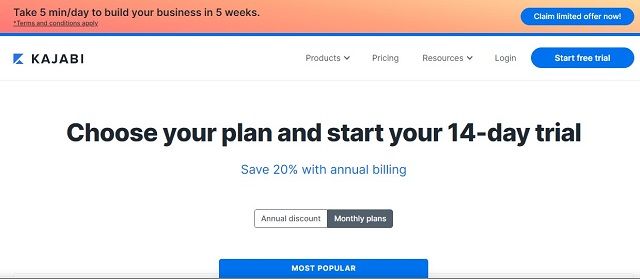 To get an account on Kajabi, you first need to sign up for any of their plans and you get a 14-day free plan to make up your mind about the platform.
By dragging and dropping elements on the screen, you can quickly design a beautiful website or landing page (no coding required).
Then, fit in your brand identity, and add adjustments like themes, fonts, and colors. If you already have a custom domain registered elsewhere, you can add it to your site (Kajabi makes this very easy).
Kajabi has pre-built templates with a drag-and-drop feature that allows you to get started quickly and without having to start designing from the scratch.
Kajabi features everything from blogs to lead capture sites, and they're all mobile-friendly.
And it has lots of marketing tools like:
Email sequence building
Lead marketing building
Pre-build in funnels, even
Quizzes
Users can also develop membership sites with several tiers of access based on subscription plans using Kajabi.
This is a service that both businesses and individuals may use, but it's especially useful for selling courses and other digital products.
Let's now go over the many features of Kajabi one by one.
Kajabi User Interface
Kajabi's user interface is attractive, modern, and simple. It's an excellent illustration of how flat design can be used to produce an easy and beautiful interface.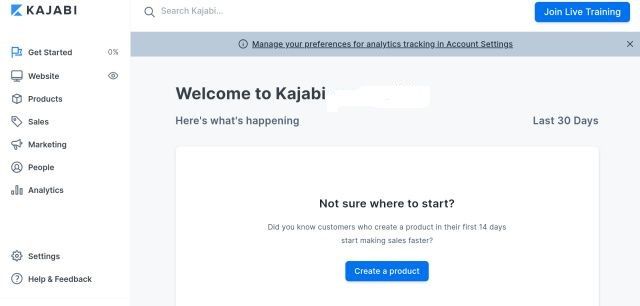 Its user experience is similar to that of WordPress or Squarespace in that it allows you to simply create your website without knowing how to code.
However, unlike WordPress or Squarespace, Kajabi's interface has been expressly created for developing online courses, making it considerably easier than either of those platforms if you're looking for something tailored to that type of project.
Kajabi's smooth and simple UI is also very easy to use, so you can get started right away.
The dashboard is the first thing you'll see when you log in as shown in the image above.
All of your materials will be sorted here into websites, products, sales, marketing, people and analytics, and these are all drag-and-drop tools.
‌User Interface: My Verdict
Overall, it has a stunning, visually appealing, and modern UI. It's a platform made for online course creators who want their courses and websites to look as professional as possible.
Kajabi Course Creation Experience
Let's now go over the main course creation features of Kajabi.
Course Builder
Using the Kajabi course builder, you can develop courses using:
video
audio recordings
written materials
quizzes or polls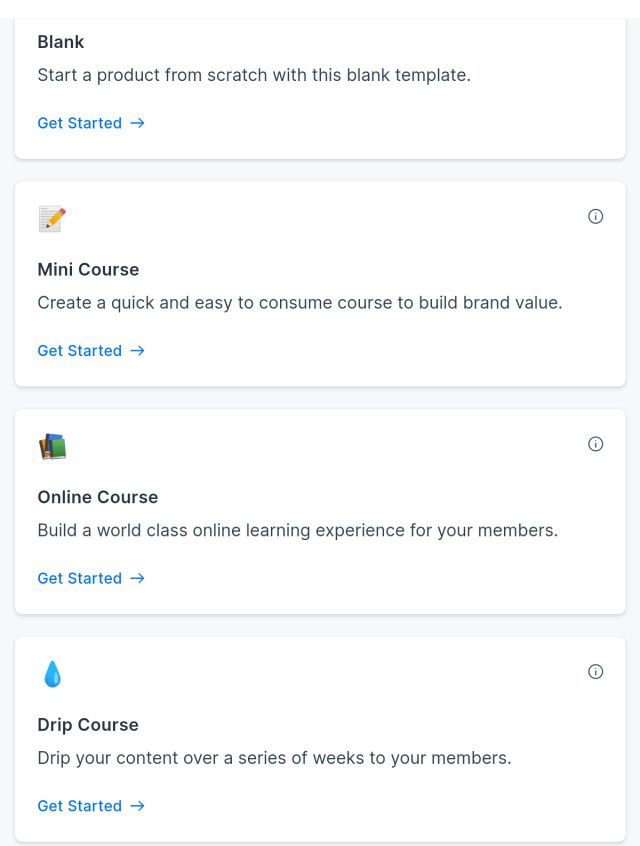 The quizzes or polls, allow students to revisit what they have learned on the spot rather than merely reading through.
This also helps students remember better what they have learned.
The course builder also has an option to build several courses at once, allowing you to experiment with different themes without having to develop new sites.
The course creation procedure in Kajabi is simple and requires no coding experience.
Clicking on "Product" on the left-hand side of the screen takes you to the course type window as shown in the image below:
You can create different types of courses, such as:
Using Kajabi's uploader, you can add videos, audio, pdf, documents, and other media directly to your course.
Kajabi suggests submitting an HD version of your video so that it can be seen in greater quality on mobile devices like iPads and iPhones.
Images can be uploaded directly from Google Drive, Dropbox, Facebook, Instagram or directly from your device.
Similar to other platforms, Kajabi lets you:
Create your course introduction
Introduce yourself to your students
prepare course online and objectives
‌You can create your templates from scratch or edit one of their predefined themes using their drag and drop interface.
The good news is that you don't need to be a designer or a developer to use Kajabi to build your course website.
You can choose from hundreds of pre-built templates or create your own using Kajabi's tools.
Kajabi has a Content Management System as well. You can use the CMS to add and change all of your course's content, including modules, assets, and assessments.
It also allows you to add new users who can enroll in courses you design or manage current courses published by others.
Kajabi Student Assessment Features
The platform allows you to assessment your students knowledge directly,  grade them automatically and set a passing grade.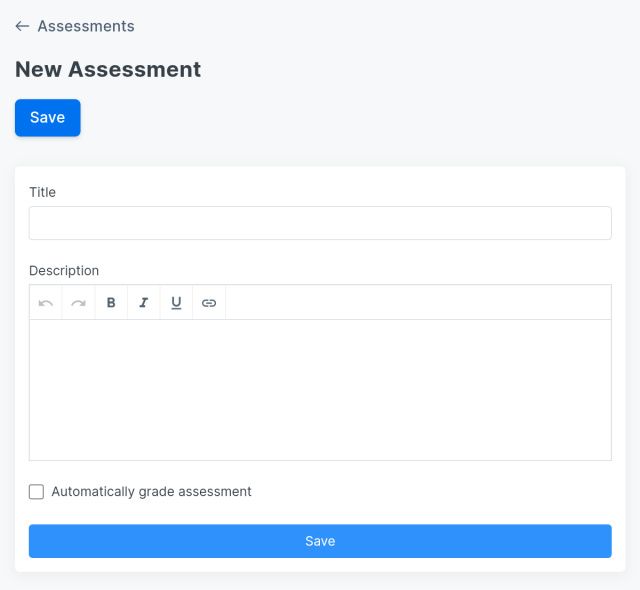 To advance to the next lesson, students must turn in their assignments. The feedback from these assignments also helps to shape the entire course.
Video Streaming Features
It's pretty awesome that Kajabi uses Wistia for video hosting, which is ranked among the best video hosting platforms.
Wistia is Kajabi's partner for the video uploading. The only fee that you would be paying Kajabi is their subscription, you don't need a separate Wistia subscription.

Wistia is integrated to upload and easily stream your course videos, and no matter what screen or bandwidth you use, be certain your video will work just fine and is secure.
Podcast Features
The podcast feature is one of the new features in the Kajabi course creation process and there is a podcast builder to help you make the creation process easy.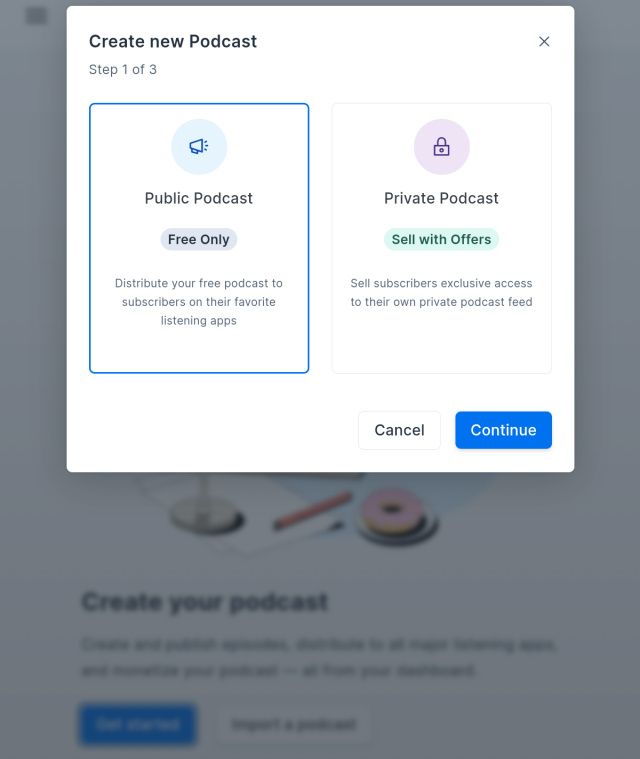 A podcast builder is a tool that allows you to add your audio files and produce a podcast in minutes.
The Kajabi Podcast Creator gives you access to all of the tools that you need to create high-quality audio and video material.
‌Kajabi Course Creation Features: My Verdict
Overall, I love the fact that the process of creating a course is quick and easy. In less than an hour, you can have a completely functional online course up and running.
While some platforms charge for podcast creation, the Kajabi Podcast Creator is completely free, which is super cool.
I also love the fact that Kajabi gives you limitless space for all of your files, including videos.
And what I like about them is that you can use your files in your blog posts and landing pages or in any products you want to on Kajabi.
However, there is a limit of up to 4GB video size on Products and Pages, which I do not think is necessary.
What I also do not like about the course creation section is the fact that you cannot use a YouTube link directly.
I tried it multiple times and all I got was that the video file doesn't register as an accepted file, so we can't embed YouTube content.
I also dislike the fact that some editing options functions are not immediately clear.
The assessment option looks very basic, and there is no provision for advanced quiz setup.
If you select 'Page Builder,' for example, you could believe that this option under website editing is strictly meant to be used for creating pages for you website.
But course creators can also use it to develop pipeline pages or independent pages.
Kajabi Site Design and Customization Features
When it comes to creating a website, you have a variety of alternatives to choose from in Kajabi.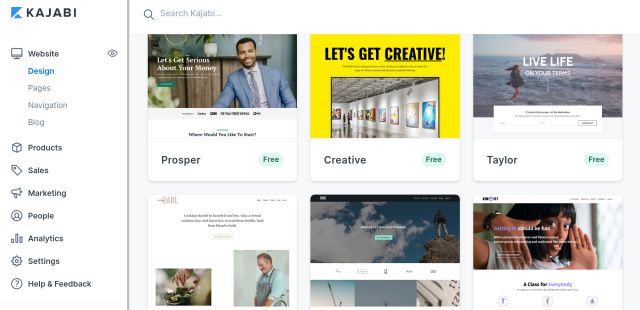 Kajabi provides an easy-to-use design tool that allows you to create a professional-looking website without any prior web design or coding skills.
One of the main benefits of using Kajabi is that there are no technical skills required on your part when setting up your very own site.
The platform makes it simple for anyone even if they don't know how to code.‌‌
Often the very first step in the process of designing a new website is to choose a platform or content management system (CMS).
A CMS is a type of software, for example, WordPress, Drupal and Magento, that allows you to create and manage your site, including adding pages, images, text blocks and more.
Kajabi content management system allows you to make professional-looking websites without having to know how to code.
It's easy to use, so even if you're not a web developer or designer, Kajabi will help you create a website.
Kajabi Theme Store - Theme Design and Editing
Themes are the foundation of a website. It is made up of color palettes, layouts, and design components that can be used to build websites for a variety of purposes.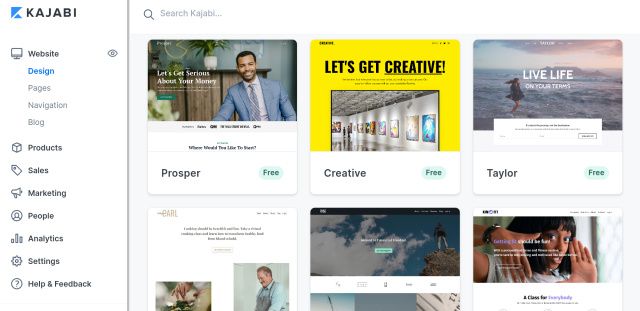 ‌
I like the fact that Kajabi comes with various pre-installed themes that you may use straight away or change to meet your specific course creation needs.
I do like for example the Kim Theme for its simple colors. And it's got an email sign-up pop-up already with it.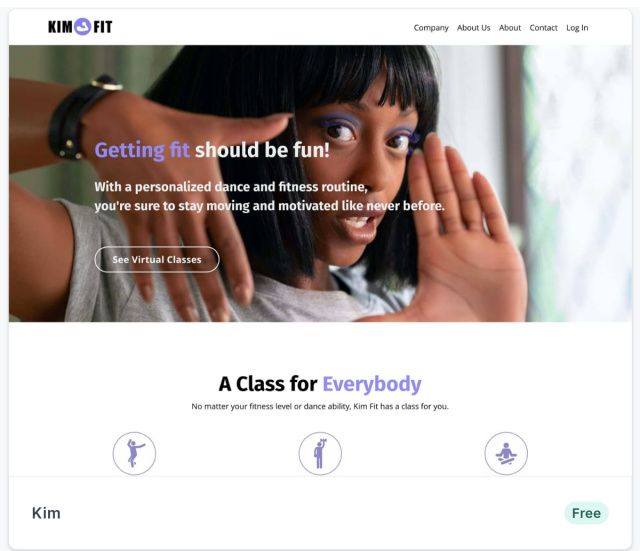 Kajabi Site Design and Customization allow you to:
update site colors and menus
modify your heading and logo
create a branded login page
create a branded 404 page
create a favicon for your site
add a custom meta description for blog posts
update site width and columns
The method of submitting a new theme is simple: once you've selected your template (or customized one), just publish it!
Kajabu Page Example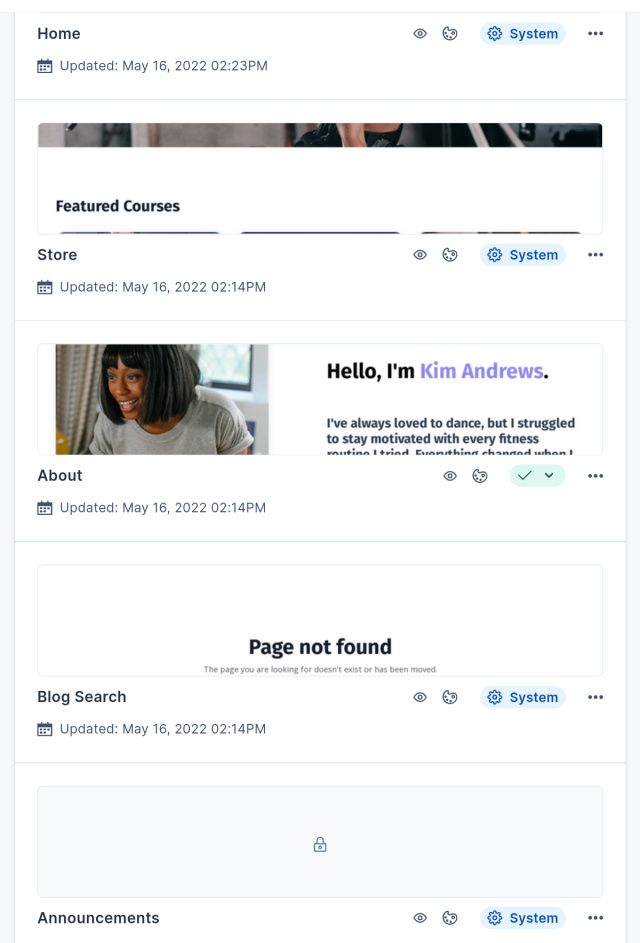 ‌Kajabi comes with 15+ pre-built page templates for the following page designs:
Announcements
About
Store
Member Directory
Contact
Blog
Blog Post
Library
404
Login
Thank you
Landing Page
Kajabi Blogging Features
Kajabi Blog is a tool that allows you to create beautiful and optimized blog posts right within Kajabi.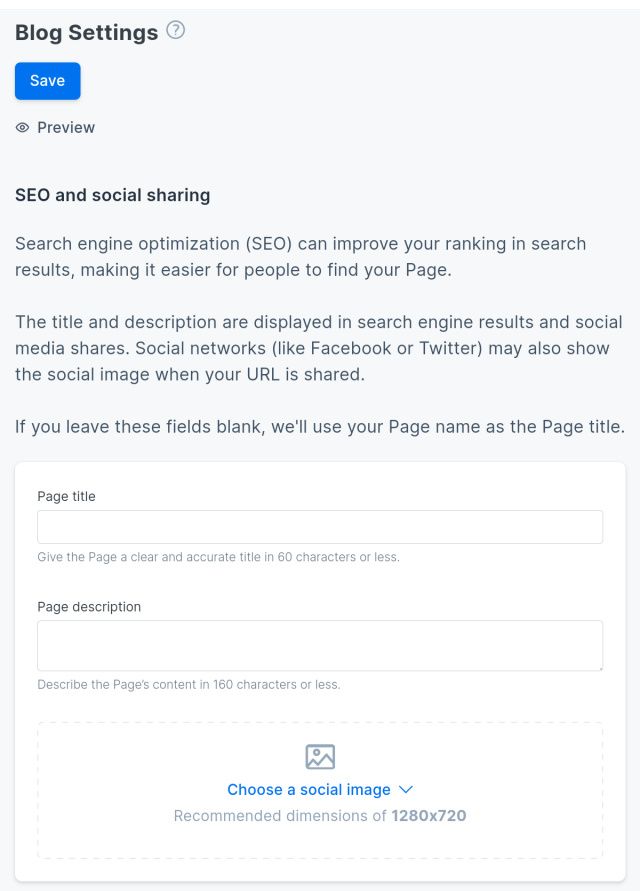 This tool allows you to create your custom-branded blogs that's if you're not on the Basic plan, and it's really simple to use.
You can easily create blog posts and add content right in the text editor.
Kajabi blogging allows you to add some SEO elements such as:
Post title
Post description
and featured image
Kajabi blogging also allows you to also do the following:
Add an opt-in form.
Add elements to the sidebar.
create categories for your blog posts
Kajabi Coaching Features
Kajabi's coaching feature is straightforward. It is a tool that allows you to manage one-on-one coaching sessions.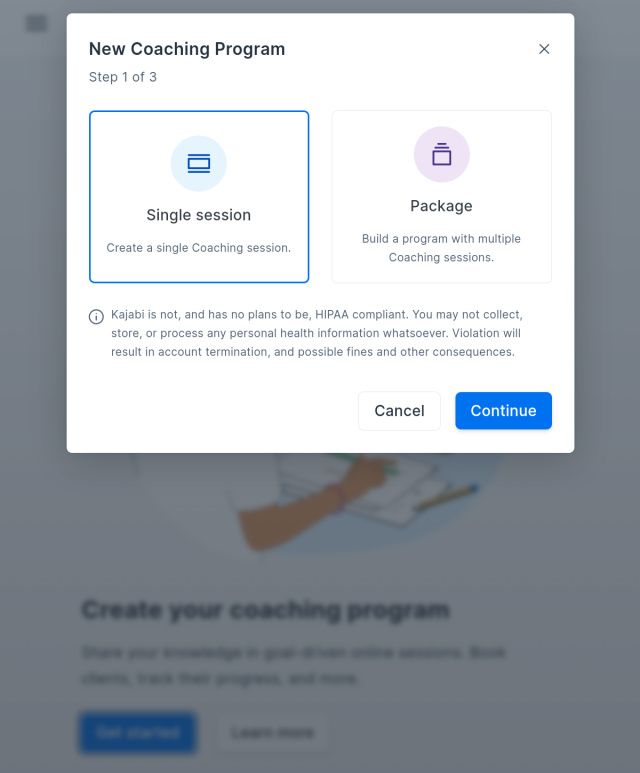 You can either create a single coaching class or build a program with multiple coaching classes.
You are only required to include some basic information, such as the title, and the number of classes in your coaching subscription.
You can schedule your classes with Calendly, which is already integrated with Kajabi, but requires you to create a separate account on Calendly.
Manual booking is also available.
‌Kajabi Site Design and Customization: My Verdict
I like the fact that you can customize your entire website the way you want.
If you have a theme that is compatible with Kajabi, you can go ahead and upload it, or you can browse on already made themes and choose the one that makes sense to you.
I also like that Kajabi's themes are sold on platforms such as Etsy and Robust Themes, which means you are not limited to the ones provided directly on Kajabi's Theme Store.
What I don't like is that Kajabi provides only 11 themes in their Theme store.
If you don't like any of these, you'll have to order one from an external source or have a Website Theme designer design one from scratch, adding extra costs.
Also, completion certificates are super important for course creators.
The fact that you cannot issue a certificate to your students after the completion of a course directly on Kajabi is major downside, but you do have integrations with third-party tools that can generate certificates for you.
But you will have to rely on third-party tools like Google Slides and Zapier for issuing certificates.
Kajabi Sales and Marketing Features
The Kajabi sales and marketing features allow you to sell your knowledge, and it contains all the tools you need to do so.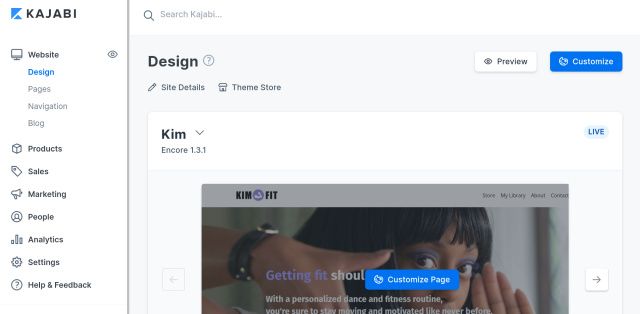 Kajabi sales and marketing features include:
Email marketing and automation
Campaigns
Promotional popups.
Landing pages
Sign up forms
Lead capture
Affiliate Marketing
Email Marketing and Automation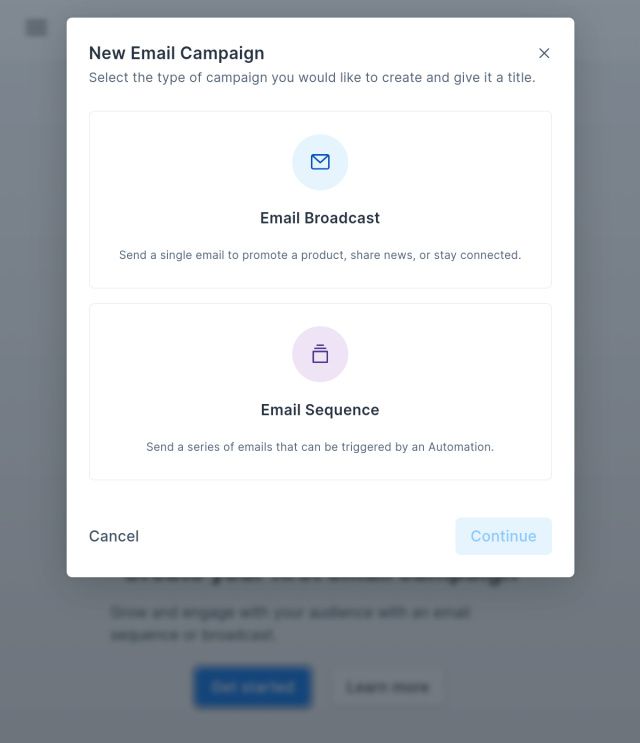 ‌One of the most effective tools you can use to build your business is email marketing automation.
It enables you to create automated mail based on user behavior, such as when they open an email or add an item to their basket but do not complete the checkout process.
Kajabi's Email Marketing and Automation are one of the most successful ways to keep in touch with your students after they've bought your course.
It also allows you to turn them into lifelong fans who will spread the word about your business and buy more from you in the future.
I was able to send emails right away and also schedule emails for later delivery.
I also made use of the customizable email templates that Kajabi offers. This helped me keep my brand's look and feel consistent.
You can also start from scratch by using the email template builder, then add your text and image in the drag and drop section.
The Email service in Kajabi is awesome. You can send emails at specific times to targeted groups of people. You can send out discounts and special offers.
Triggers can be used to send emails automatically when a specific event happens.
For example, you might wish to send a monthly email to students who sign up for your course (so that you can remind them about your upcoming launch).
You can also automatically send a welcome email to anybody who signs up for your free trial account (so you can demonstrate the value of upgrading to the paid version).
Campaigns, Automations and Drip Campaigns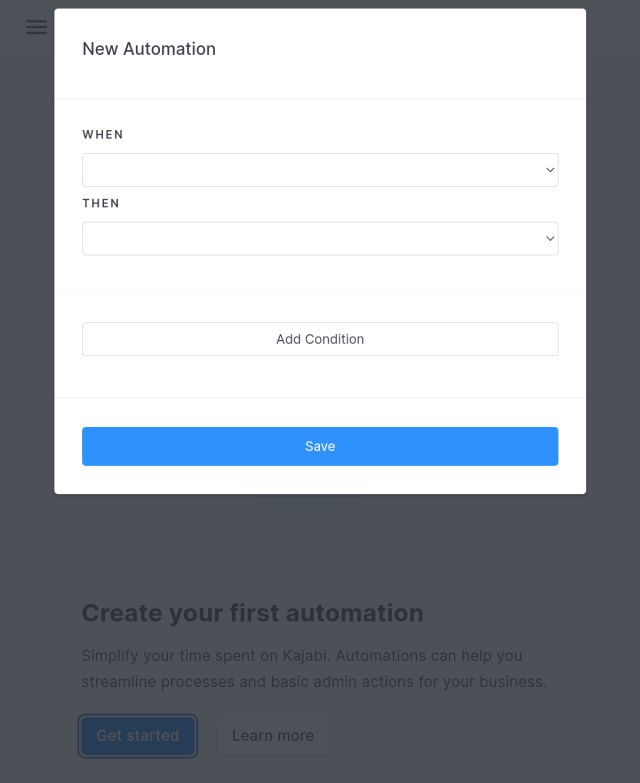 ‌ You can also send out email campaigns to users based on their behaviors in Kajabi.
If someone downloads your course and completes the first chapter, you may send them an email asking if they need any help with the subsequent chapters.
One advantage of Kajabi is that you may create as many campaigns as you like.
Automation is an excellent way to ensure that your sales and marketing processes work smoothly.
You can use this to send emails, drip campaigns, and other forms of contact. Let's look at each type of automation in more detail:
You can send automatic emails to your students using Kajabi Automations based on their specific actions.
You can change the text of these emails with a single click using the editing tools, and you don't need to know how to code.
Drip campaigns are similar to email automation in that they focus on lead nurturing rather than sending out basic welcome messages.
Kajabi Landing Pages
Kajabi makes it easy to create a landing page on its platform.
You get to create one by clicking on the Website tab, but know that your Kajabi Landing page is entirely different from your website.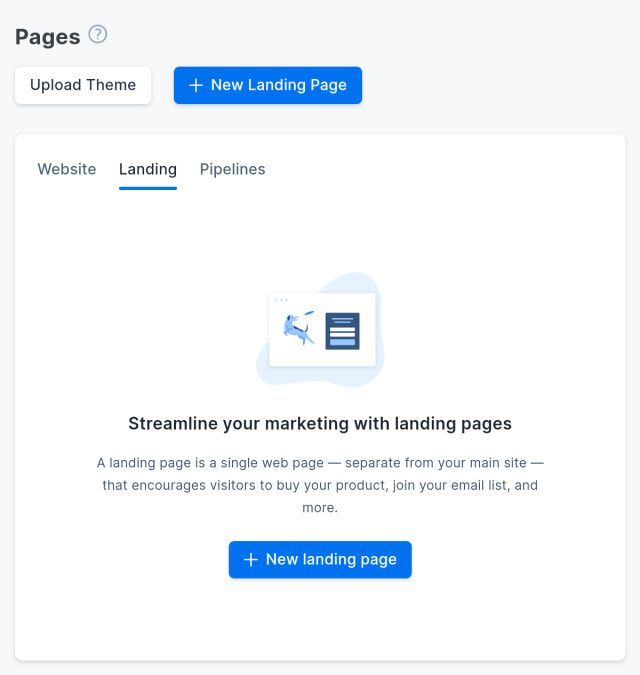 ‌Landing pages are an excellent way to
convert website visitors into leads
expand your mailing list
enhance purchases
and increase engagement.
You can use Kajabi landing pages to collect email addresses and create relationships with your audience
You can achieve this by providing valuable information for free, via a lead magnet download. These can be free eBooks or other resources for example.
In Kajabi's built-in affiliate program, landing pages can also be used as lead magnets.
This is fantastic since it enables you to develop highly targeted offers that will allow you to earn more commissions from all affiliates who promote your products and services.
Kajabi Signup Forms
When users visit your website, the signup form is the first thing they see.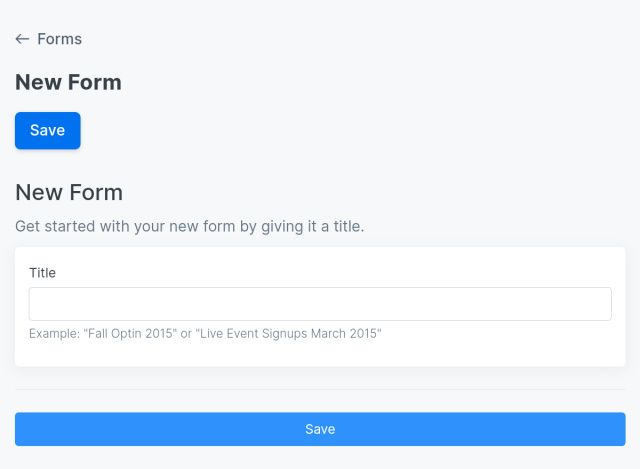 Getting their information is a smart idea so you may use it in future marketing campaigns.
It's preferred if customers fill out your form entirely, and Kajabi can help with that as part of its sales and marketing capabilities.
You can request email addresses, names, phone numbers, and other details to help you send out future promotions and follow-ups.
Kajabi Lead Capture Features
The lead capture tool in Kajabi is ideal for growing your email list, allowing you to easily turn website visitors into subscribers.
Kajabi has an easy way to create lead capture forms and then collect the information you need from visitors or students who sign up.
This lets you keep track of your audience, and know who's interacting with your content.
Lead magnets are any enticement that motivates people to give over their personal information in return for something helpful (like an eBook).
As a result, lead magnets might differ greatly depending on your site's subject or topic. The following are some examples:
Attendees can learn more about what you've been talking about online by watching a free webinar recording.
A PDF guide describing how your students can follow along with your content while also receiving customized tips based on their abilities.
Lead capture works with Kajabi for every form of content, from blog posts to courses. You may add it to your members' area or your website with a single click.
Kajabi Discount Coupons
One of the most successful strategies to sell your online course and increase sales is to provide discounts in the form of coupons.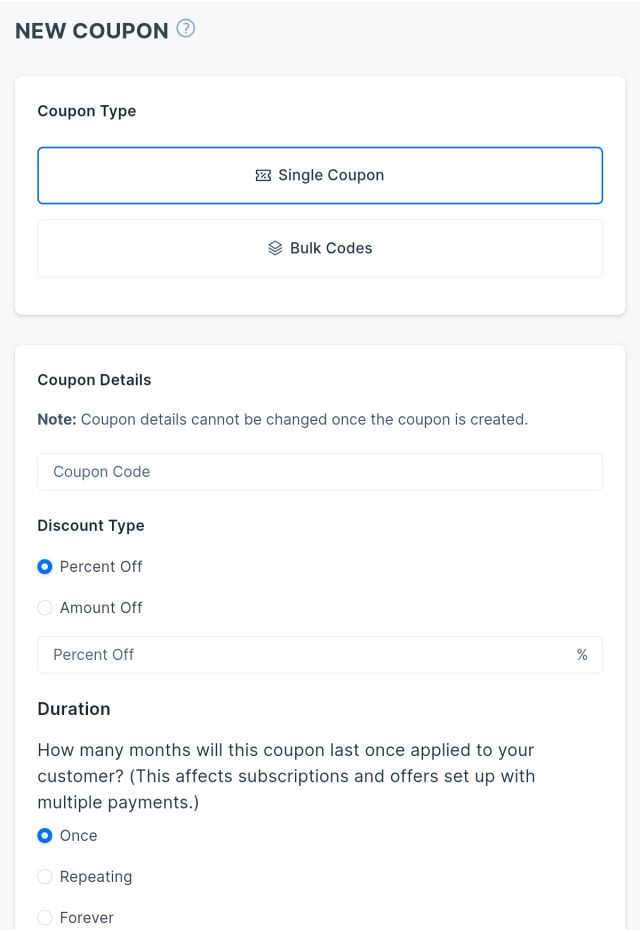 People appreciate it when they can get products at a lower cost.
‌The coupon tool on Kajabi allows you to customize the type and duration of the discount (once, repeating or forever).
You can also decide if it is a single or bulk coupon, percentage or amount off.
You can also choose the offer you will like the coupon to be available for.
Kajabi Affiliate Marketing Features
Kajabi allows you to promote your courses using affiliates.
When affiliates sign up to help promote your courses, they do so in exchange for a percentage of the sales they make from it.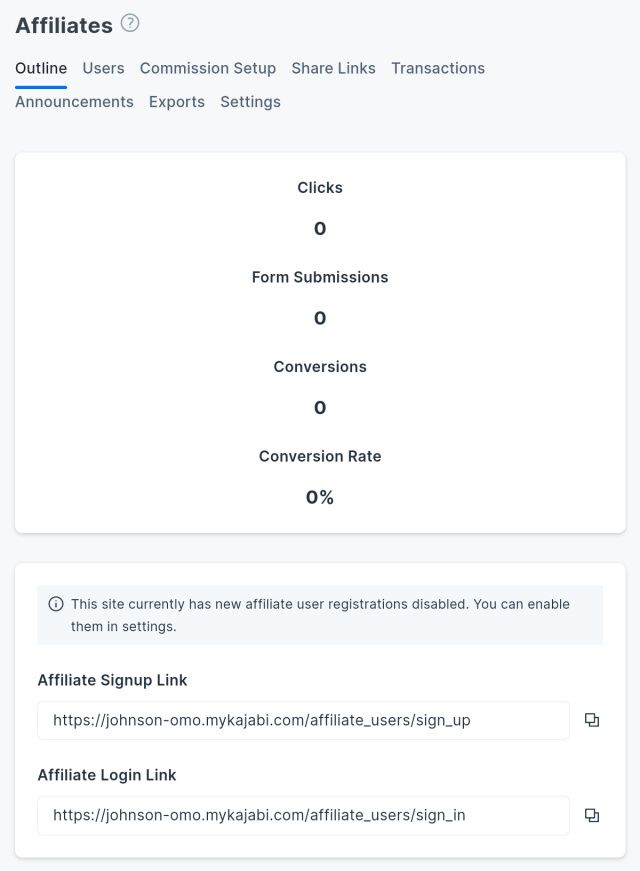 One important factor is that Kajabi has all the important tools for creating and managing an affiliate program.
Any user on your Kajabi account will be assigned the affiliate position once they sign up.
They will have access to their affiliate links once assigned, which they can use to drive traffic to your online course site and you can monitor all these from the Analytics section.
The platform allows you to set the commission rates for your affiliates as you want.
It also has a report board where you can track the performance of your affiliates while each of your affiliates also gets a private dashboard to track performance.
Kajabi Pipelines
Kajabi Pipelines is one of its features that stands out the most.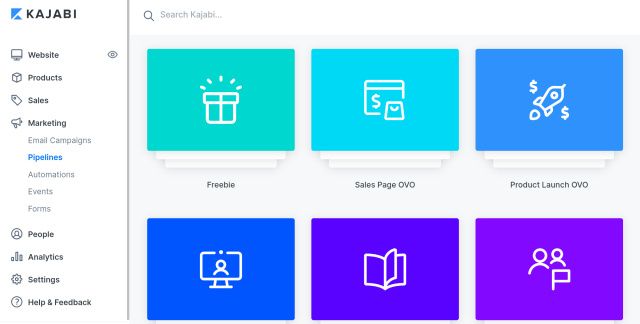 Pipelines can help you build funnels and make creating and selling your courses super simple.
The best part is that creating sales funnels with Kajabi Pipelines is completely free and included in their regular plans.
You do not need to be a funnel or code expert because it has ready-to-use templates that give you all the power to create a great funnel.
It also allows you to bring together several different sales and marketing channels into seamless multi-channel funnels.
Kajabi pipelines can be linked to your email list. Your subscribers receive scheduled emails, reminders, and registration confirmations.
Another unique aspect of Pipelines is that it adds live webinars and students can watch these videos hosting events whenever they want.
Kajabi Pricing
Kajabi offers four plans to best accommodate your course needs. They are: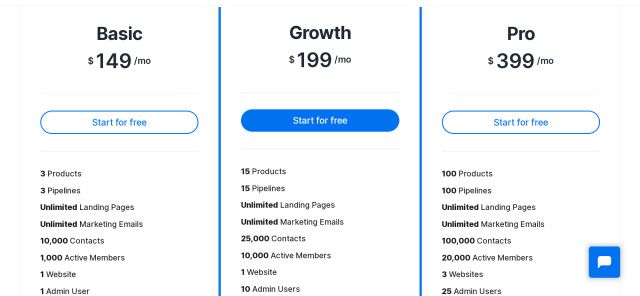 There is also an Ultimate plan which is currently not listed. For the Ultimate plan, it'll depend on your needs and you'll need to contact the sales department.
Payment Processing Features
Kajabi supports multiple payment processors: Stripe and PayPal. Each payment processor has its own advantages and features. Personally, I really like Stripe.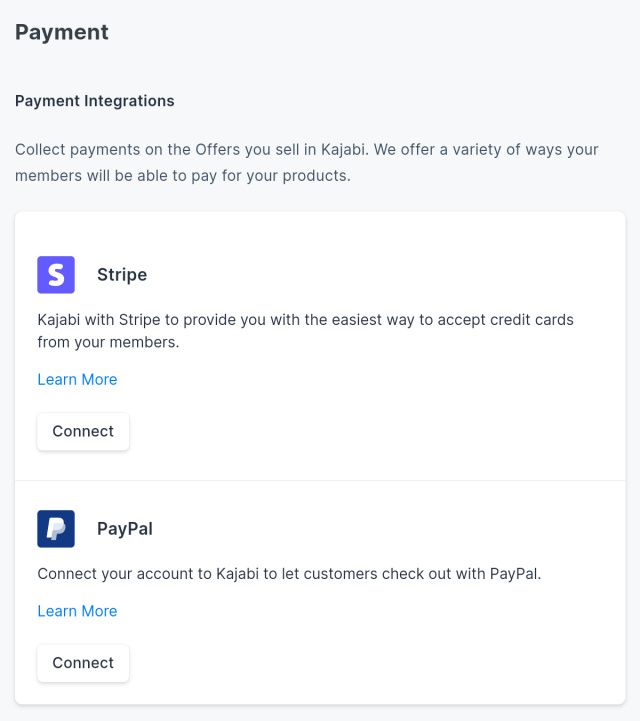 Of the two, use Stripe for your online course purchases because it's easy to use, simple to set up, and quick to implement most especially if you are new to the platform.
Kajabi Sales and Marketing: My Verdict
Kajabi's sales and marketing platform allow you to sell and market your knowledge, and it contains all the features you need to do so.
The Pipelines feature is super cool. I was able to build a sales funnel in minutes and start collecting emails right away without the need to code.
What I don't like is having to create a landing page that is not part of the website even though I have to create it under the website tab. The whole scenario seems a bit confusing though.
I also don't like that I can't run an affiliate program on my Basic Plan of $149 per month or $1,428 annually, except on the Growth or Pro plan.
I also do not enjoy to not to be able to remove the Kajabi branding and replace it with mine in the Basic plan, which is already quite expensive.
The 24-hour chat support should be made available to all plans since there is no free plan. The Basic Plan of $149 per month or $1,428 annually does not have 24-hour chat support.  
Kajabi Analytics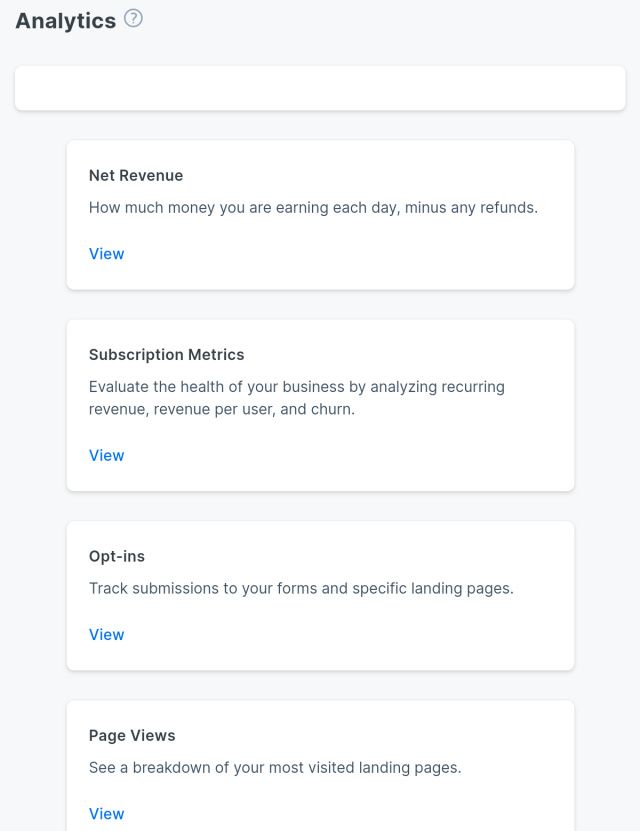 Kajabi provides you with an analytic section where you can view and track the following reports:
Page views: Here you see the breakdown of your most visited landed pages
Students Progress: You can track how well your students are performing using their quiz scores and video performance
Video Analytics: You can track your videos play rate, and student engagement with the video using
Opt-ins: You can track the submissions of your forms and specific landing pages
Product progress: You can track the progress your customers are making in each product
Offers sold: This section shows all the offers purchased in a given timeframe
Affiliates: You can view affiliates' stats to see performance, commission, and members referred
Net revenue: You will see how much money you are earning each day, minus refund in this section.
Subscription metrics: You can use this section to evaluate the health of your business by analyzing recurring revenue per user.
You can filter the reports by date. You can also switch from a daily view to a weekly, monthly, or yearly view.
Kajabi Analytics: My Verdict
Kajabi Analytics is a very good tool indeed. The ability to provide deep analytics reports like students' interaction with my video using video heatmap and visual engagement viewer is what I really like in it.
Kajabi Community and Membership
You can develop communities around your courses using Kajabi's Community feature.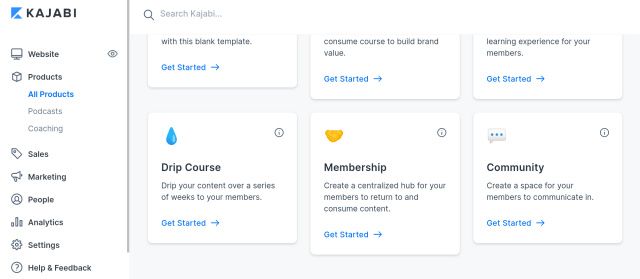 Kajabi Community allows course creators to communicate with their students while staying inside their own website, without relying on social media.
Kajabi Community has the advantage of allowing you to create as many communities as you like.
You can use it similarly to other social networking platforms to
upload a photo
link to a video
link to a website or article
You can have as many members as your plan allows, and they will be able to engage with one another's posts. They can do all the usual social media activities they are used to, such as:
like posts
comment
follow each other
You can also make a member directory page where your students can see each other's profiles and send each other direct messages.
Kajabi community: My Verdict
I appreciate the idea of the community being housed on my website so that spammers can't find me through social media or other forums.
It's cool to see the design looks like that of Facebook, which means I won't be learning something new from the scratch.
What I don't like is that the social features are relatively few compared to that of Facebook, which means most people would just prefer to use a Facebook Group instead.
Kajabi Mobile App
The Kajabi Mobile App puts your course in your students' hands, allowing them to access it whenever and wherever they want.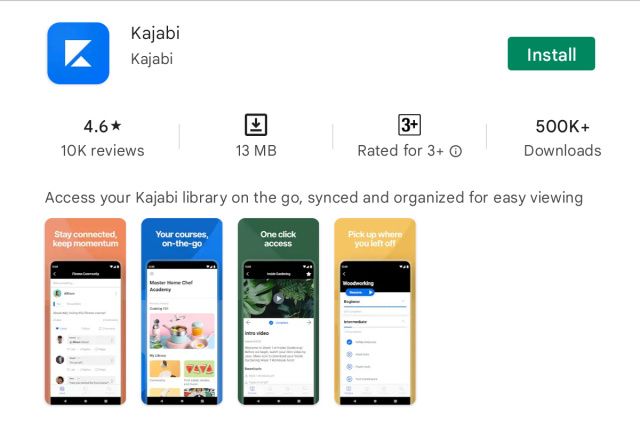 The app is compatible with both iPhones and Android mobile devices.
It's quite easy to use, which is a great plus for me and other course authors.
It allows you to access any course that your students purchased on the Kajabi website.
I immediately had access to all of my courses after logging into the app with my primary email address.
Students who purchase your course will also get access to all of the courses they've paid for as well as the entire community.
You can easily manage your entire business from a single screen, including:
Updates & Campaigns
Students (Customers)
Orders
Both iOS and Android smartphones can run the Kajabi mobile app and the app is available on Google Play Store and of iOS.
Kajabi Mobile App: My verdict
One cool thing is that whenever you update your website on Kajabi, your students will see the changes on their mobile devices nearly immediately.
The Kajabi mobile app is super simple to use and navigate. All in all, this is a very nice complement to the whole Kajabi ecosystem.
Kajabi Support
Kajabi offers different support options for course creators, such as:
Tutorials and documentation
Kajabi Hero University
Help center
Chat
Kajabi assistant at the top of every page
Customer support agent
Email
Live Webinars
Podcast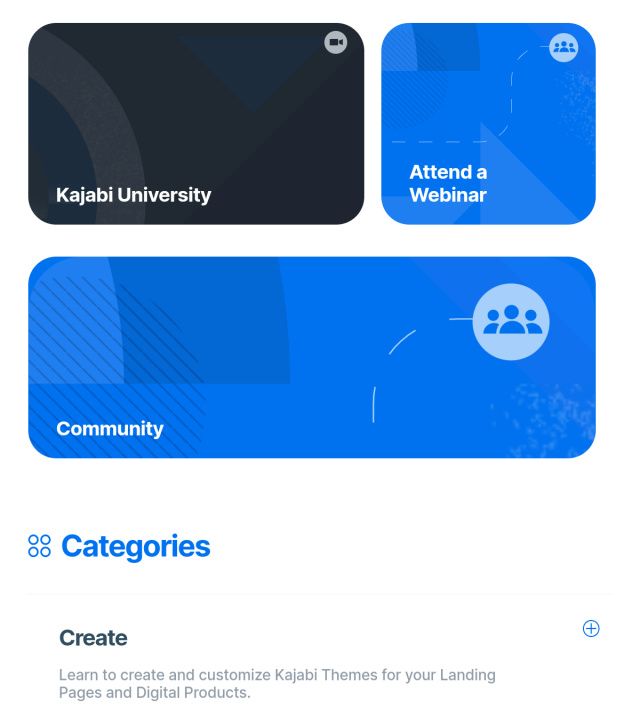 Kajabi has a strong reputation for customer service and is constantly working to improve its support team.
The introduction of  Kajabi University is very cool. It provides additional support for course creators, while also teaching them how to use the platform effectively.
You can look through their knowledge base, chat with a professional, or provide feedback if you think something could be better.
Besides that, every page has the Kajabi helper. This allows you to rapidly access support documentation.
My experience with Kajabi support clearly shows that their support is great. I got a reply within minutes of sending my mail.
Kajabi also has a Facebook Community for those who prefer to reach out through Facebook.
Kajabi Support: My verdict
Nothing is better than having 24/7 customer support that you can reach out to for immediate response when you run into an issue while creating your course on Kajabi.
However, not having  24/7 customer support included in the plan is a pity, as the Basic plan is already quite expensive.
But if you are on that plan, course creators can still have access to support during business days from 6 am - 5 pm Pacific Time.
What are the Benefits of Kajabi
So, what are the main benefits of Kajabi?
Kajabi offers lots of benefits to course creators:
You can create and host professional websites in minutes.
You can create beautiful landing pages
You can create memberships and sell your courses
You can deliver your course in different formats
You can design your checkout and sales page
It provides email marketing features
It is easy to use
Kajabi offers great support
You can create a sales funnel
You can use Kajabi on the go when you download and install its mobile app.
Kajabi: My Final Verdict
So, is Kajabi worth it?
Having read through this Kajabi review, you will agree with me that Kajabi has a lot of features and is relatively simple to use.
It's true that many of the features that it offers are simply lacking in other platforms. So their main claim is correct, Kajabi is truly an all-in-one platform.
Kajabi features a variety of templates you may use to build your website, which is helpful if you're new to the process.
Kajabi includes a fantastic site builder, that allows course creators to create beautiful-looking courses easily.
With so many possibilities in the admin area, you can make your courses look like anything from an online college course to a YouTube vlog, and everything in between.
The Basic plan, which is the cheapest plan on Kajabi is $149 per month and you get to pay $1,428 if you pay annually, which is pretty high if you ask me.
But the problem is that this initial plan is missing out on several features, including:
Not being able to create more than 3 products (courses)
Not being able to create more than 3 pipelines for marketing your courses
No affiliate program feature
No fulltime support
No advanced automation
And you definitely cannot remove the Thinkific branding to replace with yours
This means that to create a great course and market it on Kajabi properly, you'll soon need to go for the Growth plan ($199 per month or $1,428 annually) or Pro plan ($399 per month or $3,828 annually).
These plans are quite expensive for most course creators, even established ones. But what if you're just starting as a course creator, and you are still on a tight budget?
How can you set up your own website, create courses and make sales, and still get for example many of those essential features?
I understand this dilemma because I've been there too. I'm a course creator myself, and I understand what it's like to have to grow an audience from scratch.
This is why I founded OnlineCourseHost.com, an online course platform that is way less expensive and has many of the same features as Kajabi.
My team has created OnlineCourseHost.com to help out course creators, by creating the easiest to use online course platform on the market that comes with built-in email marketing features such as bulk email.
But more than a platform, we want to give you all the information that you need to grow your online course business successfully.
That's why we have created the Course Creator Academy where you can find everything you need to become a successful online course creator all in one place for free.
To get notified when new content is available here at the Academy, you can subscribe here to our weekly newsletter:
If you are looking to ask any questions on online course creation, you can reach me here on my Facebook group:
Join the Course Creator Academy Facebook Group
Ready to learn how to launch your first course on OnlineCourseHost.com? Here are the helpful guides for you to check out:
I hope you found this Kajabi review helpful, let me know in the comments below what other topics you would like me to cover, or any questions that you have?
Thanks for reading… and enjoying the course creation process! 😉
---
Vasco Cavalheiro
OnlineCourseHost.com Founder & Online Course Creator
LinkedIn   Facebook Page   Facebook Group   Twitter

Frequently Asked Questions
Though there are lots of Kajabi alternatives out there. In this section, I have highlighted three other popular platforms, and their pros and cons when compared to Kajabi.
Thinkific vs Kajabi
| Thinkific | Kajabi |
| --- | --- |
| Offers more limited solution | An all-in-one course creation platform |
| Has no in-built email marketing tools | In-built email marketing tools |
| Offers a free plan | Has no free plan but 14 days free trial |
| Easy to use website builder | Easy to use website builder |
| Least paying plan is the Basic plan ($49 per month) | Least paying plan is the Basic plan ($149 month) |
| No in-built sales and marketing features | In-built sales and marketing features |
| Great support | Great support |
Podia vs Kajabi
| Podia | Kajabi |
| --- | --- |
| Offers more limited solution | An all-in-one course creation platform |
| Has no in-built email marketing tools | In-built email marketing tools |
| Complex interface | Better interface |
| Can integrate with arrays of app | Can integrate with arrays of app |
| Not really easy to use | Easy to use website builder |
| Least paying plan is the Mover plan ($39 per month) | Least paying plan is the Basic plan ($149 month) |
| No in-built sales and marketing features | In-built sales and marketing features |
| Great support | Great support |
| Has a 14-day free trial with no credit card required | Has a 14-day free trial with credit card required |
WordPress LMS vs Kajabi
| WordPress LMS | Kajabi |
| --- | --- |
| Requires lots of plugin | An all-in-one course creation platform |
| Has several plugins email marketing tools | In-built email marketing tools |
| Better interface customization | Good interface customization |
| Can integrate with more arrays of app | Can integrate with arrays of app |
| Not really easy to use | Easy to use website builder |
| Need to undergo a course to learn to use properly | Easier to create and launch courses |
| One time payment but may require addons | Monthly or annual payment |
Is Kajabi easy to use?
Kajabi has a simple interface that is easy to use. It is solely designed for course creators like you and me.
Is there a discount if I pay annually?
Kajabi offers a 20% discount if you pay annually
Is Kajabi going to host my account too or do I need another hosting service like WordPress or Squarespace?
No, you do not need another hosting service like WordPress or Squarespace. Kajabi will host your account directly on its platform
Can I use my custom domain with Kajabi?
Yes, with Kajabi you can use your custom domain with any of its plans.