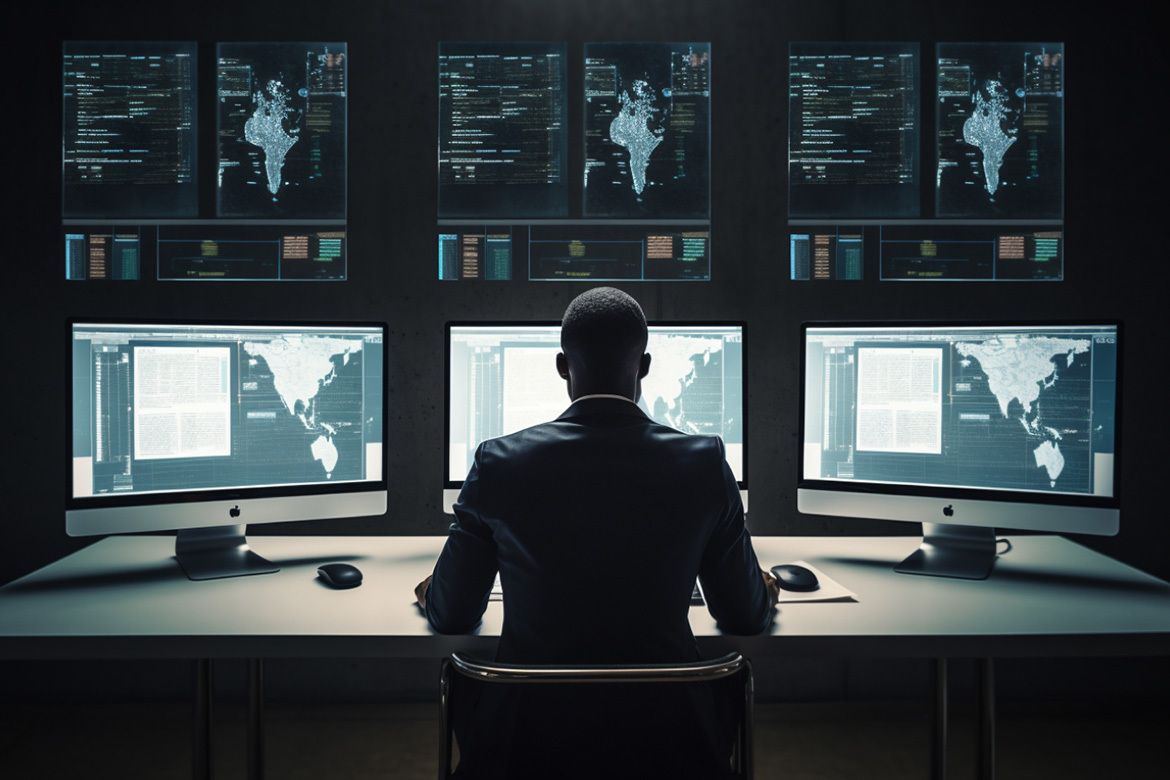 Choosing the right Learning Management System (LMS) is crucial for online course creators. In this post, I compare popular LMS software so you can make an informed decision about the perfect fit for your online courses.
If you are planning to offer online courses or any other kind of e-learning activities, then you need an LMS.
With the right kind of software, it's easier than ever to make your educational content available to students all around the world.
A good LMS will enable you to automate certain processes such as grading tests and assignments, so that you can save time and effort.
It is also a great way to ensure that your learners remain engaged throughout their learning journey, ensuring they get the most out of the course.
However, selecting the right Learning Management System (LMS) software can be daunting.
Whether you're an instructor or a company aiming to provide eLearning experiences to your employees, there are many factors that come into play when choosing the perfect LMS for your needs.
You'll want an LMS that is easy to use, cost-effective, and able to deliver your courses in an engaging way.
You can also check out all the free guides available at the Course Creators Academy.
Ready to learn about the Top LMS software for online courses out there? Let's get started!
Things to consider when choosing an LMS
It's important to consider a few key points when selecting LMS software for your online courses.
First, you should evaluate the LMS software based on your needs.
What features are most important to you?
Do you need a system that has good built-in analytics, or one that integrates with third-party analytics solutions?
What about things like course authoring capabilities or multilingual support?
Here are a few other things to keep in mind:
User-friendly interface
Having LMS software that is intuitive and easy to navigate can be the difference between student satisfaction and frustration.
Make sure the software you choose is easy to use, with great visuals and features that make it user-friendly.
It should also have features such as personalization, or customization of the user experience so that the students have a customized learning journey that is tailored to their individual needs.
Security and reliability
Security and reliability are crucial when selecting an LMS; you need to know your software won't crash during an online course!
Choose a provider that can guarantee top-notch security measures, so your data remains safe and secure.
Additionally, make sure you invest in reliable hosting services for your online course content, with backups just in case something goes wrong.
Scalability
You may be starting small now with just a handful of online course offerings, but if you're planning for growth, make sure the LMS platform you choose has scalability options built in.
That way, if you decide to add more courses or users down the line, your platform will be able to easily handle it.
Take the time to make a list of the features and functionality that you need in your online learning platform. Then, when you're looking at different options, evaluate them based on how well they meet your individual needs.
It's also important to consider how well the platform will support other tools and services, for example, does it easily integrate with popular video streaming services or video editing platforms?
Also, make sure to ask vendors about technical support options, both during and after implementation.
Support can be critical in helping ensure that things go smoothly during launch and beyond.
With these considerations in mind, you can confidently choose an LMS software that best meets the needs of your online courses.
Top LMS software options for online courses
You might be overwhelmed by the sheer number of options for LMS software out there, but don't worry!
Here are some of the top ones that you should definitely consider when it comes to choosing the right one for your online courses.
OnlineCourseHost.com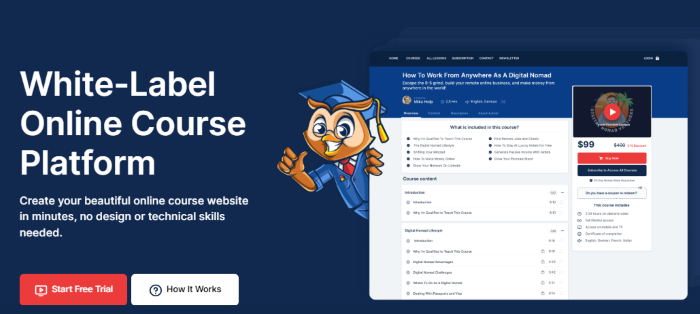 OnlineCourseHost.com is a White-Label Online Course Platform that is super easy to use, has email marketing included, and has no transaction fees.
No design or technical skills are needed. It allows you to create your course in minutes. And it's cloud-based, so you don't need any IT expertise in order to use it!
With built-in quizzes, assignments, group work support, and a user-friendly interface, instructors can easily create and customize their courses while encouraging students in active and effective teaching.
When it comes to essential LMS software for online course delivery, OnlineCourseHost.com  is a great option.
Some of the key features include:
User-friendly interface and easy course management: OnlineCourseHost.com has a simple and easy-to-use interface that makes it a breeze for course creators like you to navigate the platform.
The course management tools are powerful yet straightforward, allowing you to easily organize and structure your course content.
From creating modules and lessons to uploading videos and materials, OnlineCourseHost.com streamlines the course creation process, saving you time and effort.
Customization and branding options: With OnlineCourseHost.com, you can customize the look and feel of your courses to match your branding.
You can add your own logo, choose color schemes, and personalize the visual elements. This customization helps create a cohesive learning experience for your students, making your course look professional and trustworthy.
Integration with other tools and platforms: OnlineCourseHost.com seamlessly integrates with other popular tools and platforms, such as video conferencing software, webinars, payment gateways, and email marketing services.
This integration allows you to leverage existing tools and enhance your course's functionality, making it a versatile platform that suits your specific needs.
Outstanding customer support and training resources: OnlineCourseHost.com takes pride in its exceptional customer support. Their knowledgeable support team is always available to help you with any questions or concerns.
Additionally, the platform offers a wealth of training resources, including the Course Creators Academy - Where you can learn everything that you need to become a successful online course creator, all in one place, for free.
Canvas: Easy to use with powerful features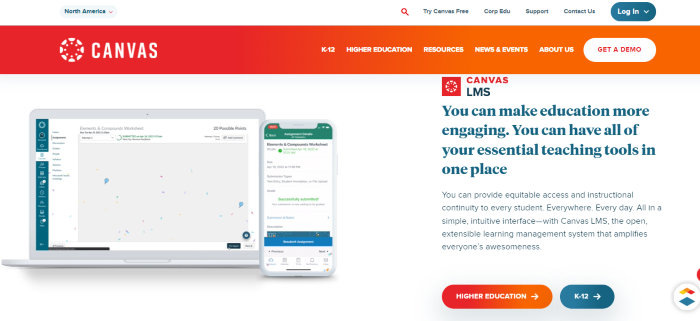 Canvas is another powerful LMS software used by businesses and educational institutions alike for online course delivery.
It has most of the features you'd expect—course creation tools, grading systems, and analytics capabilities, but it also includes features such as facilitated discussion boards and interactive video lecture tools that make it ideal for blended learning environments.
It has an easy-to-use user-friendly platform, with a sleek UI that makes navigating and customizing your course easy.
Some of the key features include:
Intuitive and user-friendly interface: Canvas LMS boasts an intuitive and user-friendly interface, making it easy for both educators and learners to navigate the platform effortlessly.
With its clean and organized design, users can quickly find the information and tools they need, streamlining the teaching and learning process.
Comprehensive course management: Canvas LMS offers a comprehensive set of tools for course management, empowering educators to organize and structure their courses with ease.
From creating modules and lessons to uploading and sharing resources, Canvas provides a seamless course creation experience, allowing educators to focus on delivering quality content.
Collaboration and communication features: Canvas LMS places a strong emphasis on collaboration and communication, fostering an interactive and engaging learning environment.
With built-in discussion boards, real-time messaging, and collaborative workspaces, students can actively participate in discussions, exchange ideas, and collaborate with their peers, enhancing their learning experience.
Seamless integration capabilities: One of Canvas LMS's standout features is its seamless integration with other tools and platforms.
It offers integration with popular applications, learning resources, and external systems, expanding its functionality and providing a unified experience for both educators and students.
This integration simplifies workflows and allows for a more efficient and personalized learning experience.
Moodle: Open-source LMS software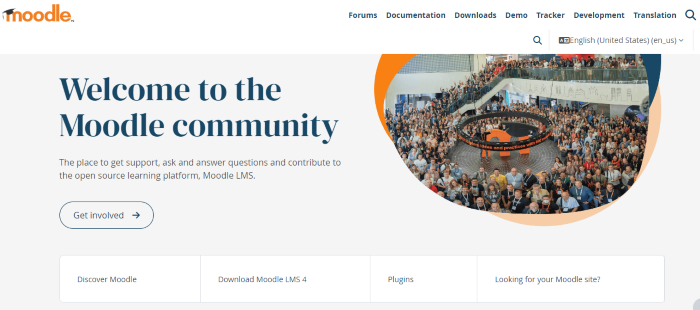 Moodle is an open-source learning platform that focuses on providing an intuitive user experience for both teachers and students alike.
It features built-in quizzes, assignments, a specialized grading system, and even support for group work.
With its easy-to-use interface, teachers can customize their courses according to their needs with a variety of configuration options.
It is designed to facilitate a collaborative learning experience for your students, making it easy for them to access learning materials and participate in discussions with their peers.
Some of the key features include:
User-friendly design: Moodle has an intuitive user interface which makes it easy for users to find what they're looking for and take advantage of all the features and tools available.
Customizable course structure: Moodle allows you to create custom course structures that meet the needs of your students, such as by adding modules, lessons, activities, and more.
Support for mobile devices: You can access Moodle from any device with an internet connection, making it easy for students to access the course material even when they're on the go.
Quiz engine: Moodle also comes with a powerful quiz engine that lets you create quizzes and keep track of student performance in real time.
You can also set up automated feedback or manually grade exams or assignments if needed.
By taking advantage of the features offered by Moodle, you'll be able to deliver a more effective online course experience for your students and ensure their success in achieving their educational goals!
iSpring Learn LMS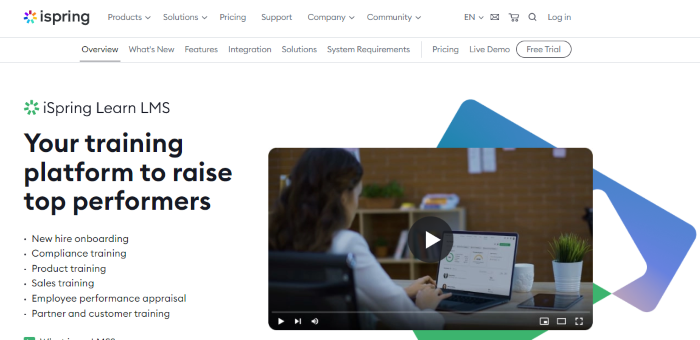 iSpring Learn LMS is a powerful Learning Management System (LMS) that offers a range of features to enhance the online learning experience.
Here are some key features that make iSpring Learn LMS stand out:
User-friendly interface: iSpring Learn LMS has a simple and intuitive interface, making it easy for both teachers and students to navigate and use the platform.
It's designed with simplicity in mind, allowing users to focus on their learning goals rather than getting lost in complex menus or features.
Course creation and management: With iSpring Learn LMS, teachers can create and organize their courses effortlessly.
The platform offers a variety of multimedia options, including video, audio, and interactive quizzes, to engage learners and make the content more interesting.
Instructors can easily upload their course materials, create lessons, and track student progress all in one place.
Mobile compatibility: iSpring Learn LMS is compatible with mobile devices, allowing learners to access their courses anytime, anywhere.
This flexibility is especially beneficial for those who prefer to learn on the go or have busy schedules. Whether it's a smartphone or tablet, learners can continue their coursework without any limitations.
Progress tracking and analytics: iSpring Learn LMS provides comprehensive tracking and analytics features. Teachers can monitor student progress, assess their performance, and identify areas where additional support may be needed.
This data-driven approach helps educators tailor their teaching methods and provide personalized feedback to enhance the learning experience.
Collaboration and communication: iSpring Learn LMS fosters collaboration and communication among learners and teachers.
The platform includes discussion forums, messaging capabilities, and group activities, allowing students to interact with each other and their instructors.
This promotes peer-to-peer learning, encourages teamwork, and creates a sense of community within the online learning environment.
Integration with iSpring Suite: iSpring Learn LMS seamlessly integrates with iSpring Suite, a powerful eLearning authoring tool.
This combination allows teachers to create interactive and engaging course content using iSpring Suite's features and then easily upload it to iSpring Learn LMS for distribution and tracking.
iSpring Learn LMS offers a user-friendly interface, course creation and management tools, mobile compatibility, progress tracking and analytics, collaboration features, and integration with iSpring Suite.
These features make it a reliable and effective LMS platform for both teachers and learners, enhancing the online learning experience and promoting success in online courses.
Blackboard: Robust LMS for all educational needs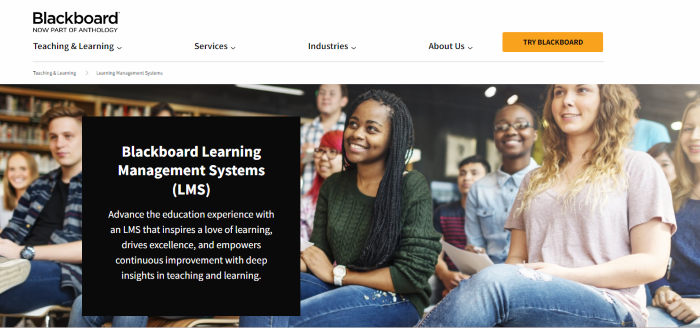 Blackboard is a popular and robust LMS software for course delivery across all educational settings and needs.
Its features are wide-ranging and can be used for all types of needs, from offering eLearning opportunities to creating blended learning experiences.
What makes Blackboard an effective LMS software? Here are some of its key features:
Flexible course design: Blackboard LMS offers a versatile course design that allows educators to create engaging and interactive learning experiences. It provides a range of content creation tools, including multimedia integration and customizable templates.
Robust communication tools: Blackboard LMS facilitates effective communication between educators and students through various channels, such as announcements, discussions, and messaging. It promotes collaboration and engagement within the learning community.
Assessment and grading capabilities: Blackboard LMS supports diverse assessment types, including quizzes, assignments, and discussions, with customizable grading options. It streamlines the grading process and provides timely feedback to students.
Integration capabilities: Blackboard LMS integrates with other educational tools, systems, and content repositories, expanding its functionality and providing a seamless user experience. This integration simplifies workflows and enhances the learning ecosystem.
These features make Blackboard a comprehensive and robust LMS that can be used to deliver online courses across all types of educational settings effectively.
TalentLMS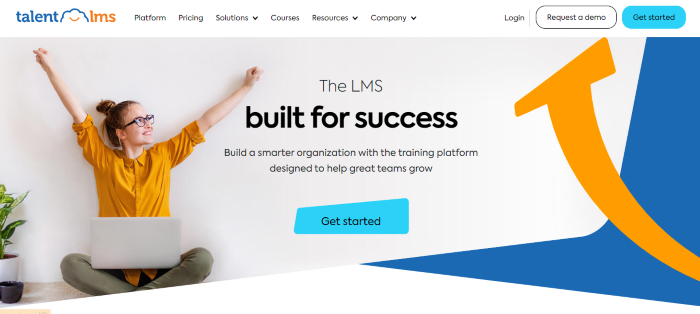 TalentLMS is an easy-to-use learning platform that enables organizations to create and manage their own customized learning experiences.
It features interactive course content, virtual classrooms, gamified elements, AI-driven automated course creation capabilities plus lots more. And it's cloud-based so you don't need any IT expertise in order to use it!
Intuitive User Interface: TalentLMS offers a user-friendly interface that makes it easy for both educators and learners to navigate and access course content effortlessly.
Customizable Course Design: TalentLMS allows educators to create and customize courses with rich multimedia content, interactive assessments, and engaging learning activities.
It supports a variety of content formats, including videos, presentations, and documents.
Gamification and Badges: TalentLMS incorporates gamification elements such as badges, leaderboards, and rewards to motivate and engage learners.
This gamified approach enhances learner participation and satisfaction.
Social Learning and Collaboration: TalentLMS encourages social learning and collaboration through features like discussion forums, chats, and live events.
Learners can interact with peers, share ideas, and collaborate on group projects.
Assessment and Progress Tracking: TalentLMS provides robust assessment tools to create quizzes, surveys, and assignments.
It also offers detailed progress tracking and reporting features, allowing educators to monitor learner performance and identify areas for improvement.
Understanding how much it costs
Now, let's dive into the financial side of choosing an LMS platform for your online courses. When selecting an LMS platform for your online courses, it's important to consider the pricing models and associated costs.
Here are key points to consider when evaluating the financial aspect:
Different pricing structures: LMS platforms offer a variety of pricing options to suit different needs. You might come across subscription-based plans, where you pay a recurring fee for ongoing access to the platform.
Alternatively, some platforms offer one-time fee options, allowing you to make a single payment for a specific period of access.
And then there are freemium models that provide a basic version of the LMS for free, with the option to upgrade to a paid plan for more advanced features.
Take a moment to think about your budget and what kind of payment structure would work best for you.
Additional costs: Beyond the base price, it's important to consider any extra costs that might come with using an LMS platform.
These could include hosting fees if the platform requires external hosting, maintenance fees for regular updates and technical support, and any integrations or add-ons you may need to enhance the LMS's functionality.
Make sure to carefully review the pricing details and take note of any potential additional expenses to get a clear picture of the total cost involved
Evaluating the value for money: While cost is certainly a factor, it's equally important to assess the value you're getting for your investment.
Take a close look at the features, customization options, user experience, customer support, and scalability offered by each platform.
Consider how well they align with your course requirements and the kind of learning experience you want to create. It's all about finding that sweet spot between affordability and the value the LMS brings to your online courses.
To make an informed decision, take advantage of free trials or demos offered by LMS platforms.
This hands-on experience allows you to explore the platform, test its features, and see if it's the right fit for your courses before committing financially.
You can also gather insights from reviews and seek recommendations from other course creators to get a sense of the cost-effectiveness and overall value of the LMS platform.
By carefully considering the pricing models, factoring in additional costs, and evaluating the value for your money, you'll be well-equipped to choose an LMS platform that not only fits your budget but also meets your course needs effectively.
Final thoughts
Alright, let's wrap things up! Remember, when you're choosing the right LMS software for your online courses, there are a few things to keep in mind.
You want to think about the features it offers, like interactive quizzes, discussion forums, stability, and progress tracking.
It's also important to consider how user-friendly the platform is and if it integrates well with other tools you might need. And of course, the cost is another factor to consider.
And, if you're looking for an LMS platform to help you publish and sell your online course with ease? Look no further than OnlineCourseHost.com!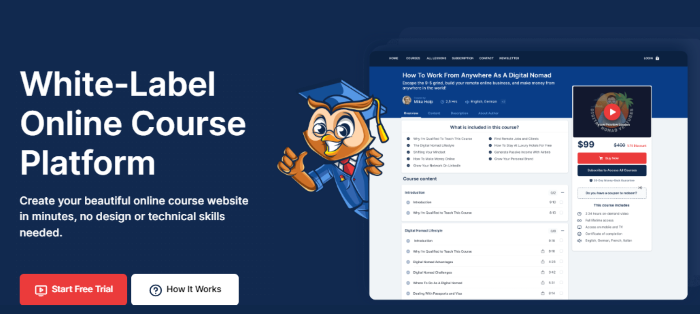 A white-label platform that offers a range of features to help you create and distribute your course, including customizable branding, secure payment processing, and in-depth analytics.
To get notified when new content is available here at the Academy, you can subscribe here to our weekly newsletter:
If you are looking to ask any questions on online course creation, you can reach me here on my Facebook group:
Join the Course Creator Academy Facebook Group
Ready to learn how to launch your first coaching program or course on OnlineCourseHost.com? Here are the helpful guides for you to check out:
I hope you found this post helpful, let me know in the comments below what other topics you would like me to cover or any questions that you have.
Thanks for reading… and enjoy the course creation process! 😉
---
Course Creators Academy, a community by OnlineCourseHost.com
Founded by Vasco Cavalheiro
Online Course Creator