Online Course Creator vs Online Coach: Which Is Better and Why?

Platform Review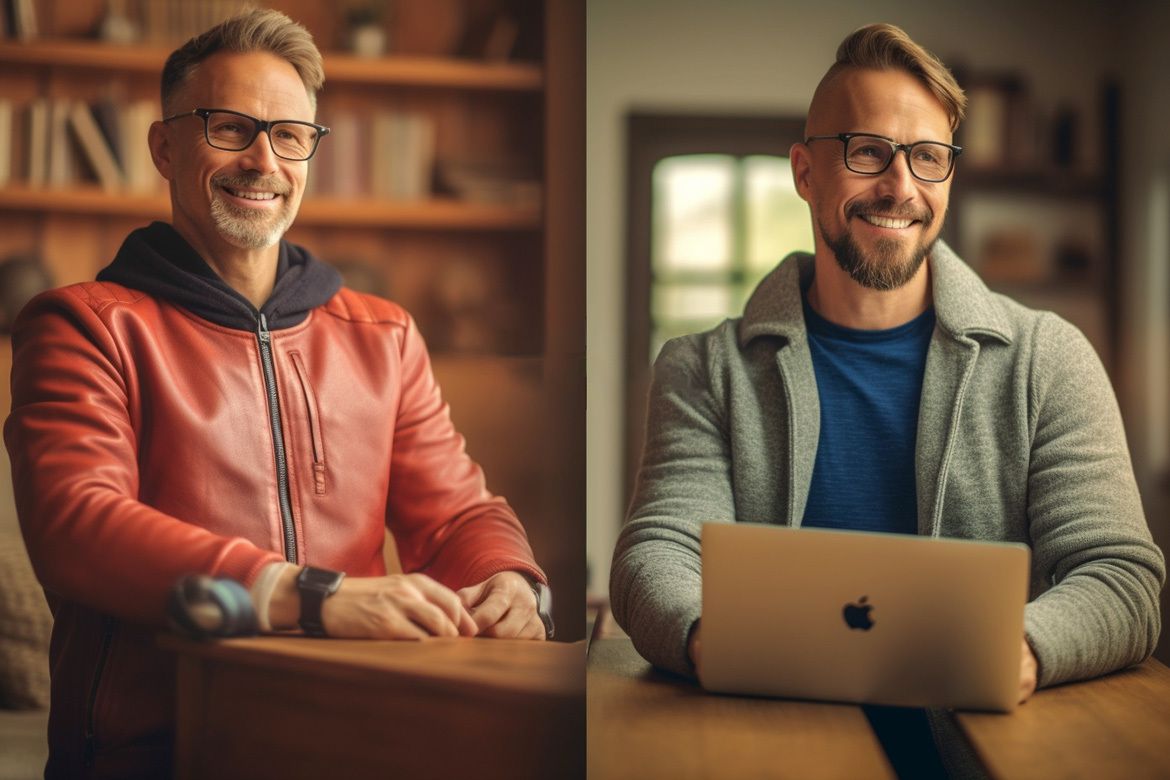 Find out what is the best way to build an online teaching business: should you become an online course creator or an online coach, and why?
Online course creator vs online coach… who would you bet in a fight? 😉
I see a lot of back and forth going on between these two types of online entrepreneurs.  
Some say online courses is the future. Others say that online coaching is where the real money is.
Me… I have an outlook that differs from most. I've seen both sides of the coin—and am grateful for building a successful business on the back of what I teach.
But seriously, if you've come here expecting a fight, you're in the wrong place, as I think both roles play a valuable part in today's exciting online world.
Although the reasons why may surprise you...
Which one is better, online course creator or online coach?
In the long term, online course creation has better revenue potential. An online course creator potentially can scale their sales better, because there is no direct interaction with their customers. But an online coach has the possibility of charging higher-ticket prices for personalized one-on-one services. Online course creation has the highest revenue potential, due to the way it scales if you can generate enough traffic. Online coaching is a great way to get started and create a sustainable business faster, while you wait for your audience to grow.  These two business models are not mutually exclusive and can be used in a complementary way.
This is just a high-level overview, the rest of this article will cover the exact benefits and drawbacks of each model, to help you choose what works best for you.
You can always find an up-to-date index with all the free content available in the Course Creator Academy by clicking on the Academy link on the top menu bar.
Online Course Creator vs Online Coach: Which Is Better and Why?
First, let's get clear on the differences between an online course creator and an online coach.
An Online Course Creator is someone that creates content (video and support written material) and publishes it online usually on their own website so that their students can work on the course in their own time.
So there is not much direct live interaction between the students and the course creator, it's all done mostly asynchronously via video and Q&A forums.
Whereas an Online Coach works directly with people—either one-on-one or in a group—in scheduled live sessions where they tailor their advice in real-time.
In essence, these two roles are very different.
Yet in today's online learning world, there's a lot of overlap.
More on that later…
First, let's look at the individual benefits so you can decide which role suits you best.
The Benefits of Online Courses:
A quick disclaimer before we go any further: I am an online course creator myself, and not a coach! 😉
As I share in these articles, I've transformed my life through online courses:
However, that isn't to say I'm anti-online coaching. I'm not.
In fact, I'm a huge fan (as you'll soon see). But online courses are where it all started for me. There are many benefits, including:
1: Passive Income
This is the big one. In fact, it may be what attracted you to this soon-to-be $320+ billion industry! Once you create your course and publish it, it can make you money while you sleep.
More so, this number can incrementally increase month on month.
As such, online courses have become attractive to existing business owners (adding a new revenue stream) and would-be entrepreneurs alike.
2: Build a Large Audience
Another huge benefit of creating and launching an online course is that it helps you build an audience. Yes, a course can make a lot of money in its own right. Yet it's also a great tool for generating leads and increasing traffic.
The e-learning industry continues to boom.
So long as it does, online courses remain a valuable source of content.
3: Teach What You Want
This is one of the big benefits that attracted me. After years of learning and gaining experience, I knew I had a lot to offer people just starting out in my industry.
If you have something valuable to teach, you can teach it. Anytime, anywhere!
4: Reach & Impact More People
This is another benefit that attracted me. I also considered coaching and consulting in the beginning. But doing so meant I'd reach small groups of people at a time. Through an online course, you can reach thousands (if not millions).
Once you create it, you have an entire world to share it with.
5: Freedom (time, money, and wellbeing)
For me, this is what it boils down to. I've always desired freedom; the freedom to give my family the life we want, and the freedom to work where I want, and on what I want.
I imagine you're driven by something similar.
Freedom looks different for everyone. In my case, it can be just being able to finish work early at 4:30 PM on a Friday and take my kids to the park.
It doesn't have to be sipping coconuts at the beach all the time if it's not your thing 😉, it might be as simple as being able to go out at lunchtime and grab some sun on a winter day, or being able to take holidays more often.
However you define your freedom, an online course can help you achieve it.
The Cons of Online Courses
As amazing as creating online courses are, there are a few drawbacks.
The first centers around pricing. In general, you'll sell your online courses at a lower rate compared to coaching or consultancy.
And I know, I know… most people advocate high-ticket courses.
But as I break down in this article: Online Course Pricing Guide (Top 7 Science-Based Tips) — it isn't what I recommend.
Another negative of online courses is that you have to churn one new one out after another.
This is another dangerous myth that exists. Many experts make out that you can create one course and drive off into the sunset.
This is rarely the case—unless you already have a large, loyal audience and a steady stream of traffic that remains constant over years.
Your first course is the first step. You take what you learn from that and apply it to the next.
You rinse and repeat this process over and over. This is how to build success through online courses.
Not through one or two, but by consistently churning out new ones over a long period of time.
You are after all a course creator, so that is your full-time job - to continuously create new courses, refresh existing ones, and provide support to your students.
The Benefits of Online Coaching
To some degree, everyone can benefit from creating at least a few courses.
Yet that isn't to say there aren't many benefits to becoming an online coach. Some of the big ones include:
1: Charge Premium Rates
Unlike with an online course, you can charge a premium rate as an online coach—so long as you have the experience to deliver exceptional results.
You can charge your customers for being able to directly access you, and ask you specific questions about something that they want to learn from you.
2: Personalized Experience
This is one of the biggest benefits of a coach. When you create an online course, you do so with an eye on helping lots of people.
Yet each person differs, so the exact help they need is never exactly the same. You can navigate this as a coach, offering specific advice each time.
You may take each student/client through a similar process. But you tailor each time with a tweak here and tweak there. It allows you to go deep and have a real, lasting impact.
3: Go Deep with Your Students
Speaking of going deep with your students… this is another huge benefit of becoming a coach.
Although you can have a huge impact on your students as a course creator, it doesn't compare to what an online coach achieves. Again, each person differs. Each one requires a different experience, which you can produce when you work with them one-on-one.
4: Work From Anywhere
Not long ago, this wasn't possible. If you wanted to work with someone one-on-one, you had to do so in person. You needed an office. That's no longer the case.
Through video conferencing, you can coach someone across continents.
It's more affordable—for you and for them—and results in a similar personalized experience.
5: Reach a Global Audience
Similar to an online course, you can reach a global audience as an online coach. You no longer have to work only with local students and clients.
So long as you build a strong, unique brand—as I dissect in this article: Create a Powerful Brand For Your Online Courses (In 5 Steps)—you can reach those you need to.
The Cons of Online Coaching
Of course, it's not all suns and rainbows as an online coach. There are some downsides, and the biggest surrounds the fact that you exchange your time for money.
It's hard to scale your operations as a coach.
If you want to bring in more clients, you need to commit more time to them.
And if you want to earn more money, you likely have to work with more clients.
It limits you. It creates a glass ceiling that's hard to smash through.
If you try to do so, it comes at the expense of your time, health, and well-being.
So… right now I imagine you're torn. You see the benefits of both online courses and online coaches. Both offer great benefits. Yet they both offer some serious negatives.
Don't worry, there is a simple solution. 😎

How Online Courses & Online Coaching *Can* Complement Each Other
As I hinted at earlier, online courses and online coaching can complement each other. But that comes down to you.
You have to believe that it isn't an either-or situation. You can be both an online course creator and coach. In fact, you may find the lines between the two blur into one.
Let me explain…
Community Learning: On its own, an online course is static. It's a passive form of learning. There are many occasions where this is fine.
But often, your students need a little help. They don't just need information.
After all, they can get through books and articles, right? Instead, they need you to not only teach but also guide them personally.
More so, they need people other than you to help them on their way.
That's where a community comes in. Through something as simple as a Facebook Group (you can join the Online Course Creator Academy for free here) brings your course to life.
In an instant, your course becomes more than just information. You introduce students to other students. They help one another; drive each other; motivate those around them.
1-1 Mentorship/Coaching: This is another way to bring your course to life. You still have lessons your students can work through in their own time. Yet you combine this with regular coaching calls (either one-on-one or in small groups).
In these sessions, you go deeper with your students. They ask questions, and you answer them. They face obstacles, you show them how to navigate each one. They face resistance, you take them by the hand.
Combining your online coach with some level of coaching/mentorship is one of the best ways to add new layers of value to your offer.
Accountability: This is one of the biggest issues an online course creator faces. Because it's one thing to onboard a new student, but another to have that student put in the work!
I've faced this issue over the years. It's frustrating. Sure, you want to make money. Yet you also want to have an impact on your students. But you cannot do this unless they do the work. That's where accountability comes in—either through you, someone on your team, or a community of fellow students.
Through regular coaching calls, online forms, assessments, challenges, and calls to action… you ensure those who buy your course complete it. They benefit. You benefit. Everyone benefits.
This is how online coaching and online courses can work together. With a slightly different mindset, you provide a superior service to your students. They still learn on their own time and in their own way, but you're there to make sure they do the work and get the help they need.
You still earn passive income and ensure you can scale up without sacrificing your time (and health).
With the right approach, you won't waste time or sacrifice any of the benefits we discussed earlier.
But you do rid of some of those negatives. It kinda creates a win-win 😎
So, the question now is: how do you do this?
What Comes First: Online Courses or Online Coaching
Right now I imagine you're caught in a Catch-22.
Does the course come first or the coach? There are benefits to both, surely, so where to start?
Don't worry. I have a simple answer for you.
Just start with the course! 😉
The main reason comes down to something we mentioned earlier: lead generation.
Unlike coaching, an online course is a great way to generate leads and traffic.
Through a free (or relatively low-cost) course, you get students through the door. This allows you to build an email list that you nurture over time. It helps you build other communities, such as Facebook Groups, Slack Channels, or forums.
All this, in time, lets you up-sell and cross-sell, introducing your students to new services and programs.
Group coaching
One-on-one coaching
Mentorship
Live events
In-depth programs (that combine courses and coaching)
You can achieve the same by starting with coaching, but it's less effective. It's harder to build an audience this way (and get people through the door). Whereas with a course you generate lots of new leads in a short period of time.
There are other benefits to starting with a course, Including:
Validates your offer/idea/teaching style
Generates social proof (through testimonials, reviews, etc…)
Increases your reach, following, and impact
Builds a loyal following that trusts you
Teaches you about who your audience is (what they want, need, and how to speak to them)
Again, you can achieve all this with coaching. But it's less efficient.
Whereas with a course, you can quickly scale and reach a larger audience.
This is where it all begins. From here, you can take your audience on a unique journey.
It may start with a simple course.
But in time you introduce new services, offers, features…
In my experience, this is how to effectively align online courses with online coaching.
It's worked for me, and I've seen this work for many course creators. It does take time. More so, it takes a lot of commitment and intention. But it is possible, and the results can take you to the moon!! 😉
Here are a few guides and tutorials to help you bring all this together:
Conclusions & Next Steps
As you can see, the line between an online course creator and an online coach is blurred these days.
You don't have to choose one. In fact, the two complement each other so long as you approach it right. 😎
Either approach (or both combined) will give you a solid basis to build your online teaching business.
Helping you get started with an online teaching business is actually the reason why I built OnlineCourseHost.com, to make this whole process much easier for you.
To give you access to a course-building platform (for free) that gives you the tools you need.
To give you access to a full academy of free tutorials, guides, and lessons that show you how to plan, create, sell, and promote your course.
I know how overwhelming this process can be.
How there's so much information out there that it's hard to know where to start.
I hope this guide helps you cut through the noise. More so, I hope it's given you the confidence to… start.
And if you are looking to ask any question you need on online course creation, you can reach me here on my Facebook group:
Join the Course Creator Academy Facebook Group
If you would like to get notified when other guides and useful content on online course creation is available at the Academy, then you can join us here:
I hope this post helped you better understand the difference between an online course creator and a coach. Let me know in the comments below what other topics you would like me to cover, or any questions that you have.
Thanks for reading… and enjoy the course creation process! 😉
---
Vasco Cavalheiro
OnlineCourseHost.com Founder & Online Course Creator
LinkedIn   Facebook Page   Facebook Group   Twitter
You are welcome to ask me any questions in the comments below: 👇👇👇👇