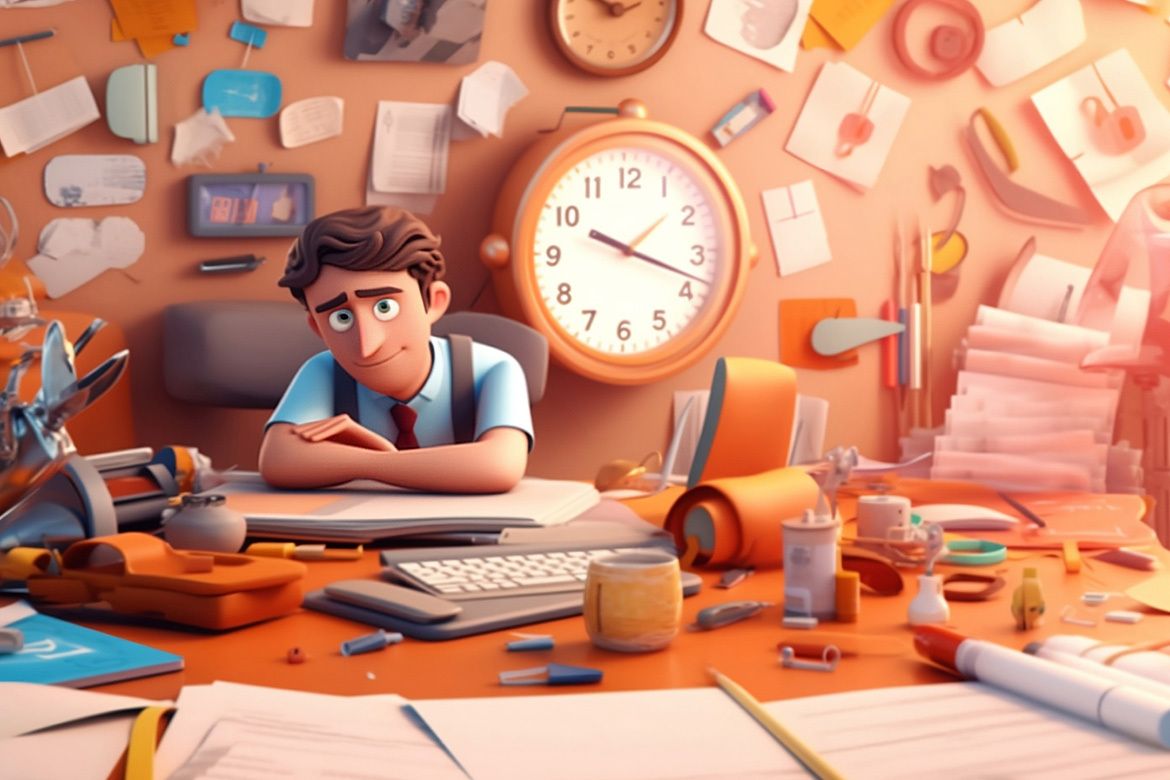 Learn from a seasoned course creator what are some of the most effective tips for increasing your productivity while creating courses.
I hate to break this to you...
But online course creation is a lot of work!
It isn't a walk in the park and you'll need all the discipline you can muster to stay dedicated and push through the whole course creation process.
I am a course creator myself (creating and selling courses since 2016) and I know how overwhelming the process can be.
You have course outlines to draft, videos to shoot and edit, blog posts to write, graphics to design, and on top of all of that, you're marketing your courses and running a full business.
Also, one trap that I think a lot of beginner course creators usually fall into is basking in the euphoria of working and making money from the comfort of their home that they forget discipline and don't stay accountable to themselves.
This can happen to anyone working for themselves and without no one to be accountable to.
But over the years, I put in place a few tips and tricks to stay productive that have worked wonders for my business.
So, how do you make the most out of your time and stay productive as a course creator?
Here are some proven productivity tips for online course creators:
Outsource if possible
Eliminate Perfectionism
Start your online course with the right software
Have a to-do list and stick to deadlines
Capture ideas as they come
Turn off your social media notifications
Have an organized and creative workspace
Create a routine
In this article, I am going to analyze each tip, sharing how it worked for me and how you can adopt the same to work for you.
So, make sure you read to the end.
The goal is to maximize your time and help you stay motivated and keep creating those high-quality online courses. 😉
So, without further ado, let's dive right in!
You can also check out all the free guides at the Course Creator Academy by clicking on the Academy link on the top menu bar.
If you are looking to learn how to sell online courses here is my most detailed guide on it. In it, I talk in detail about all the strategies that have worked for me:
How to Sell Online Courses? The Ultimate Guide
You might also be interested in these other posts, where I talk about how to market and sell online courses:
Tip 1 - Outsource If Possible
This is the first content creation tip that greatly boosted my productivity when I first started, and I am going to tell you why.
It took me long enough to realize that I'm no super-human and I simply can't do everything by myself.
Of course, at the beginning of the course creation journey, it's easier to do everything alone because you're working with a very tight budget and you don't really have many students.
However, when your business starts growing quickly, you'll need more hands to help out and the good part is that by then, you must have made enough revenue to afford to outsource.
Outsourcing reduces the weight on your shoulders and frees up your time so that you have enough time on your side to attend to other important areas of your business.
For example, you can outsource your course video editing to a video editor and also have him upload the videos to your website.
That alone cut my production time in half!
You can also ask for help with your design work, like Logos, social media banners,etc.
You don't want to be doing those yourself unless you are a graphic designer, it just ruins your brand. Trust me, I've fallen for that in the beginning too.
I tried to do my own logos and graphics and the results where disastrous. 😉
You can also hire an assistant to help you with administrative duties like helpdesk requests and invoices.
I outsource a lot and it has helped me greatly in finding a work-life balance while also ensuring that I don't get burned out.
Plus I help a bunch of other people make a living too, which feels great.
So if you can afford it, then I highly recommend it. Go for part-time freelancers first, until you need to hire someone full time.
The first task that you should try to outsource is video editing.
You can use freelance platforms like Upwork to hire great talents to work with you.
Tip 2 - Eliminate Perfectionism
Perfection is an illusion and you shouldn't sacrifice a lot trying to achieve it, especially if you're still starting on this online course creation journey.
One of the dangers of perfectionism is that it draws you back, takes a lot of your time, and in most cases prevents you from taking the necessary steps to running your course business.
For example, becoming so fixated on getting the perfect equipment, having the perfect set-up, and the perfect budget will distract and delay you from getting your course ready and out the door.
If you're just starting this journey, it's okay to go on with what you can afford at the moment as long as it doesn't negatively affect the student's learning experience.
Don't worry, with time, with feedback and with accumulated experience, your courses will get much better.
But the only way to get better at creating courses, is, well, to create courses. So you need to get as many courses out the door in your first year, learn from that and improve based on that.
Right now, your top priority is to finish your course, no matter what.
For example, to get my latest course ready for Black Friday, I decided to release what I already have, and record the last missing section later when I can.
The course material already makes perfect sense as it is, and the remaining sections are nice to have, so I won't skip this important marketing deadline because of it.
So you don't want to get stuck in nice to have details that don't really move the needle either for you or for your students.
Tip 3 - Start Your Online Course With The Right Software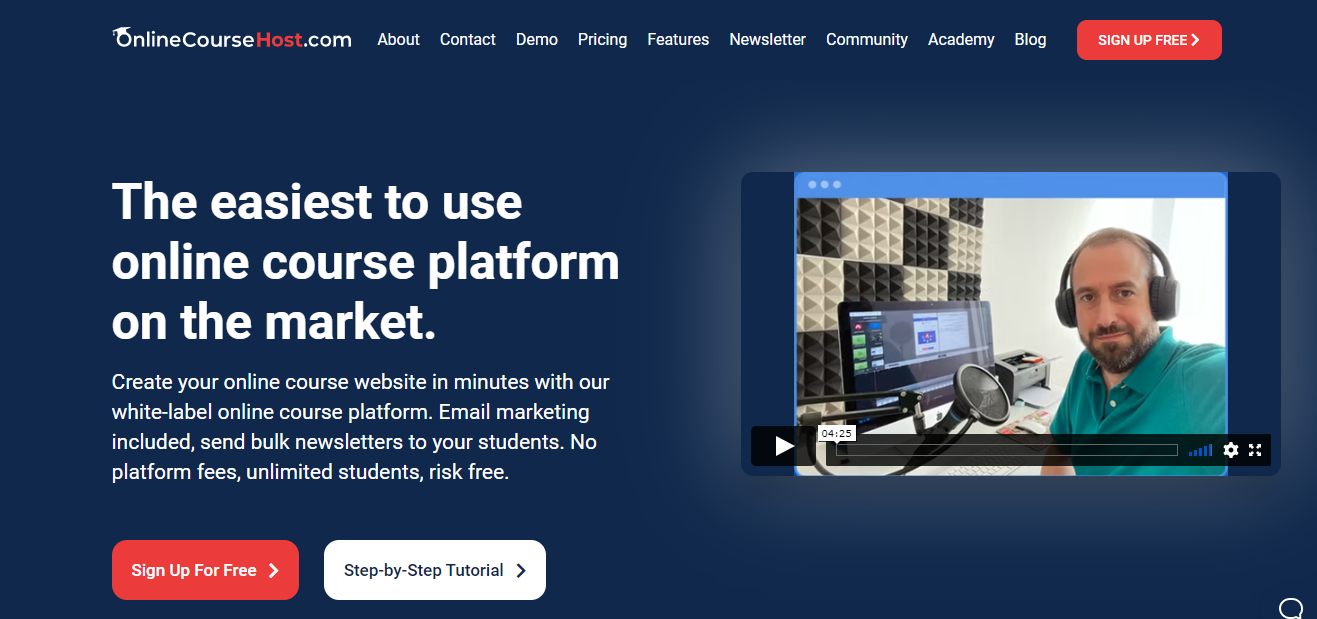 This is another underrated productivity tip for course creators!
I say underrated because a lot of course creators don't realize how each course creation software impacts their productivity level.  
For example, if you're using a complicated course hosting platform, you'll spend most of your time figuring out how to use the platform rather than focusing on other aspects of your business.
If your platform expects you to know how to use a complicated drag-and-drop editor with all sorts of advanced professional design tools, then it's not meant for you.
The more complicated a software is, the more your productivity drops.
So what's the best way forward?
Choose a user-friendly and easy-to-use hosting platform like OnlineCourseHost.Com that allows you to create and upload your online courses,  and brand your online school in your own domain with just a few clicks.
The platform is also super affordable and has all the marketing features like Email Marketing and Facebook Ads integration, allowing you to market your courses straight from the platform.
This goes a long way to save you more time that could be channeled into other areas of your business.
Tip 4 - Have a To-Do list and Stick to Deadlines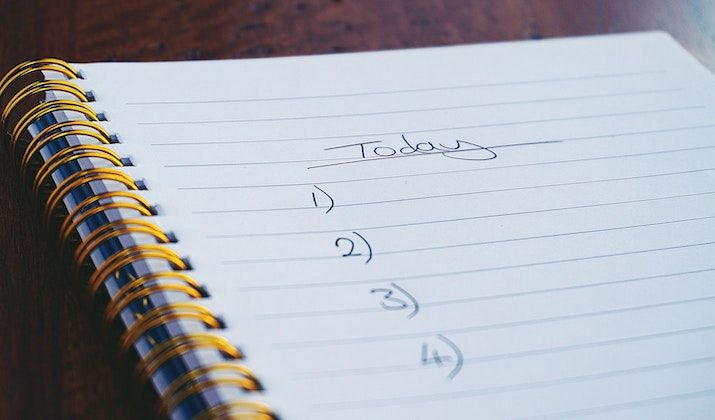 As an online course creator, you just have a lot on your table.
You need to craft your course outline, flesh out your lessons, shoot and edit videos, and run ads...there's just a lot to do.
In situations like this, it's easy to get overwhelmed or spend much more time on a particular task that affects others.
The best way to combat this is to have a to-do list!
Each day, before you start working, write down all the tasks needed to be done in their order of priority. You can use sticker notes and have them close to your workspace.
Or you can use online tools like Evernote.
I use the tool for writing video scripts and keeping track of my online course creation business in general.
Set down your milestones and mark specific dates or times when each of the tasks will be completed.
This is where your discipline is truly tested because there's no boss watching over you.
You're the boss! 😉
Tip 5 - Capture Ideas as They Come
Almost every creative can relate to this - ideas spring up at the most unexpected moments.
You never can tell when you'll get the next amazing idea for your online course.
That Eureka moment can happen anytime.
It could be when you're in the bathroom, taking a stroll, chatting with a friend, scrolling through social media...just about anytime.
The most interesting although the annoying part is that if you don't somehow find a way to capture that idea in that slightest moment, it will be difficult to get it back.
So, how do you stay prepared?
It's simple! You should find a way to capture these ideas as they come.
You can decide to keep a pocket-sized idea notebook that can be easily carried around.
Alternatively, you can always jot down the idea with your phone note app or even save it as a voice message.
I usually prefer to send an email to myself whenever inspiration strikes.
That way, my ideas stay on my mailbox until I'm ready to use them.
There're no rules here.
You should feel free to use any method but the bottom line is that you shouldn't miss out on recording those ideas somewhere.
Don't rely on your brain to do that job for you.
Trust me, you will forget!
Tip 6 - Turn Off your Social Media Notifications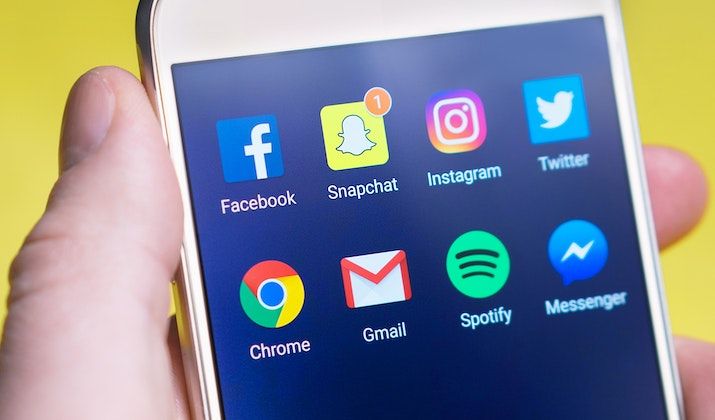 This is an important productivity tip for online course creators!
Social media notifications are by far the greatest distraction especially when you're working.
You don't want to keep switching from recording your videos to checking who last sent your a message, the latest trend on TikTok, your friend texting...
The more you check these notifications, the more time it consumes.
The best way to go about this is to either switch off your phone to put it in Do-Not-Disturb mode during your working hours.
It keeps off every temptation to check your social media notifications and allows you to focus on the task at hand.
Tip 7 - Have an Organized and Creative Workspace
You can't imagine the difference that this will make in your life, especially if you are like me, not a super-organized person.
Removing your workspace of clutter, and making it minimal and pleasant will  help you clear your mind.
Working in an organized and creative space boosts your productivity level as a course creator.
Not only does it keep you away from distractions but can also spark a lot of inspiration.
I recommend having a special place reserved for working in your house or room.
You should also set it up with comfortable chairs, tables, and a sticker board for jotting down ideas.
Also, if you like you can invest in other workspace creative decorations. There are a lot on Pinterest.
So, you can check them out.
Again, your workspace should primarily be dedicated to working.
When you round up for the day, turn off your computer and leave, like you normally would assuming you used to be a full-time 9-5 worker.
Tip 8 - Create a Routine
Many course creators, especially those still starting usually get so wrapped up in their online course creation journey that they forget what it means to have a life.
It certainly happened to me in my first year as a course creator, but I managed to adapt myself afterward.
For many course creators, their lives totally revolve only around their business.
While you might feel like you're more focused and progressive, it is not entirely so.
First, your life lacks structure which ultimately affects your creativity and output, hence the need to create healthy routines and habits.
According to research, routines and habits help you get your reoccurring tasks done faster and with less cognitive effort.
Say, for example, you exercise daily every morning, meditate, cook or clean and arrange your room first thing every morning before starting work, you'll realize that you'll easily focus more when working.
These routines also structure your life and work and free you up to get more creative.
Aside from that, it lets you stay in control of your time and not the other way around.
You wanted to become a course creator because you wanted a better life, and teach other people along the way right?
So don't become a slave to that journey.
Your course business works for you, not the other way around.
And here I am writing this during school holidays. 😉
Conclusion
I hope that you have now a solid idea on how to be productive as a course creator.
No doubt, there's a lot on your plate but with your ability to balance everything out and devote time to each of your tasks with enough dedication, you'll achieve more.
Remember not to become so obsessed with perfection that you spend unnecessary time on minor tasks or assume that you're a jack of all trades.
You should outsource if you can, and as early as possible.
However, the best productivity tip I can recommend to course creators, especially beginners is to always use the right course hosting software where you wouldn't have to invest a lot of time learning how to navigate the platform.
Your go-to hosting platform should be one that isn't complicated.
However, I understand that the problem a lot of you have is finding an affordable hosting platform that's also super easy to use.
It is for this reason that I founded OnlineCourseHost.com, the easiest-to-use and most affordable online course platform on the market, that comes with built-in email marketing.
But more than a platform, we want to give you all the information that you need to grow your online course business successfully.
That's why we have created the Course Creator Academy where you can find everything you need to become a successful online course creator all in one place for free.
To get notified when new content is available here at the Academy, you can subscribe here to our weekly newsletter:
If you are looking to ask any questions on online course creation, you can reach me here on my Facebook group:
Join the Course Creator Academy Facebook Group
Ready to learn how to launch your first course on OnlineCourseHost.com? Here are the helpful guides for you to check out:
I hope you found this post helpful, let me know in the comments below what other topics you would like me to cover, or any questions that you have?
Thanks for reading… and enjoy the course creation process! 😉
---
Vasco Cavalheiro
OnlineCourseHost.com Founder & Online Course Creator