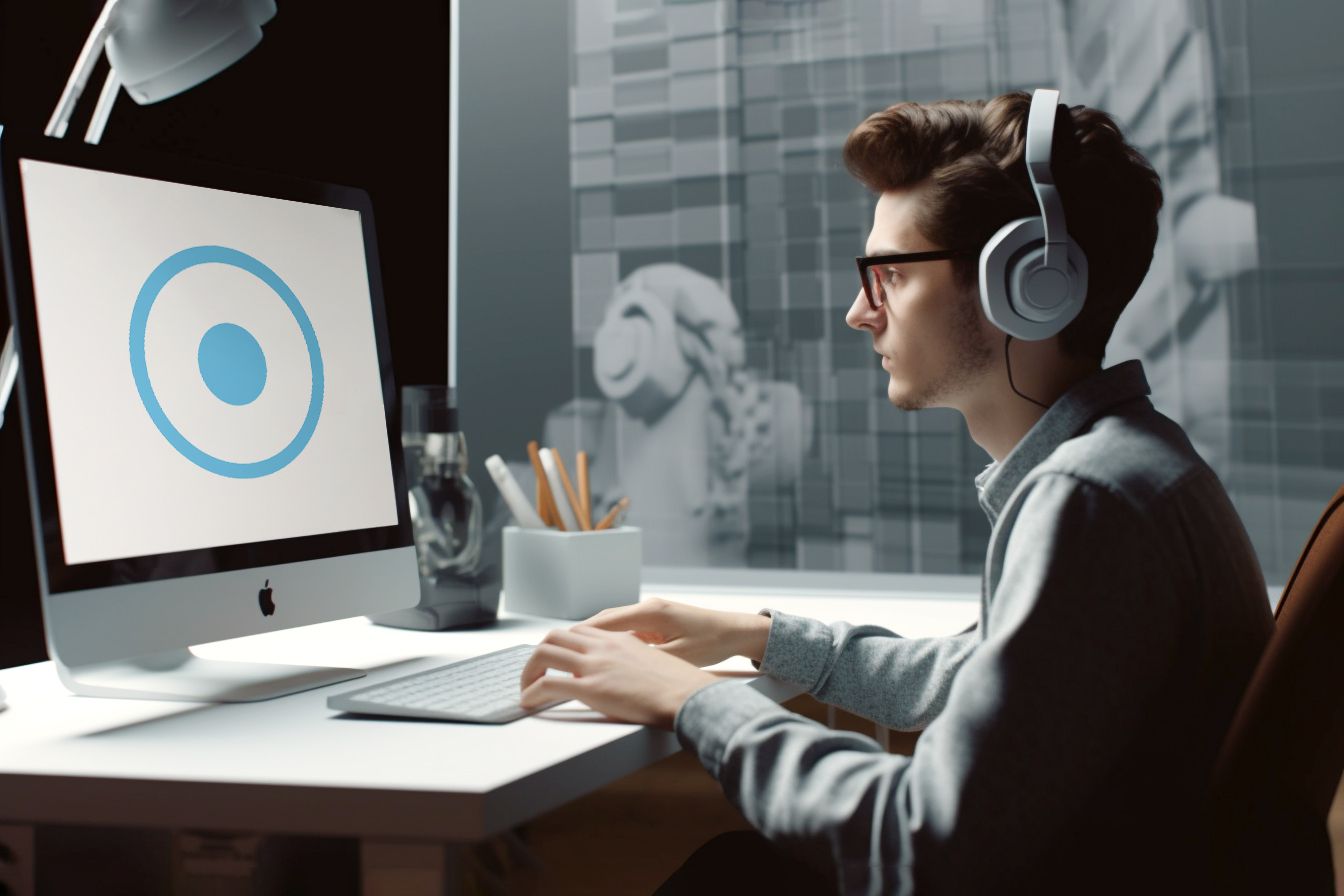 A complete Screencast-O-Matic review from the point of view of a professional course creator, fully updated in 2022.
As a course creator, I understand how difficult it can be to select the best screen recording and video editing software, since there are numerous options available on the web, in various price ranges, and with different feature sets.
I think Screencast-O-Matic is one of the best tools that you can choose to record your online courses, or other types of videos that you are planning on creating.
I have written this Screencast-O-Matic review to help you decide if it is the right video recording software for you.
I'll take you through all of the software's features, giving you a verdict on each one, with screenshots.
Unlike other Screencast-O-Matic reviews that you might have read online, this one is not just a dump of a laundry list of features, with little ‌‌commentary on each one.
We will still be comprehensive, but I want to focus on the main features that are typically the most important for most video content creators.
To keep things easy, I'll give you a score for each feature, as well as an overall score for the entire platform at the end, so you don't want to miss that.
So, without further delay, let's begin our feature-by-feature exploration of the Screencast-O-Matic software.
You can also check out all the free guides that you have available here at the Course Creator Academy by clicking on the Academy link on the top menu bar.
Here are some of my other posts related to this Screencast-O-Matic screen recorder review:
Screencast-O-Matic Quick Pros and Cons
Here is a quick bird's eye view of our Screencast-O-Matic review:
| Prosc | Cons |
| --- | --- |
| Free version available | No OCR functionality |
| Friendly for beginners use | Free version has limited editing tools |
| Content privacy and security | 15 minutes video length for free account |
| Unlimited videos | |
| Annotate while recording or after | |
| Lightweight | |
Product Overview
Screencast-O-Matic was launched in 2011 and has constantly improved in terms of both functionality and compatibility.
There is an absolutely free plan as well as paid plans, and there are no restrictions on how many recordings you can create.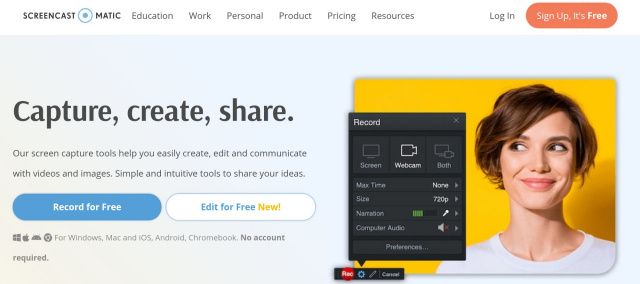 It's a cloud-based service: once you've finished recording, your video file is posted to Screencast-O-Matic's server, where it will be stored until you need it again.
If you want to share or archive your videos locally on your computer or mobile device, you can download them as MP4 files.
Screencast-o-Matic includes a variety of useful video-making features. You may easily and quickly create a screencast, then edit it with an intuitive editor that allows you to add effects, transitions, text overlays, background music, and more.
The software is a screen recorder that is available in both free and paid versions for Windows, Mac, iOS, Android, and Chromebook.
Screencast-O-Matic is used by course creators, businesses and individuals across the world for creating tutorial videos, video lessons, product demos and more.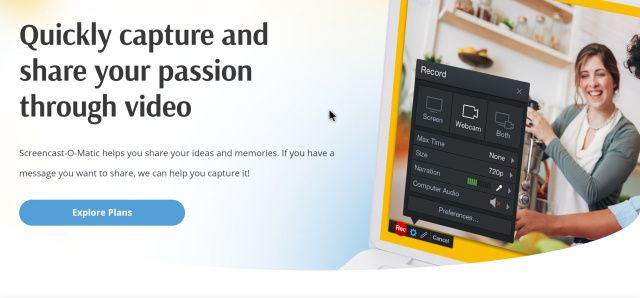 ‌It can record voice and video from your computer screen and allows you to submit the video straight to Screencast-O-Matic.com cloud storage, YouTube, or save it as a video file on your computer.
Screencast-O-Matic's interface is straightforward and clear, with no extra distractions. It's a simple screen capture and recording software that doesn't require any prior knowledge to operate.
The product is available in different versions categorized under:
Individual
Business
Education
The free version has a lot of capabilities and lets you screencast using a webcam on Windows or Mac, but it also has a lot of limitations.
To get the most out of this screencast software, you'll really need to subscribe to one of the paid plans.
How Screencast-O-Matic Works
With its easy-to-use video editor and screen recorder, Screencast-O-Matic screen recorder enables anyone to create beautiful videos.

‌‌You can quickly import your own videos, record your screen or camera, and mix clips.
You can add shapes, text, and images, as well as use auto-captions and import music. To keep your audience engaged, use fluid transitions and entertaining animations.
The screen recorder allows you to capture any part of your screen, as well as add video from your webcam and voice from your microphone.
Download and Install Screencast-O-Matic
By going to the Screencast-O-Matic website and clicking on Download, you can quickly start using the app to screencast.
This will take you to a page where you may download the software as an installer or a portable version.
If you wish to install it, follow the instructions from there; if you don't, click on Portable Version instead and follow the instructions, this time selecting where you want it installed at the end (desktop for example).
Then, anytime you're ready to use it, double-click on its icon!
Screencast-O-Matic Interface and Features
Screencast-O-Matic has many useful features, but the primary ones are:
Record your screencasts
Edit your screencasts
Upload your screencasts to the cloud
Share your screencasts with others, either publicly or privately
Create animations, illustrations or 2D games
It has lots of secondary features that are very important for course creators and educators
Screen Capture
Screencast-O-Matic does an outstanding job of recording a video of your screen, which is the primary capability of any screen casting software.

Its screen recorder features a very intuitive and user-friendly interface. The screen recorder is simple to use and virtually anyone can use it.
You must first sign up for one of their programs in order to begin recording your screen. There is a free trial version of the software available.
You can choose the maximum duration for your video, alter the size of the screen capture area, and use a microphone to add narration while filming.
Screen Capture - My Verdict
The screen capture feature is super easy to use. No instructions, no tutorials, and no courses needed!
Video and Image Editing
For all of your video editing needs, the Video Editor is the place to go. Split, speed up/slow down, and crop videos are all possible with this program. You can also use a variety of techniques to add graphics or text to videos.

Screencast-O-Matic got you covered if you want to capture your screen as a video.
H.264, MP4, MOV, and WMV are among the formats that can be recorded.
You can also change the recording settings, such as the size, bitrate, resolution, and frames per second (FPS) (frames per second).
The process of exporting video is extremely simple as well. Just click the "Export Video" button at the bottom of your screen and pick one of four options:
Full HD 1080p 60fps will get you a large file size but it'll look great on most screens.
High Quality 720p 30fps will give better quality than the former option but still result in a large file size.
Standard Definition 480x270p 30fps provides the highest resolution for smaller devices such as mobile phones or tablets.
Low Quality 240x135p 15fps gives basic quality that's perfect for sharing short clips online through services like Facebook and Instagram."
Taking a screenshot with Screencast-O-Matic is as easy as dragging the cursor over an area and letting it go to take a screenshot.
Some of the more advanced capturing features, such as tracing forms other than rectangles, timing and capturing scrolling windows, and catching text using OCR recognition, are not available.
There are lots of editing possibilities. Cropping and resizing an image, blurring and highlighting certain portions, and adding images and text are all options. Any changes can be readily undone.
How Video and Image Editing Works
The first step to creating your screencast is selecting the screen you'd like to record.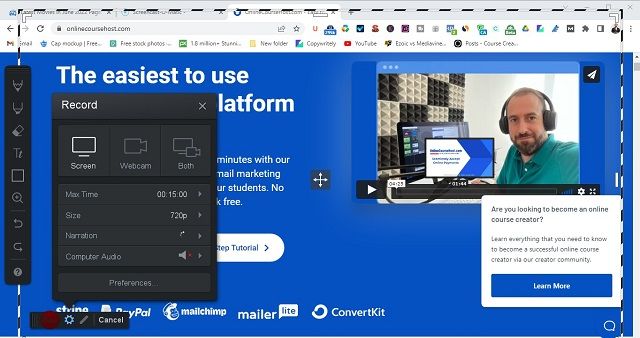 This can be done by clicking on the Capture button in the top right corner of your browser window and choosing whether you would like to record only a specific part of your screen or your entire desktop.
Once selected, click on Record and begin using your computer as normal.
Once you are finished recording, go back into Screencast-O-Matic and Click Stop Recording.
Now, you can have your video saved or export it so that you can share it with others online or edit it further if necessary.
To do this, click on Export in the top right corner of the screen and select either MP4 or WebM (WebM may work better with certain browsers).
You should now see two buttons at the bottom:
Save As File
and Upload To YouTube (you will also see these options if you did not select WebM earlier).
If all goes well, this should take less than a minute for each option.
If you want to add an overlay to your video, you can do that in the Video Editor. Overlays are images that appear over the video.
In addition to adding overlays, you can also adjust their opacity (transparency) so they fade into the background or disappear completely.
This is helpful if you want to show both a text overlay and your screencast at the same time without them interfering with each other.
To unlock every video editing feature, which allows you to enhance your videos and use overlays, animations and more, you need to upgrade to the paid version.
Video and Image Editing - My Verdict
The Screencast-O-Matic video and image editing features are great, they work perfectly and are intuitive and easy to use.  
Being able to share videos on YouTube, Twitter and Facebook (among other social media platforms) is very convenient.
Notice that you can only record a 15-minute video in the free version.
Content Hosting
Screencast-O-Matic provides limitless cloud storage and the ability to use its Channels to create a detailed video-based online course for your audience.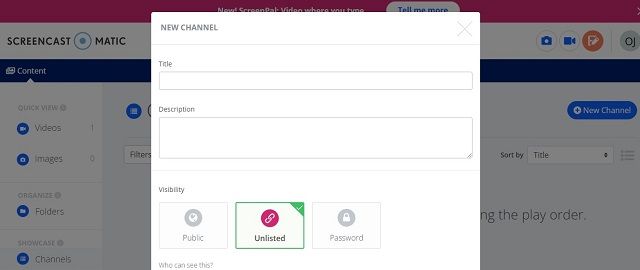 Channels are one of my favorite Screencast-O-Matic features. It's a simple method to organize and share related content on your Screencast-O-Matic account with your students or audience.
You may also organize your videos into playlists and create a channel for them. You have the option of making your channel public or restricting access to your videos to specific audiences.
How Channels and Content Hosting Work
You can share movies individually with your audience or create public, private, and password-protected channels when you submit them to your Screencast-O-Matic account.

Let's imagine that you want to share a series of classes with your audience on a specific topic.
You can build a specific channel for the topic, add relevant movies to it, and create a public URL to allow anybody to access your content with Screencast-O-Matic.
You can make your content password protected or limit access to authorized users only if you just want your students to see it.
After you've added videos to a channel, you may create a playlist by dragging them into the proper sequence.
You may also assign numerous channel managers to your team so that they can take care of everything for you.
Content Hosting - My Verdict
I like the built-in editor that allows you to trim videos, add voiceover and music before uploading it online or share them, with friends via social media channels like Facebook, Twitter or YouTube.
This means you do not have to use another software to edit your videos.
Create Annotated Screenshots
Using annotated screenshots to demonstrate features of your course, product, or app is a great way to stand out.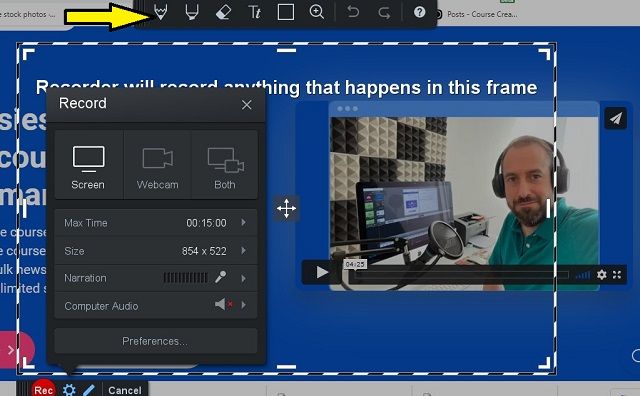 Annotations make it easier for people to grasp what they're looking at by highlighting relevant features in the screenshot.
Annotations can be made for anything from online tutorials to personal notes taken in class.
Annotated Screenshots - My Verdict
I love the annotations feature in Screencast-O-Matic, they work perfectly and can be used by anyone to quickly enhance their videos and make them standout.
Overall, I think annotations are one of the most interesting features of the product.
Notice that annotations are part of the Premier plan.
Audio Capture
The app's voice capturing capability is fantastic. You can record sounds from your device or from a microphone or other audio input on your computer.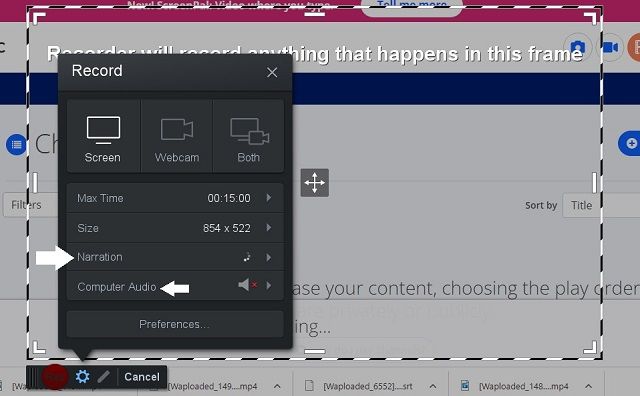 If you want to make videos with voiceovers recorded in another program, such as Audacity, Sound Forge or GarageBand, that is also an option.
Because the recorder starts recording right away when you press the "Start Recording" button, you'll want to double-check that everything is set up before pressing the "Start Recording" button.
I'd like some sort of a countdown timer so that I can get ready before the recording begins, and get some extra visual confirmation that the recording is going to start.
You can record sounds from your device or from a microphone or other audio input on your PC.
When you record straight from your device, the microphone on your phone or tablet serves as the recording source, with external microphones and audio inputs connected via the USB connection of any computer running Screencast-O-Matic.
Audio Capture - My Verdict
I like the fact that Screencast-O-Matic is easy and free. You can also organize your audio files and store them in different folders.
I don't like that I can only capture narration with the free version while requiring an upgrade to capture my computer's audio compared to others like Vimeo and Camtasia.
Stock Library
One of Screencast-o-most Matic's popular features is the Stock Library.
It not only gives you a centralized home for all of your assets, but it also allows you access to thousands of royalty-free photos and videos, as well as music, sound effects, and more.

To help you personalize your video, the Screencast-O-Matic stock library offers a variety of themes, music, and sound effects.
You can upload your own files to the stock library to preserve them in one place for future projects.
The stock library is also a location where you can save your own files for later use. You can upload images, movies, and audio to the stock library and then use them in a project later.
You may also search the stock library for files that other people have uploaded.
The resources they've shared will be accessible through your own account as well as any other account where you've been granted access (for example, accounts managed by others in your organization).
Collaboration Tools
Screencast-O-Matics collaboration capabilities allow you to collaborate on projects and assignments with others.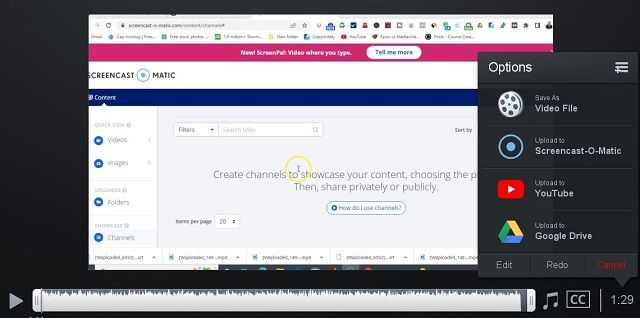 You can make a video by enlisting the help of friends, family members, or coworkers. Then, publish your videos and make them available to the rest of the world/
How it Works
You can invite people to work on your video with you like this:
"Invite Collaborators to Join" will be the first option.
This opens up an email message where you can attach your video, give them information on how to watch it, and ask them to join by clicking on an embedded link
The next step is to select which collaborators' sessions you'd like included in your collaboration session (you can add more later):
Once invited, there are two ways for collaborators to work together: via screen sharing or via audio only (no video).
Multi-Screen Recording
Screencast-O-Matic Multi-Screen Recording is one of the latest features, which allows you to record both your screen and your webcam at the same time.
This implies that when you capture a video of yourself, the viewer may see what's going on in real-time on your computer.
Simply click the Multi-Screen Recording button in the top right corner of the main window to use this feature. Two additional sections will show on your screen.
This means you can film a video of yourself while showing what's going on on your computer.
Screencast-O-Matic works by capturing whatever is displayed on your primary monitor and displaying it in the same window while you record.
This allows you to display your screen as if you were speaking directly to the camera, but it also allows you to display other items such as websites and papers.
Multi-Screen Recording - My Verdict
The multi-screen recording option in Screencast-O-Matic is a great way to capture both screen activity and webcam activity at the same time.
I love that it's great for recording everything from software tutorials, to gameplay, to vlogs and so much more.
Being able to add annotations to your video while you capture it with this function seems really cool.
Branding Your Business
Screencast-O-Matic provides an easy way to brand your business. Get started by selecting a Theme, Icon, and Banner that best represents your business brand.

Once you've finished these steps, create a short profile description which will help build an audience to engage with your content on the platform.
Finish off by adding descriptions to any videos that you wish to share with others and enjoy all the benefits of Screencast-O-Matic.
Branding your business is one of the easiest ways to stand out from the competition, and make your business much more recognizable.
Screencast-O-Matics Integrations
Screencast-O-Matic integrates easily with many of the popular platforms you're already using.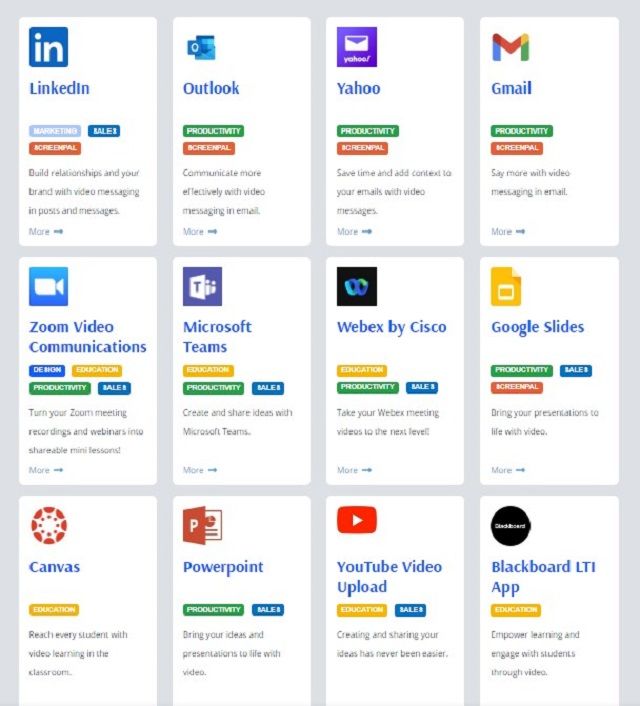 If you want to do something more advanced, like running your videos through a third-party video editor or using your own template, you can easily do that too.
Working with the Screencast-O-Matic video editor is a lot of fun. If you've captured a video, either through its desktop recording software, or through the mobile app, it's easy to get it into the editor for further editing.‌‌
However, there are a few other ways that you can get videos into the Screencast-O-Matic video editor.
Whether you're bringing in videos from YouTube or Dropbox or anywhere else, once you know these ins and outs of getting your videos into the Screencast-O-Matic video editor for editing, you can do a lot with your recordings.
YouTube Integration
You can use the Export Wizard to upload recordings directly to your YouTube account.
Step 1: Open the Export Wizard and select "YouTube" as the export destination.
Step 2: Click Next and choose which video you want to upload, then click Upload Now.
Integration with Google Drive or Dropbox
To import a video from Google Drive or Dropbox, follow the steps below.
Open the Screencast-O-Matic desktop app, and click on the gear icon in the top right corner.
Select "Import Video From…" from the dropdown menu, then choose either "Google Drive" or "Dropbox" depending on where you have your videos stored.
Click "Continue" to proceed with importing your video into Screencast-O-Matic!
If you are using the Screencast-O-Matic Chrome extension, you can also import your recordings directly from websites in supported applications like Slack and Trello.
Furthermore, Screencast-O-Matic has direct interfaces with a number of live chat and support platforms, like Help Scout,  Freshdesk, Zoho Desk, Olark,  Live Agent, and others, making it an excellent choice for quickly capturing movies and screenshots to give customer help.
Screencast-O-Matic Pricing
Screencast-O-Matic prices are grouped under two categories
1. Individuals and Business: For individuals and teams looking to easily create, edit and share content.

2. Education: For teachers, schools (such as colleges and universities)

Screencasy-O-Matic Review: Summary
Here are some of the major highlights of Screencast-O-Matic:
Easily record your screen
Easily create videos
Easily take screenshots
Easily share your screen and videos with friends and colleagues on several platforms
Easily annotate and comment on videos
Easily capture audio from your webcam, computer audio and external mic
Free image and video stock library
You'll agree with me after reading this Screencast-O-Matic review that it has lots of features and is super easy to use.
Just hit the record button and go!
Screencast-O-Matic is the perfect screencast software for just about anything. It's one of the easiest way to record your screen and share it.
With Screencast-O-Matic there's no limit on how long or short your videos can be, except the free version that offers only 15 minutes.
Overall, this is an awesome screen recording tool, fully cloud-based and ideal for recording and editing online courses, so I recommend that you give it a try.
Once you have your courses recorded, you will also need a solution for hosting them and selling them in your own website.
If you are looking for an affordable and super easy-to-use online course platform for publishing your courses, check out my platform OnlineCourseHost.com.
The platform allows you to self-host your courses, and comes with built-in email marketing tools such as for example bulk email (newsletters).
More than just a platform, we want to provide you with all of the information you need to successfully grow your online course business.
That is why we created the Course Creator Academy, a free resource where you can find everything you need to become a successful online course creator.
If you'd like to be notified when new guides and useful content on online course creation become available here at the Academy, you can sign up here:
‌‌If you are looking to ask any questions on online course creation, you can reach me here on my Facebook group:
Join the Course Creator Academy Facebook Group
Here are some of our other popular articles and guides:
I hope you found this post on Screencast-O-Matic review helpful, let me know in the comments below what other topics you would like me to cover, or any questions that you have?
Thanks for reading… enjoy the course creation process! 😉
---
Vasco Cavalheiro
OnlineCourseHost.com Founder & Online Course Creator
LinkedIn   Facebook Page   Facebook Group   Twitter
Frequently Asked Questions
Screencast-O-Matic is without a doubt one of the most powerful screen recorders, with the free version allowing you to record videos from the screen as well as a camera.
If you're not a paid plan subscriber, though, you'll be limited to 15 minutes of recording time and your footage will be watermarked. You'll also miss out on the benefits of having a built-in video editor.
So, in this section, I'll compare and contrast the three finest Screencast-O-Matic competitors in terms of functionality, price, and reliability.
Screencast-O-Matic vs Camtasia
Camtasia, like Screencast-O-Matic, is more than just a screen capture program with a video editor. It's well-known for recording video tutorials, courses, how-to videos, and other types of videos.
You can record and edit videos more easily and quickly with its built-in templates, such as transitions, effects, text, and so on, allowing you to spend less time and produce better video recordings.
Both software are not so different, both have almost similar capabilities while Screencast-O-Matic has more integrations and a cloud storage.
Screencast-O-Matic vs Sharex
ShareX is a free open-source alternative to Screencast-O-Matic that allows you to record everything that happens on your screen.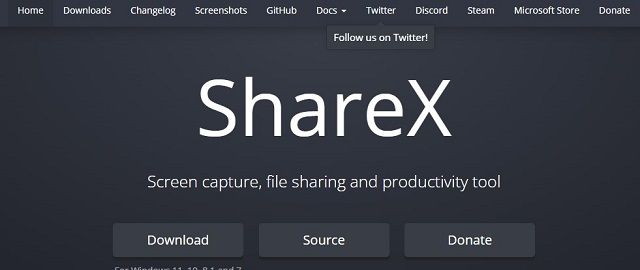 The tool also includes a video editor, so you won't have to download one in addition to the screen recorder. The video editor includes features such as a screen color picker, DNS switch, annotations, direction indexer, and more.
Furthermore, you can send your screen capture to over 80 different locations with the program.
The major difference between the two are:
ShareX is free and open-source while Screencast-O-Matic has both free and paid plans
ShareX is not available on Mac
Screencast-O-Matic vs ActivePresenter
Screencast-O-Matic and ActivePresenter both have outstanding features. Like Screencast-O-Matic, the tool can correctly perform a screen recording operation for user tutorials, training presentations, or product demos.

Furthermore, there are no restrictions on the length of video that can be recorded. The only restriction is the extent of your storage space.
The software has a comprehensive video editor that allows you to clip out undesired video segments as well as other editing options such as intonation, captions, and blurring moving objects, among other things.